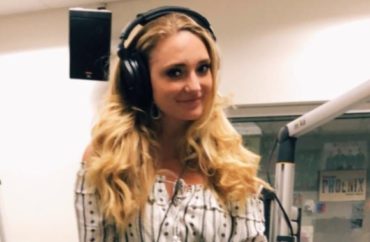 Hides the math behind the figure: It's tied to alleged threats she faced
It's not often that a public university sued for First Amendment violations will voluntarily disclose how much it paid to make the lawsuit go away.
Arizona State University was in a bragging mood, however, when it reached a settlement last month with student journalist Rae'Lee Klein.
She had sued the taxpayer-funded institution and the journalism school dean last fall for removing her as radio station manager in response to her unflattering but accurate tweet about Jacob Blake, a black man who was shot by police in Kenosha, Wisconsin last summer. (Klein retained the title and pay but was removed from her duties.)
A federal judge narrowed Klein's case to just the dean and refused to reinstate her to her duties, leading Klein's lawyer to start working on a new lawsuit in state court, focused in part on Arizona's campus free speech law.
According to the ASU statement announcing the settlement, which trashes Klein as a bad employee, the student's lawyer offered to settle the case for $500,000 following the December ruling that kept the case going but gave her no immediate relief. ($500,000 was the amount requested in her "statement of claim," which precedes state litigation.)
She accepted just $7,040 a month later, "as reimbursement for certain of her school fees," contingent on dropping all litigation, the university said.
It steadfastly denied Klein was being punished for expressing an unpopular opinion. ASU fell back on an argument similar to the "professional standards" canard often cited by universities that sanction students through their academic programs:
Klein's tweet prompted virtual meetings between her and scores of students responsible for running the station, other staff, producers and prospective club members. The meetings led the student board to conclude that relationships had deteriorated to the point that they lost confidence in Klein as a leader and the board decided to deny her further programming authority for the station. …

"But this case was never about the First Amendment," attorney David J. Bodney of Ballard Spahr said. "We never attempted to restrict her speech. Indeed, she spoke freely throughout this controversy. Rather, it was her conduct after the tweet, which demonstrated her inability to lead the station, that ultimately led to her removal."
MORE: ASU j-school removes people, news items decried as too pro-police
Oh don't worry, I would have never wanted to work for the people who treat others with such disregard anyways. Most alumni you're referring to actually had my back anyway🤷🏼‍♀️
Keep your "wokeness" and cancel culture, I'll keep my truth and my patriots. https://t.co/zP1dkO6hzV

— Rae'Lee Klein (@RaeLeeKlein) February 26, 2021
President falsely claims she 'lost every aspect of her case in court'
Phoenix New Times reports the university has refused to provide evidence of the "conduct" that "demonstrated her inability to lead the station," except for unspecified "post-tweet interactions" she had with other radio station staff.
While Bodney, ASU's lawyer, said these were detailed in the Arizona Republic report on the settlement, the article doesn't mention any. It simply paraphrases Klein's defense of her tweet as "sharing truthful information and an additional perspective."
A radio station board member who voted against recognizing Klein didn't mention any such interactions with her, either. He told The Fix last fall that the board asked her to step down due to the "outcry of a majority of our students, at least what we felt was a majority," who were offended by Klein's tweet.
ASU President Michael Crow continued to trash the student to the Republic even as he claimed the university was showing grace to her. He said the payment wasn't a settlement:
"We reimbursed her for some fees, that's all we did. And whatever she's making up is basically that — just made up, which is one of her core issues," Crow said.

Klein's attorney approached ASU for a settlement discussion, ASU spokesperson Katie Paquet said. If you're getting sued for $500,000 and the other side wants to talk — and agrees to settle for just over $7,000 — logical parties would do that, Paquet said.

Crow also noted that Klein is still an ASU student, and while the university could have decided to win in court, they decided to move on.

"We could go on to continue to make an example of her, but we don't think that's in her interest, and so we still look at her as a student. … And hopefully she's had the instructional moment that we hope that she's had, and hopefully she can learn something from this and move on with her life," Crow said.
The president then falsely claimed Klein had "lost every aspect of her case in court," when in fact the federal judge expressly authorized her lawsuit to continue against Kristin Gilger, the journalism school dean.
MORE: Klein sues ASU for violating free speech
We all are wondering the same thing, he's been completely silent this whole time. He really knows nothing about this case, or me. Many students have suffered in his culture of "inclusivity," and he needs to learn to treat students with civility and respect.

— Rae'Lee Klein (@RaeLeeKlein) February 27, 2021
'We'll be sure to eliminate you if you think you still belong here'
ASU's cryptic explanation of the settlement amount, in its statement and in Crow's comments, is challenged by emails marked "confidential" that Klein's lawyer Jack Wilenchik shared with New Times.
They show the university's acknowledgment that Klein had suddenly moved out of campus housing, which includes a prepaid meal plan, in response to messages that bordered on true threats:
Someone named Chase Hunter tweeted on September 4 to "hack" Klein and, she says, her family members. An anonymous critic named Vincent sent several F-bomb-laden messages that sounded threatening to her.

"FUCK YOU," one of Vincent's messages said. "Nobody supports you. Nobody. Leave Cronkite [the name of the journalism school] and Blaze [radio station] and never come back. Everybody hates you. Go to hell."

"Cronkite is no place for racists, and we'll be sure to eliminate you if you think you still belong here," came another apparent student's message.

According to Wilenchik, another student allegedly said about Klein in a now-deleted tweet, "I wouldn't come back to campus, there's a bounty on your head." (The student, whose name is being withheld by New Times, strongly denied writing or publishing any such message.)
Bodney, the university's lawyer, told Wilenchik during settlement negotiations that ASU was "gathering information" related to Klein's "claims of harassment and intends to look into them irrespective of whether we are able to settle the litigation." He asked for dates of harassment, names of harassers and when she moved out of student housing:
Bodney clarified a few days later that "based on Plaintiff's settlement demand, it would be helpful to know the date when she moved out of her student housing."

Klein told Bodney she "never went back" to her dorm after the harassment began over her tweet but moved out on August 31.
MORE: 'Deplorable Radio' show remains banned from university
Backstory on @ASU's settlement w/@RaeLeeKlein, who lost her job as @BlazeRadioASU station manager after a controversial tweet: The amount was for student housing she moved from after threats. ASU denies it was "tethered" to the threats. See my story here: https://t.co/tqAT3Uuwpu

— Ray Stern (@raystern) March 3, 2021
Asked to respond to this documentation of settlement talks, ASU gave a "lengthy response" that New Times characterized as "biting" but did not post in full.
The university deflected by attacking Wilenchik, her lawyer, because he had publicly said he was representing Klein pro bono and yet was asking for $20,000 in attorney's fees from ASU.
This is a red herring: Lawyers who take cases pro bono, which is the mission of public interest law firms, routinely ask for attorney's fees from adversaries in settlement talks. A recent $25,000 college settlement reached by the Arizona-based Alliance Defending Freedom, for example, is largely devoted to attorney's fees.
ASU claims Wilenchik first mentioned harassment against Klein when he said the settlement wasn't about his fees, and that she never filed an official complaint about harassment when invited by ASU:
ASU was nevertheless willing to settle this case by giving her back some of her money in an amount equivalent to what she had previously paid for fall semester housing and for a meal plan she never used.
Wilenchik told Fox News he was happy that ASU's "actions" show that it has "finally owned up to its responsibility for not supporting Rae'Lee Klein":
Whether it's the German Student Union burning books in 1933, or liberal-arts students harassing a journalist for tweeting the news in 2020, craven thought-policing has no place in our country or its schools.
Klein is graduating this year and planning to go to law school. She told the Republic that the experience following her tweet has deepened her interest in the law.
MORE: Student radio hosts yanked from air, suspended after using 'tranny'
IMAGE: Rae'Lee Klein/Facebook
Like The College Fix on Facebook / Follow us on Twitter