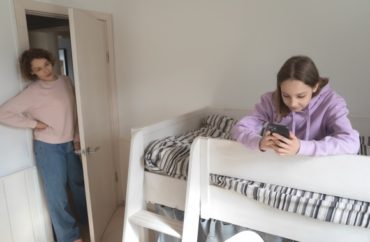 Conservative activist Michelle Easton, author of 'How to Raise a Conservative Daughter,' promotes proactive parenting
The primary mistake conservative mothers make when raising their daughters is allowing them too much leeway.
So says conservative activist Michelle Easton, author of "How to Raise a Conservative Daughter," who made the comments Thursday in an author chat hosted by the Independent Women's Forum.
Easton, asked by IWF's policy director Hadley Heath Manning about the number one mistake moms tend to make, said it's not enough to simply take one's daughter to church or synagogue and hope for the best outcome.
"In my opinion, today the biggest mistake is to just sit back and say, 'Well, just let her develop as she wants," said Easton, president of the Clare Boothe Luce Center for Conservative Women.
"With toxic social media, with radical indoctrination in schools, with the entertainment industry seeming to pander to the lowest sort of cravings, it's not a fair fight anymore if you just sit back, because so much of what is taught is anti-conservative," Easton said.
"Today as a conservative parent it's much harder, much harder, and you need to think about your values and you need to think of practical ways to instill them."
Easton's new book details practical tips and advice for raising a conservative daughter in today's toxic culture.
During Thursday's talk Easton suggested families should make it a priority to sit down for dinners each night to facilitate important conversations that can shape their daughter's outlook.
"You are not going to pound on her, you're not going to lecture her, you're going to look for opportunities to introduce her to [conservative] ideas," Easton said.
"Dinner table conversations, you can start with 5- and 6- and 7-year-olds with some of these issues," she said. "Get her thinking about them, and expose her to the kind of values that you have as a mom and a conservative."
She also strongly warned against social media and advises moms to be tough and encourage — maybe even compel — their daughters off the screen and on to more positive experiences.
"A lot of young women are glued to their phones and their computer," Easton said. "You can make her life so much richer if you encourage her — force her — to join a church group, to do sports, to take a musical instrument, to do art, to do more things that are really enriching;
things where she is with people all the time as opposed to social media."
Easton used her own household as an example.
"In my house on school nights there was no TV. OK, so five nights a week they read, they did sports, they did this, they did that," she said. "I think parents have to restrict it if their kids are really glued to social media."
In the first chapter of the book, available free online, Easton doles out another piece of advice for mothers that she considers the most important of all: "take your daughters to church."
"I've listened to many young women offer their thoughts about faith and belief. Often, their parents would take them to church when they were girls, then they would stop going when they were older. But at some point, they found their way back to faith," Easton writes.
"You learn it. You leave it. You come back to it. That's the path many take when it comes to faith. But it begins at home. What could be more wonderful than your daughter's knowing deep in her heart that she's uniquely created and that God has a purpose and a plan for her that involves hope and prosperity, not harm?"
MORE: Why higher education is the most important battleground for America's soul
Like The College Fix on Facebook / Follow us on Twitter