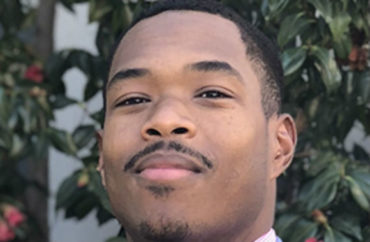 'Hollow PR move to gain political cachet in DC'
"I would have disagreed with President Trump's statement that Hayden Williams, the conservative advocate assaulted on the UC Berkeley campus, 'took a punch for all of us' until the free speech center decided to censor my views by refusing to publish my intellectual product."
So says Justin McClinton, chosen last year as one of 10 inaugural fellows by the University of California's National Center for Free Speech and Civic Engagement, after several months in the fellowship.
In an essay for The Federalist, the education policy PhD and Morehouse College alum explains how he came to see the role of the fellows as "window dressing" for the center.
The essay is timed to coincide with the center's "Speech Matters" conference today. McClinton says the conference serves as little more than "publicity for the center and its star-studded advisory board," including a former far-left U.S. senator, an Obama administration education secretary and Twitter and Facebook officials.
MORE: UCLA speech tax on Shapiro distracts from launch of UC free speech center
McClinton's fellowship at UC-Berkeley got off to a rocky start when the center's representatives made clear the "campus visits" by the fellows were not an "important part of the center's plan."
The representatives didn't like his initial topic – the response of campus administrators to the violence that greeted Milo Yiannopoulos during his 2017 campus visit – so McClinton changed it to a "more robust exploration of how online media has influenced free speech in higher education," focused on interviews with students and faculty.
Yet even then the center restricted a year of work by the fellows to a "nebulous conference publication," and waited until the last minute to tell McClinton that his article would be excluded, the only fellow subject to such contempt:
I wrote an op-ed to provide readers a concise statement of the findings that I had gathered from several conversations with students, faculty, administrators, and community members on or near the Berkeley campus. While my final thoughts are a bit right-leaning on the free speech issues plaguing our campuses and the nation, I consider my assessment fair and grounded in my experience working with members of the many interest groups. …

My op-ed had been initially accepted, and the center had ample time to inform me if it did not match the format they were looking for. Because of this, I believe it was some of the conservative elements of my work that ultimately led to their decision to censor me.
The experience has made McClinton more agreeable with the conservative critics of the center, including Ariana Rowlands, former president of the California College Republicans, who said the center does nothing to solve "the practical problem faced by conservative students on all of the UC campuses."
He now believes the center is "nothing more a than a hollow PR move by the University of California system to gain political cachet in DC."
MORE: Berkeley Republican recounts night of terror at Milo riots
IMAGE: Justin McClinton
Like The College Fix on Facebook / Follow us on Twitter