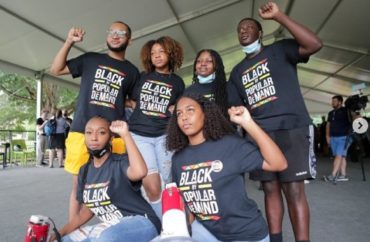 Tenure for '1619 Project' creator is one of 14 demands
A black student group at the University of North Carolina at Chapel Hill has demanded that school officials immediately give a tenured professor job to Nikole Hannah-Jones.
In addition to a lifetime job for the "1619 Project" creator, the UNC Black Student Movement has a few other demands, however.
The list of demands were announced at a recent rally on campus in support of Hannah-Jones, who recently said she will refuse to fulfill her contractual obligation in her five-year agreement and start teaching on Thursday. She has demanded tenure, despite signing a contract without the guarantee.
"This is yet another example of UNC not supporting their Black students and staff and showing their commitment to white supremacy," UNC BSM wrote on Instagram, in a promotion for the rally. "We condemn the actions of the Board of Trustees, and stand in solidarity with Nikole Hannah-Jones and all Black faculty and staff that are disenfranchised by this university."
BSM will continue to apply pressure and hold the board of trustees accountable for their actions. This is only the beginning. ✊🏽✊🏾✊🏿Photo Credits: https://t.co/18VK4oh31I pic.twitter.com/V8EmtwWHFq

— The Black Student Movement (@unc_bsm) June 25, 2021
The black student group wants "No UNC police at resident hall move-in," "Increased funding for [Counseling and Psychological Services]" and a more diverse counseling services staff.
The students also want to be alerted "when dangerous white supremacists are on campus" and a prohibition on assistance "given to white supremacists on campus," according to the student newspaper The Daily Tar Heel.
The student paper does not explain what the reference to "white supremacists" is about. However, in January, someone entered a campus social justice organization's building and drew swastikas on the ground and stole tax documents. The suspect, Kevin Sleem, has a number of confusing social media posts and spent several months undergoing "medical evaluation" before being arrested.
Other requests include more funding for the Carolina Women's Center and a promise not to replace the departing president of the CWC with a "white woman."
The decision by the trustees to not give immediate tenure to Hannah-Jones, who has no academic experience, is putting the black students' physical safety at risk, according to one speaker.
"The last thing we want to do is be fighting for our academic and physical lives," Derrick Davis said. "Because if the Board of Trustees can't protect our academic interests by providing teachers that look like us to promote diversity and inclusion as they say, then what purpose do they have?"
He wants to abolish the Board of Trustees completely, according to the Daily Tar Heel.
MORE: Hannah-Jones does not have an inherent right to tenure: opinion
IMAGE: UNC BSM/Instagram
Like The College Fix on Facebook / Follow us on Twitter