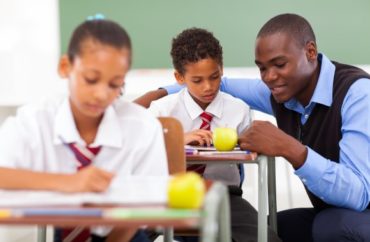 The contemporary cult of race/progressive-based group-think was featured in a poorly titled Education Week article this week.
In "I'm a Black Teacher Who Works for a Black Principal. It's Been a Game Changer," twelve-year veteran teacher Gemayel Hazard praises his current principal, a black man, who "perhaps because of his life experiences" has finally made Hazard content being an educator.
Hazard lauds his new school's focus on things like "restorative justice," "culturally meaningful" instruction, and having "open and honest" racial dialogues. Yet, despite the title of the piece, Hazard clarifies many paragraphs later that he's not saying "schools with white principals can't understand the needs of underserved students and be committed to equity."
One doesn't "have to be a teacher of color to understand the needs of students from marginalized communities," he says.
Further, Hazard adds that white colleagues at his school are committed to "understanding the community's ways of being and knowing because it is a priority."
All of which means Hazard's new principal's race isn't really the key factor, but rather adherence to progressive educational policies. 
Consider article commenter Terry McCann, himself a veteran black teacher. He says,
I have had black and white principals some good and some bad. Race does not determine the altitude [sic] of a leader. I do understand your heart but in this era of race we are in, it is too easy to let race determine where we can go. As a student myself I was shaped by all of my teachers – black and white. I had some black teachers that made me feel inadequate and some white ones that empowered me.
Indeed. Excellent educators of any color can be down with restorative justice, etc. and still disagree about the degree to which such policies should be followed.
For example, restorative justice used in lieu of "punitive" disciplinary measures like suspension, especially for egregious (and violent) student behavior, is a recipe for disaster. Good, committed teachers can favor suspending kids for violence, screaming at teachers with profanity at the top of their lungs, or trashing a classroom, and still favor (and utilize) RJ for lesser offenses.
With regards to "culturally relevant" instruction, does not any good teacher make use of such … whether he/she teaches in a "woke" school or not? Yes, of course. But connecting with children of a certain demographic doesn't mean engaging in this sort of nonsense. Or this, from an administrator's perspective: requiring teachers to "engage with and understand the importance of socially-constructed hierarchies, othering/positionality in the classroom, microaggressions, pedagogical implications of social justice …"
As for "open/honest" conversations about race, if programs like "Courageous Conversations" are any indication, the definitions of "open," "honest," and "courageous" have made a 180-degree turn in educational circles. As an insider from the New York City Department of Education said recently about such programs, "The intent is to create a shared understanding […] but it's resulted in a hostile environment where whites are subject to being criticized, belittled and harassed."
Most especially if anyone (white or black) dares disagree with that "shared understanding."
MORE: NAACP supports black teacher critical of lax school discipline policies
MORE: Teacher who angered Black Lives Matter activists is forced into retirement
IMAGE: michaeljung / Shutterstock.com
Like The College Fix on Facebook / Follow us on Twitter