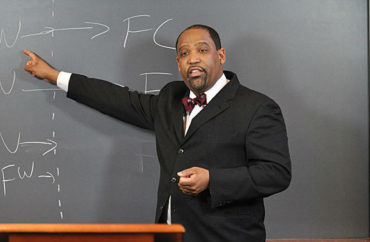 Harvard's Winthrop House faculty dean, Ronald Sullivan, will not be returning to his position after his term expires at the end June.
So announced Dean of the College Rakesh Khurana Saturday morning in an email to House affiliates, reports The Harvard Crimson.
Sullivan is the embattled dean representing Hollywood mogul Harvey Weinstein, who stands accused of multiple instances of sexual assault. Sullivan's decision to take on Weinstein as a client has resulted in a tumultuous few months as #MeToo activists and others — including the student paper The Crimson — have trashed the professor and called for his ouster.
Dean Khurana had opened an investigation into the matter in order to, in his words, "have a more complete understanding of the current environment at Winthrop House."
Most recently, Khurana joined the sit-in protest against Sullivan (dubbed "Reclaim Winthrop") for at least "part of the event." Now, the dean says he has decided to remove the professor, as well as fellow Winthrop dean Stephanie Robinson, because the "environment in Winthrop is 'untenable'":
"The concerns expressed have been serious and numerous. The actions that have been taken to improve the climate have been ineffective, and the noticeable lack of faculty dean presence during critical moments has further deteriorated the climate in the House," Khurana wrote. "I have concluded that the situation in the House is untenable."

Sullivan and Robinson wrote in an emailed statement Saturday afternoon that they were surprised at Khurana's decision and that the University "unilaterally ended" talks about how to improve the House climate.

"We will now take some time to process Harvard's actions and consider our options," they wrote. "We are sorry that Harvard's actions and the controversy surrounding us has contributed to the stress on Winthrop students at this already stressful time."

Khurana called the situation "regrettable" in his email, adding that he admires many of Sullivan and Robinson's accomplishments. …

Khurana wrote in his email that he, Dean of the Faculty of Arts and Sciences Claudine Gay, and Dean of Students Katherine G. O'Dair, would go to Winthrop Saturday afternoon to answer students' questions.

College spokesperson Rachael Dane said the College will soon announce interim leadership at the House and will launch a search for new faculty deans.
MORE: Harvard students trying to take down Sullivan accused of racism
MORE: Crimson subpoenaed in lawsuit stemming from activism against Sullivan
IMAGE: Harvard Gazette
Like The College Fix on Facebook / Follow us on Twitter