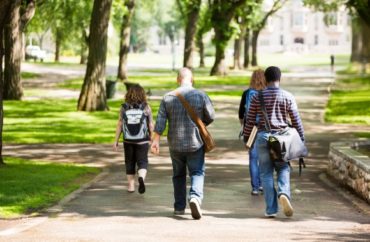 It is an 'opportunity to work on a common cause,' says campus safety consultant
A campus safety expert recently explained how colleges can safely open amid the coronavirus.
Michael Colegrove, the CEO of Campus Safety Solutions and a former vice president at the University of the Cumberlands, told The College Fix via a phone interview that colleges should work with students, not against them, when implementing its coronavirus guidelines.
While campus officials need students to socially distance and wear masks, "students by their very nature like to congregate on college campuses," Colegrove told The College Fix.
"Working with students for years in the realm of discipline… the carrot stick approach, punishment doesn't really do much. I don't know how you enforce it. It's more or less an educational approach, that's our business," Colegrove said.
He argued that students want their school to stay open and they want to have a college experience, so administrators should work with those students to devise policies that keep students healthy but don't constrict students.
He said that schools should not use punishments with students but work to educate them and see if they have their own ideas on how to stay safe but still have a college experience.
MORE: Harvard test runs Wi-Fi coronavirus contact tracing system
"When the colleges open, we're going to see this ten-fold because students want to get back together.. it can be done," Colegrove said, arguing students can safely distance from each other.
Colegrove, drawing on his career in the military, said this could be a great way to unite the campus: "You need to get your student leaders to talk about it. It might be a great way to communicate and ultimately educate the campus community at large of how to protect each other."
He added that it "can be a great way to bring the campus together" and "it's an opportunity to work on one common cause."
He said schools should consider possible scenarios "like if we have our usual social activities and people don't get sick because they ignore social distancing. People will be motivated to do the right thing."
Unfortunately, many colleges are using an opposite approach, urging students to report each other for coronavirus violations and trying to ban parties on campus.
As we recently reported, the University of Texas warned students that they could be punished for hosting parties on campus.
University of California-Santa Barbara administrators have also asked students to tattle on each other and Tulane warned students not to host parties.
Those approaches have been criticized by others in academia in addition to Colegrove.
For example, two professors warned universities last month not to berate students who violate social distancing rules and instead to work with them to find safe options.
"The more that students are castigated for having house parties or going to bars, the more reluctant they will be to disclose potentially stigmatizing information to contact tracers in the event of an outbreak," warned Harvard professor Julia Marcus and Washington University professor Jessica Gold in a July 21 piece for The Atlantic.
"And when some students inevitably break the rules, administrators should remember that young people want to socialize not because they are selfish, but to reduce loneliness, and communications should be designed accordingly," Marcus and Gold said.
Colleges can safely reopen if campus administrators work with students, but not if they work against students.
MORE: Syracuse University's coronavirus positive test rate is less than one percent
IMAGE: TylerOlson / Shutterstock.com
Like The College Fix on Facebook / Follow us on Twitter