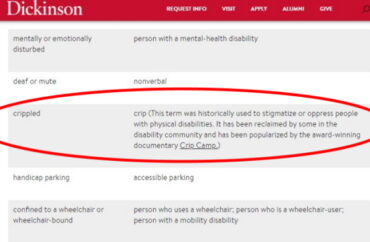 People should avoid saying the word "crippled," but using the term "crip" is acceptable, according to an Inclusive Language Style Guide recently published by Dickinson College.
While "crippled" is "discouraged," the term "crip" is acceptable, according to the university, because while it "was historically used to stigmatize or oppress people with physical disabilities … [crip] has been reclaimed by some in the disability community and has been popularized by the award-winning documentary Crip Camp."
The language guide also advises against using the word midget, but rather "person of short stature." It also suggests avoiding epileptic and instead using "person who has epilepsy."
Even the word "normal" is billed as bad; the guide suggests "typical" instead.
Those are some of the suggestions listed under the "abilities and disabilities" section of the language guide, which also includes sections on "Faith, Religion and Spirituality," "Gender and Sexuality" and "Race, Ethnicity and Nationality."
The university stated in a June news release the document is "an online tool to introduce students, faculty and staff to current best practices in inclusive language so they can speak and write effectively in a way that signals respect."
"It's not a tool to police language, but a very valuable resource," said philosophy Professor Amy McKiernan, who has already alerted her students to the guide, the news release added.
The language guide was highlighted in an August piece in National Review by John J. Miller, a longtime journalist and executive director of the Student Free Press Association, which publishes The College Fix.
Miller argued the Dickinson language guide and those like it represent a "crackdown on what may be thought and said, emanating from the places that should encourage the widest range of thinking and saying."
"Just about every college and university now seems to have guides to 'inclusive' language. In the last decade or so, they have become a genre of bureaucratic literature, full of recommendations and regulations," Miller noted, adding:
Most of this goes unnoticed, though occasionally a silly or provocative choice makes national news. A guide at the University of California, Irvine, for example, became notorious about a year and a half ago for its discouragement of the idiom "kill two birds with one stone." The problem for UCI was not that this hoary phrase is a worn-out cliché, but rather that it employs "violent language." UCI suggested replacing it with a bad rhyme: "Feed two birds with one scone." That led to a round of mockery on social media. The guide weathered the negative attention and remained in place. It's still good for a laugh, but its persistence also reveals the determination of today's language police. They don't confine their assaults to English, either. At Michigan State University, the Department of Romance and Classical Studies has a website devoted to "non-binary/inclusive language" for French, Italian, and Spanish — languages whose nouns, pronouns, and adjectives are, as a matter of grammar, either masculine or feminine.
As The College Fix reported in May, a University of Texas at Austin diversity, equity and inclusion glossary of terms that suggested the word "wimmin" as an alternate spelling of woman made headlines.
In December 2022, Stanford University was widely criticized for a 13-page language guide that warned against, among many things, using the word "Americans."
A language guide coming out of the University of Michigan in 2020 suggested avoiding terms such as "crack the whip" and "master/slave." Even the term "picnic" was deemed offensive by the guide.
Ultimately, Miller wrote, such guides are created by those who "are like detection dogs that find false positives everywhere and won't stop barking."
"While it's true that scoundrels will use language to insult, denigrate, and worse, the proliferation and arcana of language guides demonstrate that others strive to become victims."
MORE: University: Avoid phrases such as 'black sheep,' 'dark web'
IMAGE: Dickinson College screenshot
Like The College Fix on Facebook / Follow us on Twitter