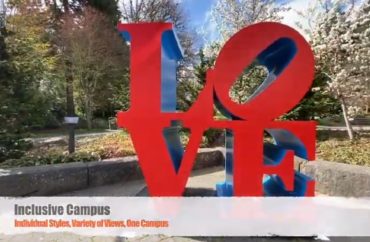 'Not only unconscionable but also unlawful,' critic says
Colleges are prohibited by law from segregating students by race. A liberal arts school in Oregon has been pushing the boundaries of the law, according to a civil liberties group.
Lewis and Clark College separated black, white and "indigenous/people of color" for an orientation workshop before the semester started, even though a professor preemptively warned administrators against it, the Foundation for Individual Rights in Education said last week.
The faculty member, English Prof. Lyell Asher, shared his emails to President Wim Wiewel and General Counsel David Reese with The College Fix. Neither responded before the event, he said, prompting his outreach to FIRE.
Providing "differing educational experiences to students on the basis of their race is not only unconscionable but also unlawful," FIRE wrote in an Oct. 6 letter to Wiewel upon hearing of the event.
"It is settled law that—regardless of purpose or intent—colleges like Lewis & Clark may not require students to identify themselves by race or ethnicity and then use those classifications to deliver separate educational resources or experiences to its students," it said.
FIRE implied Lewis and Clark could become a target for a federal investigation. It noted that two Republican senators, Tom Cotton of Arkansas and Kelly Loeffler of Georgia, formally asked the Department of Justice to investigate schools including the University of Michigan-Dearborn and University of Kentucky for segregating students by race in discussion and training events.
The college disputes FIRE's claims that the "Engage in Racial Justice" workshop was mandatory, even though the orientation schedule says it is "Mandatory for all new students." Its registration form also "required" students to select "your identified race" from a drop-down menu.
MORE: Public universities offer racially segregated groups for election stress
A college spokesperson told The Fix that students gave the workshop "positive" evaluations, but did not answer why Asher's emails went unanswered.
FIRE's post on the workshop was "misleading," Director of Public Relations Roy Kaufmann wrote in a Friday email that reiterated the college's response to FIRE:
More important though is this: diversity, equity, and inclusion are core values of our strategic plan. Moreover, our community demands that we do more around these issues. Students — current and prospective — expect it.
Asher previously co-led an effort to adopt a version of the University of Chicago's free-speech principles, after far-left students tried to shut down an event at the Lewis and Clark Law School. He has also blamed education schools for the radicalization of college administrators.
'As a possible activity for new students, this is fine'
The college brought in the Portland-based group Race Talks to run the Aug. 29 virtual workshop, which was scheduled to run three hours and 45 minutes.
The registration page explains that it will use "affinity groups as a way to create safe spaces for people to speak openly and honestly about race and racism."
Students must choose between black, white and indigenous/people of color categories in order to register. Every field on the page is marked "required," including "preferred pronouns" and "accessibility features" students may need. (The term "preferred pronouns" is itself polarizing among activists on pronoun etiquette.)
Asher (left) started asking questions about the workshop based on its written description two days before it took place. He "stumbled on" the Race Talks workshop while trying to answer a student's question, he wrote to the faculty listserv Aug. 27.
He called Race Talks "a highly partisan organization" and noted the registration form requires students to self-select into "affinity groups" by race.
"As a possible activity for new students, this is fine," he continued. "But the schedule describes this meeting as 'mandatory for all new students.'" Asher asked colleagues if anyone could confirm the mandatory status of the meeting.
"I thought the whole point of an 'affinity group' was that one couldn't be told whom one has an affinity for," he wrote a colleague who responded to the message. "Not based on one's genitals," as with arguments against gay marriage, and "not based on one's color." (Asher asked The Fix not to identify the colleague.)
MORE: Nearly 200 universities encourage, facilitate racial segregation
This time he asked the listserv if "someone in the administration" could check whether the "mandatory" designation on the schedule was intentional and if the general counsel had reviewed it.
Less than two hours after his first message, Asher forwarded the message to Wiewel and Reese directly, urging the president and general counsel to look into the event. "I hope that the [new student orientation] organizers can see that they just made a mistake in making the event mandatory, and notify students accordingly," he wrote.
'Far too similar' to educational segregation banned by Supreme Court
FIRE's Oct. 6 letter to President Wiewel, only made public last week, said the Race Talks workshop was "far too similar … for comfort" to a law school's decision to separate a black student from his non-black peers in the same room. The Supreme Court struck down the practice in 1950.
It doesn't matter that the law school was public and Lewis and Clark is private, since the Civil Rights Act bars racial discrimination for all federally funded institutions, FIRE argued. In one way, the private college's segregation was worse:
Indeed, while [George] McLaurin's separation from his classmates took place within the same physical space … Lewis & Clark's program divided students by race into different virtual breakout rooms, not only setting them "apart from the other students" but also making it entirely impossible for them to "engage in discussions and exchange views with other students" of different races even if they wished to do so.
The Supreme Court also rejected the argument that "merely nominal" racial separation – with the same educational experience for both groups – was permissible, FIRE Executive Director Robert Shibley wrote.
He said the college was violating its own antidiscrimination policy as well, which prohibits discrimination based on "[c]olor, race, ethnicity, national origin, [and] ancestry."
By "reducing students to the sum of their blood and ancestry," its actions are "anathema" to its stated values of diversity and inclusion, Shibley concluded: "Please spare Lewis & Clark the embarrassment of fighting against the principles of legal equality and individual rights by which it is legally and morally bound."
The Oct. 14 response letter from Reese, the general counsel, suggests that he never saw Asher's Aug. 27 email about the planned workshop. He said he hadn't talked to Asher or the orientation planners, and only learned about his objections from FIRE's letter.
The disputed virtual session only happened because the college couldn't do its usual "community service-type event" due to COVID-19 precautions, he said.
MORE: Lewis and Clark protesters shut down Christina Hoff Sommers
Reese (left) said that the workshop was not mandatory despite the wording of the schedule, failure to participate would not affect a student's academic standing, attendance was not taken and students were "free to select" whichever racial group they wanted.
"The session was 'mandatory' in the sense that new students are expected to participate fully in NSO, although some students do miss individual sessions and there are no consequences for doing so," he wrote.
Reese disputed that a "single session" in a "diversity-related" event was remotely comparable to the "invidious state-sponsored discrimination" in the McLaurin case.
"Breaking into smaller caucus groups is a common approach in education and training of this nature, and has been found to be an effective way to encourage frank and robust discussion," he continued. Students in racially separated groups "simply had different individual conversations before coming back together as a larger group":
The purpose of the session was to be as inclusive as possible, not exclusionary, and was meant to further the institution's strong and legitimate interest in fostering a college community where all feel supported and challenged to venture from their comfort zone as they grow and learn.
But Reese pledged that the college "will be clearer" in the future that affinity groups are "optional and that students can accomplish the session objective in a different manner" – if it chooses to use them again.
Just used 'race as a criteria for the breakout groups'
FIRE's Oct. 27 statement scolded the administration for "fail[ing] to take this problem seriously" as judged by Reese's response. The general counsel "attempt[ed] to minimize both the event and its unlawful nature," the group said, calling it "an unacceptable response — legally and morally."
Shibley mocked Reese's explanation: "That it was just a little segregation, that 'mandatory' actually means 'optional,' or that the college meant well is no defense."
Kaufmann, the spokesperson, put "segregation" in scare quotes to cast doubt on FIRE's use of the term. The college simply used "race as a criteria for the breakout groups," he wrote in an email.
The administration is "often criticized for not doing enough to advance the work of equity and inclusion," and the Race Talks workshop is responsive to that.
"I stand with my colleagues in creating a space" where new students can engage in "critical dialogue around race and equity," Kaufmann wrote: "We aim to create an environment where all members of our community are seen, heard, and valued."
MORE: University theater performance segregates whites
IMAGES: Lewis & Clark Pioneers/YouTube, Lewis and Clark College
Like The College Fix on Facebook / Follow us on Twitter