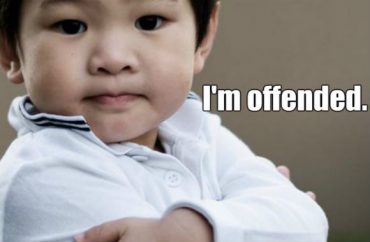 Students and faculty are questioning Drake University's commitment to "creat[ing] a culture of inclusion" (as it says on its website) as many feel the "perspectives of people of color" aren't really considered on the campus.
Late last year, Drake was embroiled in racial controversy following anonymous racist robo-calls and other "alleged reported and unreported harassment and microaggressions against students of color." In response, students painted the aptly named Painted Street completely black to show solidarity with students of color, and the website of the student paper The Times-Delphic followed suit.
Unfortunately, five of those incidences of "alleged reported and unreported harassment" turned out to be bogus.
The spurious nature of those events hasn't dissuaded minority students from fretting about being routinely subjected to  microaggressions which, they say, "create an impact that communicates a fundamentally derogatory insult to a certain group," the Times-Delphic reports.
The, er, "science" of microaggressions is already rather sketchy, and Drake Communication Studies Professor Godfried Asante (inadvertently) confirms just this:
"Microaggressions are very difficult to pinpoint and to bring up because it's not like for instance the KKK or someone clearly discriminating against you, but they are very micro acts, that even sometimes when you're acting in good conscience, it inadvertently reproduces this subjugation of another person," Asante said.

"Microaggressions are difficult because to someone else they may think, 'I'm trying really hard here, I was at a rally, I was doing this, so why are you now telling me that this instance is somehow a microaggression?' So, because of that, it's difficult to talk about or to bring up. It creates tensions because typically it's something so subtle and minute but if you have 10 minute things eventually they become daily acts of violence."
In other words, virtually anything one says or does can be interpreted as a microaggression.
Take Drake student Anika Boyert's examples: She says it's a microaggression when "you have a class talking about something that has to do with black populations" and the professor zeroes in on the lone person of color in the room "as if you are the representative." However, don't universities and other institutions champion racial diversity for these different perspectives? After all, Boyert rips Drake about allegedly not doing this very thing in the first paragraph of the Times-Delphic story!
Boyert also complains about a "a significant member of campus" speaking to her class and quoting a former (US) president who happened to be — gasp! — a slave owner: "I don't feel right about that, but then again I'm the only person of color in the room," she says.
Certainly the belief that non-white racial groups are political and philosophical group-think monoliths is incredibly shallow, but that's precisely what colleges engage in. Microaggressions thus become a catch-22; just imagine if Boyert's professor did not look in her direction during that discussion. That would be deemed a microaggression because the prof "ignored her perspective" and/or "enforced white supremacy" by asking only Caucasian students their opinions.
In a past College Fix report, the Center for Equal Opportunity's Althea Nagai noted the biased way in which microaggressions are "determined":
[A] small group of people might be asked, "In what ways have others made you feel 'put down' because of your cultural values or communication style?"

[T]he problem with that approach: "After such prompting by the interviewer, respondents would be more likely to find what the research is looking for." This isn't the way to find truth, but it is a way to "prove" what you've decided you want others to believe.

Another defect in this research is that it relies on small focus groups where peer pressure dynamics and a desire to please the interviewer can lead to very unreliable results. "One or two participants may end up controlling the whole group."
Ms. Boyert actually asked the right question when referencing the slave-owning president: "Am I just overly sensitive or is it something to be upset about?" The answer is largely the former, as Boyert might try considering the era in which the president existed. (The same concept applies to the current virtue signaling over college yearbook "blackface" photos.)
The very malleability of the microaggressions concept is what makes it so contrived. They can be anything. If a student is looking to be offended, she'll find something about which to be offended. It's simple: Just call it a "microaggression."
Read the full Times-Delphic article.
MORE: Massive new  initiative at San Diego State combats faculty microaggressions
MORE: Study: 'Microaggressions' associated with racism in white college students
Like The College Fix on Facebook / Follow us on Twitter