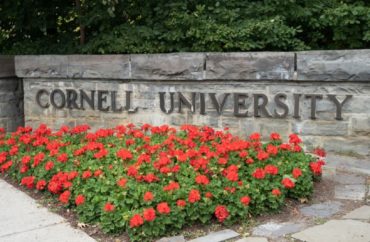 ANALYSIS: Democrats dominate the humanities department at Cornell University
Democrats outnumber Republicans 98 to 1 according to a College Fix analysis of professors' political affiliations across six humanities departments at Cornell University.
The archaeology department sits alone in hosting a Republican professor. The gender studies department, along with the philosophy, sociology, government and literatures of English departments, all contained zero registered Republicans.
Using voter registration data from Tompkins County, The College Fix looked up the political party identification of 174 professors in Cornell's philosophy, literatures in English, archaeology, sociology, government and gender studies departments.
This is one of the many investigative reports published by The Fix in recent weeks about the political affiliation of professors. The survey of the University of Georgia found Democratic professors outnumbered Republican ones by a ratio of about 10 to 1, and the survey of University of North Carolina at Chapel Hill found Democratic professors outnumbered Republicans by a ratio of about 16 to 1.
The results were slightly less slanted at Ohio State University, where Democratic professors outnumbered Republican ones by a ratio of 7 to 1. And the ratio of Democrats to Republicans at the University of Nebraska-Omaha is 5 to 1, according to a Fix analysis.
The Fix cross-checked middle names and other potential identifying information against public sources such as academic papers and resumes. The search is limited to Tompkins County, where Cornell is located.
Among the 174 professors, 65 professors could not be identified within the voter database. Ten professors were listed as "BLK," which means they are registered but did not choose a party. Voters in New York register as Republican, Democrat, Conservative or Working Families, though citizens can choose "other" or "No party," according to a state election department form.
MORE: Zero Republican poli-sci professors found at University of Nebraska-Lincoln
The Fix's survey only included professors, including associate professors, assistant professors, and instructors within each department, but not grad student teaching assistants, professor emeriti or scholars affiliated with each department. It also did not include graduate school faculty.
The Fix asked Cornell's media team if the university undertakes any specific recruiting efforts to bring in a mix of political beliefs among its professors. The media team did not respond to two emails sent in the past week.
Conservative students are 'under pressure' to keep views hidden, professor says
A conservative law school professor said he is not surprised by the results.
"As faculty advisor to several non-liberal undergraduate student groups, I can tell you that conservative students on campus feel under pressure not to express their views openly," Professor William Jacobson told The Fix.
"But this is not just a conservative problem, even some liberal students, as expressed in the Cornell Sun, believe the campus climate is toxic due to the aggressive actions of 'progressive' activists," the professor said.
Jacobson referenced a situation during which the university ousted a chemistry professor for criticizing Black Lives Matter.
"While there are some flowery words issued about free speech, the reality is that the administration has fostered this oppressive atmosphere by imposing a wide-ranging (Ibram) Kendi-style 'antiracism' initiative, feeding the false narrative that anyone who is not a progressive 'antiracism' activist is racist," Jacobson told The Fix.
The Fix contacted the five departments with no Republicans twice in the past week. The Fix asked whether they undertake any specific recruiting efforts, such as holding events for grad students at conservative colleges to try to bring in a mix of political beliefs. None of the departments responded to requests for comment.
The Fix also emailed the lone Republican professor on October 10 but received no response.
The College Fix has chosen not to publish its spreadsheet of specific names to protect the identity of the sole Republican professor.
Department of Feminist, Gender, and Sexuality Studies:
Republican: 0
Democrats: 12
BLK: 0
Unknown: 12
Total: 24
Department of Archaeology and Material Studies:
Republican: 1
Democrats: 13
BLK: 1
Unknown: 9
Total: 24
Department of Sociology:
Republican: 0
Democrats: 14
BLK: 2
Unknown: 8
Total: 24
Department of Literatures in English:
Republican: 0
Democrats: 33
BLK: 2
Unknown: 12
Total 47
Department of Government:
Republican: 0
Democrat: 18
BLK: 3
Unknown: 14
Total: 35
Department of Philosophy:
Republican: 0
Democrat: 8
BLK: 2
Unknown: 10
Total: 20
MORE: Cornell to hire social justice 'Equity Librarian'
IMAGE: Amy Lutz/Shutterstock.com
Like The College Fix on Facebook / Follow us on Twitter