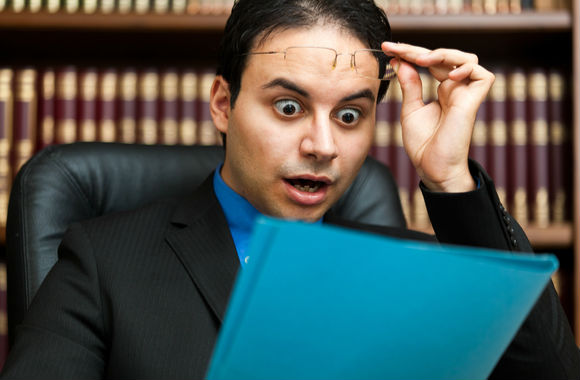 Officials would be denied 'qualified immunity' if they punished students for speech
Posting flyers that read "It's OK to be white" may violate content-neutral campus rules on authorized postings. It's very hard to make the case that they are a "crime."
East Tennessee State University's president is the latest campus leader to rush out a statement in response to the flyers' appearance, without apparent regard for the legal liability he himself could face for punishing constitutionally protected speech.
In a tweet Monday, Brian Noland wrote that unspecified "racist flyers" were placed around campus the previous Friday. They were "identical to those placed on college campuses across the country by white supremacist groups in an attempt to seed division and discord." (He offered no evidence to back his claim about "white supremacist groups.")
The president is particularly angry because the flyers were placed over memorial plaques for five black students who were the first to attend the school in the 1950s. He was also president when they were memorialized.
ETSU staff immediately removed the flyers, but the university investigation remains "active" and it seeks information "that could lead to the identification and prosecution of the perpetrators of this crime," Noland wrote.
He told campus he had asked his senior leadership team to "reaffirm their commitment to our university values," though it's not clear if Noland is blaming any of them for failure to act inclusively.
MORE: WCSU asking for lawsuit by promising to prosecute 'It's OK to be white' perps
A message to the @etsu community: pic.twitter.com/2NDCEcdSko

— Brian Noland (@ETSUPrez) November 4, 2019
It's also not clear that Noland ever specified the content of the flyers, other than calling them "racist." He first denounced them Saturday and said faculty and staff spent more than two hours taking them down Friday, but media outlets including Johnson City Press have described them as "It's OK to be white" flyers without quoting ETSU.
Student Government President Aamir Shaikh issued a far more restrained response, telling the Press that the flyers were "not an appropriate manner" for "expressing free speech." He emphasized that minority students were "a necessary part of this campus and you're a voice that needs to be heard."
Noland and the university did not respond to a tweet asking how posting flyers with constitutionally protected speech can be a "crime" deserving "prosecution," as Noland said in his statement.
The College Fix pointed them to UCLA Law Prof. Eugene Volokh, a First Amendment expert, who had contradicted claims by Western Connecticut State University that the unauthorized posting of the same flyers on that campus was a crime. He said it may not even violate campus rules if WCSU does not consistently enforce them.
Volokh also contradicted the University of Connecticut's claims about the illegality of shouting the N-word in a parking lot, writing in an op-ed that the advertising law under which UConn students were arrested did not apply to their conduct and that the law itself was unconstitutional.
The Fix followed up with an email to ETSU media relations and university counsel Mark Fulks Thursday afternoon, asking for their response to Volokh's analysis of WCSU's threatened prosecution of those who posted "It's OK to be white" flyers on that campus.
Posting offensive flyers in and of itself is "clearly established" as constitutional under longstanding case law. That means governmental actors such as Noland and other ETSU officials would not enjoy "qualified immunity" from personal liability if they were sued by students who were punished – even short of prosecution – for posting the flyers.
The Fix asked if Noland ran his statement threatening prosecution by Fulks before releasing it; if either is concerned that ETSU officials and police could be held personally liable for punishing students under the disciplinary code or arresting them; and what is the university's argument for either a law enforcement or school disciplinary response.
Neither Noland nor ETSU has tweeted since Monday, when he released his statement.
Read Noland's statement and Johnson City Press coverage.
MORE: UConn officials risk legal liability for punishing N-word students
MORE: U. Iowa officials personally liable for ignoring First Amendment
MORE: California State chancellor, campus president denied qualified immunity
IMAGE: Minerva Studio/Shutterstock
Like The College Fix on Facebook / Follow us on Twitter