A Detroit elementary school educator wore a sweatshirt to work on Columbus Day which read "COLUMBUS WAS A MURDERER" in order to, she claims, "spark discussion."
According to WXYZ, fifth grade teacher Emma Howland-Bolton said she wanted to "have a conversation" with her Clipper Multicultural Magnet Honors Academy students regarding "different perspectives."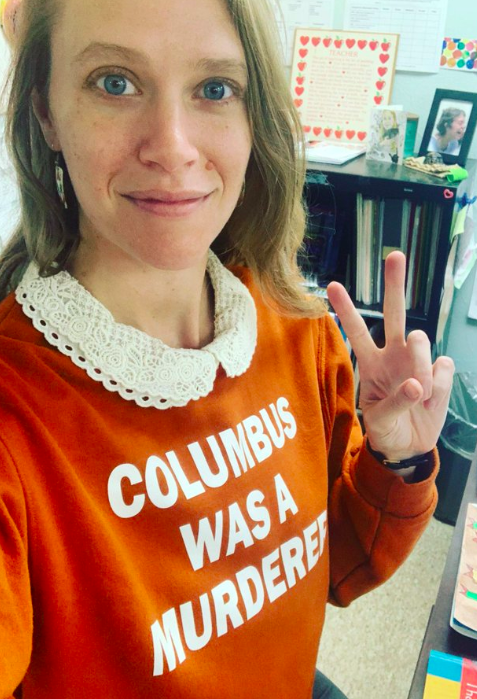 However, a Clipper administrator told her she would have to change her shirt, and she was informed the statement was "her opinion." Howland-Bolton countered that it "is a fact."
Action News sat down with History Professor Pamela Sayre from Henry Ford Community College. She says it really does depend on whose narrative you are looking at. Christopher Columbus was a man of his time and murder in his country often was only a crime if you killed a man with a soul that could be saved by Christianity.

People of other faiths were dehumanized.

"There was serious debate over time about what beings had souls," Sayre said. "For a while there was a question, did women have souls."

The fact is that the men he oversaw did commit many murders from the perspectives of Indigenous People who lost their lives.

"There is a history of brutalism, of aggression against native people and lesser charges really – stealing crops, raping women," Sayre said.
Clipper officials said Howland-Bolton's shirt was disallowed because it was part of a lesson which was not approved ahead of time. Nevertheless, she was not disciplined.
If Ms. Howland-Bolton really wants to be brave, maybe next year she can wear a shirt emblazoned with "NATIVE AMERICANS WERE MURDERERS TOO." After all, just look at what the University of Maine College Republicans went through recently when they proclaimed that very statement "is a fact."
MORE: Howard Zinn lied about Christopher Columbus. Here's how.
MORE: Notre Dame's controversial Columbus murals still stand, uncensored
IMAGES: YouTube, Twitter
Like The College Fix on Facebook / Follow us on Twitter