OPINION: Our effort to reach the greater population is constantly silenced
Belles for Life, a campus group on Saint Mary's College that advances a "pro-life/pro-love" message, has been the target of repeated harassment for the past several years, and administrators have done little to tackle the issue.
How do I know? I'm a member of the club. I have witnessed firsthand for the last several years how every time we advertise our events or causes, my peers at our private, Catholic institution violate our rights of speech and religious liberty on this polarizing issue.
Usually they'll either tear down our posters, or vandalize them, or throw them in the trash. As college life so often is consumed with a flurry of activities, posters become a crucial source to spread word of an event. But our effort to reach the greater population is constantly silenced.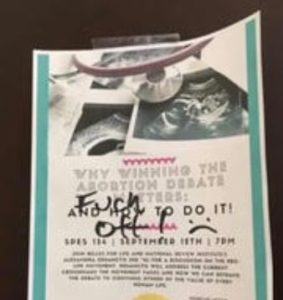 The most recent incident took place earlier this month when we advertised our event titled "Why Winning the Abortion Debate Matters: And How to Do It." Alexandra DeSanctis, a member of the National Review Institute, was the main speaker. She is a previous 2016 graduate of Notre Dame, which is across the street, and former editor-in-chief of the Catholic newspaper on campus, The Rover.
To no one's surprise, there were numerous attacks on these advertisements of an event meant to stimulate intellectual and theologically sound arguments. Flyers went missing. Others were found ripped down and crumpled. Some had profanity sprayed across them.
In an interesting turn of events, an anonymous student posted a picture to a popular Saint Mary's College Facebook group of one of the vandalized posters, saying: "I do not consider myself anti-abortion, but political views aside, this is not okay. It is vandalism. It is disrespectful." She had included a picture of one of the posters that had the slur "F*ck Off" sprawled across it.
Despite the brave and thoughtful commentary, mysteriously an administrator of the Facebook page — made up of members of Saint Mary's staff — removed the post shortly after.
Other incidents include the 2018 marking of the "40 Days for Life" observance, which spans from September 25 until November 3 as a time of prayer and fasting for the end of abortion. Our window decorations were tampered with or destroyed.
What's more, because there are conveniently no cameras in the staircases or near the elevators where our posters have been torn down, ripped and vandalized, the administration has told us there's nothing to be done about it, since they have no proof of who is responsible.
Administrators have chided the campus community here and there to remind everyone that all viewpoints are to be acknowledged and that tearing down posters is against school policy, but the warnings never move on to enforcement.
I personally met with the head of student affairs last year after our March for Life Pilgrimage posters and other advertisements disappeared. So much so, that there were students that had approached me asking if Saint Mary's was still attending. One poster had been found graffitied with the phrase "Church ≠ State" and another was obviously smoothed after being crumpled and taped back up.
The head of Student Life offered to print a banner or put up the posters behind a locked glass case. We declined this offer because we are calling on our peers to learn respect, not to act like agitated toddlers.
Consider that we put up with left-wing messaging constantly. Campus officials are more than happy to advance the progressive agenda on campus. This week, for example, the entire campus community received an email from Vice President of Student Affairs Karen Johnson promoting a "global climate strike" on campus.
Having a crucifix in every classroom or offering mass on campus does not make a school Catholic. If the one priest on campus is more interested in speaking on climate change as an attack on the most vulnerable versus more crucial issues such as abortion, Saint Mary's is doomed as a Catholic institution. Without supporting the dogma of the Catholic Church, a virulent anti-pro-life atmosphere is allowed to fester — which ultimately is the absolute opposite goal of the faith we hold so dear.
For a Catholic school that is claiming to be concerned with the most vulnerable of their students, we are, un-ironically, receiving no love.
MORE: Suspicious chemicals released at campus pro-life event turn out to be 'stink bomb'
Like The College Fix on Facebook / Follow us on Twitter