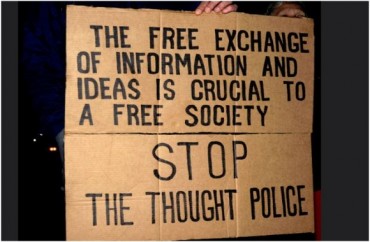 If you're concerned about the future of American journalism, a recent Harvard Crimson op-ed isn't going to make you feel any better.
Titled "The News Isn't Objective — and It Shouldn't Be," the first thing that popped into my head while reading Associate Editorial Editor Manuel Yepes' piece was those on a certain social media platform who made this very argument between 2016 and 2020 — because Donald Trump allegedly was (and is) evil incarnate.
That was not unlike former Yale University shrink Bandy Lee who repeatedly felt the need to let everyone know President Trump was "dangerous to an unprecedented degree in our history."
However, Lee also — remarkably — claimed that Joe Biden has not displayed "serious signs of mental instability in a public servant" nor exhibited "delusions of grandeur, omnipotence […] pathological lying to the level where almost no truth can be found in any of his words [and] making up fake news."
(Lee is still at it, by the way.)
Aside from claiming The Crimson's news section is "devoted to objective, unbiased journalism," Yepes says that while "many believe [that] objectivity remains an ideal worth seeking […] objectivity is still a flawed goal."
He believes journalism "can retain its mission of creating informed, active members of society without attempting to be objective in the strictly-defined present sense." Reporting should heed the World War 2-era words of journalist Albert Camus who believed "newspapers should embrace the fact that they need to make critical judgments to construct effective narratives."
MORE: Fear the Future: College students' views on free speech are … rather worrisome
Dubbing this "critical journalism," Yepes says such an approach would "enable citizens to participate in society by making informed judgments."
The concern over using the term "critical" to describe anything these days notwithstanding, in 2020 news outlets of course made the "critical judgment" to construct the "effective narrative" that Hunter Biden's laptop was Russian disinformation … which "enabled" citizens to make a misinformed judgment prior to that year's election.
Need I mention Donald Trump and the media's "critical judgment" to assist in constructing the "effective narrative" about "Russian collusion"?
Let's face it, what Yepes wants is so much partisan BS; the same "critical judgments" are used by Big Tech to silence right-of-center voices. Who, after all, permanently silences a sitting president yet gives an outlet to some of the most murderous regimes on the planet?
A more recent "effective narrative" surrounds the monkeypox virus. In a move similar to that regarding the 1980s' AIDS scare, we're to believe it is "homophobic" to point out that gay men are the main vector of the disease's spread. The University of Washington student paper The Daily — which ironically includes the tag "critical conversations" (pictured) — makes sure to note that monkeypox isn't officially a "sexually transmitted disease," and saying that well, yes, it actually is, contributes to "antigay stigma."
MORE: Fear the Future part 2: critical race theory and free speech limits based on feelings

A couple of months ago, Northwestern University even told its campus community that "monkeypox is not a sexually transmitted infection or disease, nor is it linked to sexual orientation." Daily reporter Katie Newman even claims "rampant homophobia" was responsible for "so many" gay men's deaths from HIV during the AIDS crisis.
But remember — refuse to get that COVID "vaccine" and it's stigma be damned.
Fortunately, it appears fewer and fewer people are falling for what Yepes is peddling. Fox News, the only major news outlet that fairly covers conservative viewpoints, is more popular than ever, and Big Tech's almost-monopoly on the dissemination of information is in for a major shock once Elon Musk's purchase of Twitter becomes final.
Don't believe for a second, however, that the progressive Left will allow this trend to continue without a fight.
MORE: Fear the future yet again: Free speech 'sliding scale' on display at UW Madison
IMAGES: Stephen Melkisethian/Flickr.com; The Daily screencap
Like The College Fix on Facebook / Follow us on Twitter