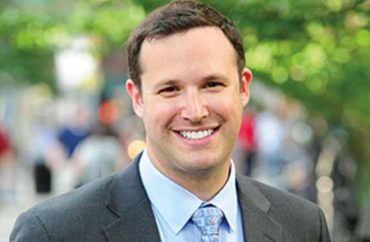 Elite schools, more likely to censor, are 'echo chambers' disconnected from most Americans
Political scientist Samuel Abrams has studied political polarization for decades, but he's hopeful that the majority of college students want to listen to each other and stand up for open debate against an extreme minority who would silence or cancel professors and peers.
Abrams (pictured) recently responded to questions from The College Fix on how censorship contributes to polarization on campuses, why elite colleges rank worst for free speech, and what administrators and students can do to promote viewpoint diversity and academic freedom.
Abrams is a professor of political science at Sarah Lawrence College and a fellow at the American Enterprise Institute, George Mason's Institute for Humane Studies, and the Center for Advanced Social Research at NYU.
This interview has been edited for length and clarity.
The College Fix: In an article you co-authored September 26 with Pamela Paresky, "An 'Us' vs. 'Them' Mentality on Campuses Turns Potential Friends into Allies — or Enemies," you wrote that college administrators can "make a lasting difference" by encouraging healthy dialogue and interaction between students with opposing viewpoints. What else can colleges do to change the "us vs them" mentality on their campuses?
Samuel Abrams: Schools can actively model disagreement and effective ways to work through and even accept differences. That means changing orientation and housing programming and even changing administrative hiring to showcase how these ideas play out in practice. The College of William and Mary just announced the creation of a new position, the Director of Democratic Dialogue and Civic Practice, meant to navigate conflict and promote civic discourse in the campus community. This may or may not work, but it is a good start. Moreover, schools can incentivize and reward faculty and departments who showcase how open inquiry, viewpoint diversity, and respectful discourse actually works Professors are trained to consider evidence and bring competing ideas together. That can be hugely powerful to students.
TCF: Aside from formally prohibiting segregated spaces, what do you think colleges can do to promote diversity of all kinds on campus?
SA: This is where real third spaces [not home, work, or academic] like coffee shops and even dog parks, matter, where students of varied backgrounds want to meet and socialize and simply be in the presence of others. This is where connections are made and bubbles are burst and seeing others who are dissimilar can have extremely powerful and profound effects of changing minds and views. Even public transit systems have been shown to help increase civility. Colleges can build and cultivate these spaces.
TCF: In the Foundation for Individual Rights and Expression's recent "College Free Speech Rankings", elite schools received worse rankings for free speech overall, with Columbia University receiving the lowest ranking. Why do you think this is the case?
SA: Elite schools tend to have more liberal student bodies along with a proclivity to censor and try to prohibit speech more often than lower ranked schools and in our wonderful community colleges. Schools of this sort tend to be a bit more disconnected from typical Americans with lower diversity levels in terms of social and economic backgrounds. As such they often become echo chambers at higher levels than community colleges, where students may work, have families, and have different goals and immediate concerns than their Ivy counterparts.
TCF: In your "'Us' vs. 'Them'" article, you cited survey data from the Foundation for Individual Rights and Expression and RealClearEducation stating that 80 percent of college students say they self-censor their views. What can students do to facilitate and engage in more open dialogue with each other?
SA: My research has shown for years that our Gen Z students today are not only capable of processing large streams of complex information, but are also deeply interested in searching for the truth and thus understanding dissent and differing points of views. Students can do what I see many already doing; stop allowing a handful of students with extreme ideas and interest in shutting down ideas and holding them accountable for their behavior. Students can also take positions of informal leadership and try to facilitate meaningful discussions and dialogue which they do quite often. I see this in my seminars all the time.
Students are unhappy with the current environment on campus and I think that they will be instrumental in fixing this mess; they have been and are demanding better and they should be supported in this critical endeavor.
MORE: Columbia is the worst college for free speech, report concludes
IMAGE: American Enterprise Institute
Like The College Fix on Facebook / Follow us on Twitter