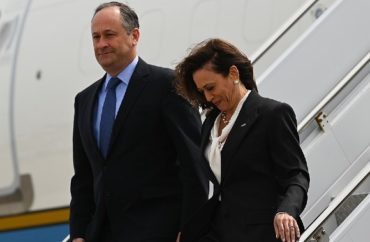 Teaches just two or three hours per week
Georgetown University Law Center pays Douglas Emhoff, Vice President Kamala Harris' husband, $169,665 to teach just two courses per year, according to recently released tax returns.
Emhoff (pictured) took the job at Georgetown after the 2020 presidential election.
The Second Gentleman is a "a Distinguished Visitor from Practice at Georgetown Law and a Distinguished Fellow of Georgetown Law's Institute for Technology Law and Policy," according to his university bio. "In his almost 30 year career, Emhoff was known for tackling and resolving the toughest problems – whether by litigating high-stakes cases or acting as a trusted advisor in complex disputes with an emphasis on media, entertainment, and Intellectual Property matters."
Last fall he taught one class titled "Entertainment Disputes." He previously worked as an entertainment lawyer. The class occurred once per week for two hours, according to the course catalog.
His course load was a bit heavier this spring, as he taught a three-hour course, once per week, on "dispute resolution."
He is not the only member of the White House to get a professor job with minimal duties.
President Joe Biden once worked as a "professor of presidential practice" at the University of Pennsylvania which included vague job duties. The Penn Biden Center also doubled as a storage locker for classified government documents. Penn's president, Amy Gutmann, later secured a job as Ambassador to Germany under President Biden while former university board of trustees chair David Cohen was awarded an appointment as Canadian ambassador.
In contrast, First Lady Jill Biden is paid about $86,000 a year for teaching a full course load of seven classes per year at Northern Virginia Community College, as a College Fix investigation found.
MORE: Harris warns about racist machines at Hampton University event
IMAGE: Public Domain
Like The College Fix on Facebook / Follow us on Twitter