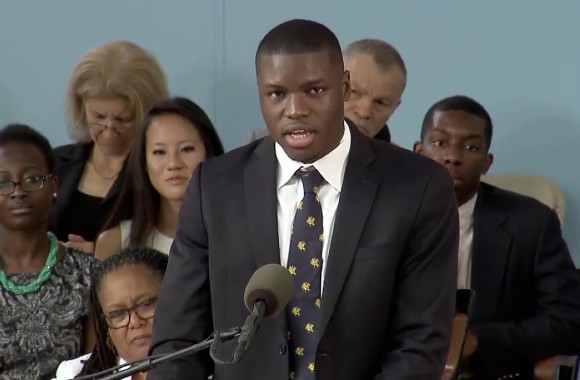 UPDATED
He wrote for 'Black-ish' and 'The Simpsons' but won't get his diploma
A federal judge allowed Harvard to judge an accused student guilty with an undefined evidence standard that may be less than 50 percent, dismissing his lawsuit against the university on Monday.
TV writer and former Wall Street analyst Damilare Sonoiki sued Harvard last fall to clear his name and finally receive his diploma after he was accused of sexual misconduct two days before commencement in 2013.
Despite meeting all requirements for graduation, investigators were "sufficiently persuaded" that Sonoiki (above) was responsible for sexual misconduct. The Nigerian immigrant gave a speech to the graduating class but received an empty envelope when he walked at graduation.
U.S. District Judge Denise Casper ruled that Harvard was not obliged to use either of the two most common evidence standards in campus disciplinary proceedings, the higher "clear and convincing" or the lower "preponderance," which is often dubbed "more likely than not."
MORE: First Title IX suit against Harvard by accused male alleges racism
That means most of the evidence in Harvard's investigation could have favored Sonoiki when it judged him guilty of sexual misconduct. The Obama administration required colleges to use preponderance in its 2011 Title IX guidance, compelling compliance from schools that used the "clear" standard, including Princeton.
As a student, Sonoiki served as the president of the university's Black Men's Forum and was selected by classmates to be the male "Orator" for his graduating class.
Professionally, Sonoiki worked for Goldman Sachs and left the firm to write TV episodes for Black-ish and The Simpsons. In a January interview with Robby Soave at Reason, Sonoiki said he engaged in insider training so that he'd have enough money to sue Harvard for his diploma and protect his career.
In a phone interview, Sonoiki's lawyers Kristina Supler and Susan Stone told The College Fix they were "disappointed" with the decision. Sonoiki told The Harvard Crimson July 1 that he plans to appeal to the 1st U.S. Circuit Court of Appeals.
Harvard has not responded to phone or email queries. Criminal defense lawyer Scott Greenfield tweeted that the "upshot" of the ruling was that "there will be no relief for an innocent black male Harvard student."
MORE: Cornell committee recommends lowering evidence standard
A 'penal institution' that is 'enigmatic and incomprehensible to students'
Sonoiki was accused by three women and investigated in all three cases simultaneously. According to Soave, two of the accusers were white and the third was not black. (The suit claims "implicit racial bias" because there was "at most" one black man besides Sonoiki involved in the adjudication process.)
Two women filed allegations on the eve of commencement in late May, and the third followed in June. Under Harvard's policies at the time, Sonoiki was not allowed to cross-examine witnesses and accusers at an in-person hearing. He was also not told who were the "adverse witnesses" against him.
Sonoiki filed suit six years later, arguing that he was in good standing at the time of graduation – as officials had not yet launched an investigation – and that Harvard no longer had jurisdiction after his graduation date.
The suit opened with a passage from a Harvard Crimson editorial that called the Administrative Board, which adjudicated his case, a "penal institution" that is "enigmatic and incomprehensible to students."
The accused student denied the allegations. He claimed that the director of Harvard's Office of Sexual Assault Prevention and Response, Sarah Rankin, pressured all three complainants to accuse him, and that she used Associate Dean Jay Ellison to apply additional pressure.
Nevertheless, both Rankin and Ellison served on the so-called Ad Board and Rankin continued to personally advise the complainants during the process.
MORE: America's best colleges get even worse on due process in 2019
"Ann" and "Betty" both accused Sonoiki of having sex with them while they were unconscious, with Ann claiming she "blacked out" and then "woke up" to being assaulted. He claimed Ann consented and was not incapacitated during their 2011 encounter after a party, and Betty agreed that several of their sexual encounters were consensual when they lived together as interns in 2012.
"Cindy" accused Sonoiki of sexually assaulting her during a "formal event" in 2013, but he maintains that she led him to the basement and consensually participated.
According to Judge Casper's ruling, Sonoiki was interviewed over Skype, was not allowed to submit questions to witnesses, and was not allowed to attend interviews of the complainants or the witnesses.
Harvard prohibited "direct involvement and advocacy by an attorney adviser" at the time Instead, it allowed Sonoiki a representative on the Ad Board who was not to "advocate" for him, but simply to ensure that his perspective was "clearly presented." The representative was not even required to grant him confidentiality.
The Ad Board voted to require Sonoiki to withdraw from Harvard and recommended his dismissal to the Faculty Board in November 2013, using the evidentiary standard of "sufficiently persuaded." (The standard is not defined in Ad Board regulations.)
The student's appeal was denied and his dismissal finalized in December 2014.
Federal judge lets Harvard use evidence standard for rape that may be under 50 percent certainty by The College Fix on Scribd
'Harvard was not required to apply a legal standard' of evidence
Judge Casper dismissed all four of Sonoiki's counts: breach of contract, denial of basic fairness, breach of the covenant of good faith and fair dealing, and estoppel and reliance.
She ruled that Harvard fulfilled its contractual obligations to Sonoiki in the Harvard Student Handbook and other relevant Ad Board policies.
The university did not overreach its jurisdiction and was entitled to withhold his degree, the judge said, since the accusations made days before his graduation were unresolved. Harvard met its obligations through its procedure giving accused students a representative who acts as a "liaison" with the Ad Board.
Harvard did not owe Sonoiki the right to know witness identities or have an advocate present during the interviews, Casper ruled, citing the "express terms of the contract" in the Handbook.
As for the "sufficiently persuaded" evidence standard, "Harvard was not required to apply a legal standard" such as preponderance or clear-and-convincing "to their disciplinary process," the judge said.
While Sonoiki claimed the evidence standard was so "insufficient and unrecognizable" that its "ambiguity rendered the contract unenforceable," he didn't show that the Ad Board reached an "arbitrary," "capricious" or "bad faith" decision using the standard, according to the judge.
MORE: University settles suit where official suggested men enjoy being violated
Journalists including Soave at Reason and Emily Yoffe at The Atlantic have highlighted anecdotal reports that nonwhite men, and especially foreign or immigrant students such as Sonoiki, are disproportionately likely to be accused of campus sexual misconduct, often by white women.
But Casper was not persuaded that the allegedly "racially monolithic" composition of the Ad Board, which numbers "approximately" 30 members, showed bias against Sonoiki as a black man.
Sonoiki's core problem was that Harvard didn't make him more generous promises in contractual documents, the judge suggested.
Rankin and Ellison's allegedly compromised roles did not preclude their participation as members of the Ad Board; Sonoiki's representative was not obligated to be confidential and the length of the process was not promised; the Ad Board was not restricted from simultaneously investigating three accusations; and Sonoiki's claim that adjudicating bodies were not independent amounts to "speculation," Casper said:
[T]he procedures that Harvard followed in initiating, investigating and adjudicating the complaints against Sonoiki complied with the policies and procedures enumerated in the Handbook and the ancillary contract documents.
UPDATE: Sonoiki's legal team told The Fix it hadn't decided its next move when this article was published. He told The Harvard Crimson a week later he would appeal to the 1st U.S. Circuit Court of Appeals. Language around Ann's claims has also been updated to clarify she and Sonoiki were not sleeping together in bed.
MORE: Harvard threatens student groups for electing members of male-only orgs
IMAGE: Harvard University/YouTube
Like The College Fix on Facebook / Follow us on Twitter