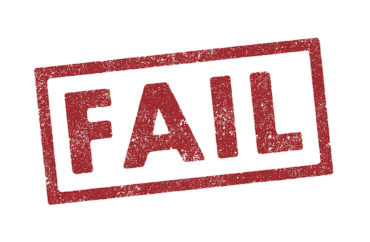 UPDATED
Improve your grade by voluntarily adopting proposed federal regulations
Despite growing public attention to the importance of due process in college disciplinary proceedings, more elite colleges earned rock-bottom reviews from an education civil-liberties organization this year.
The third annual review of due process on U.S. News & World Report's top 53 "national universities," conducted by the Foundation for Individual Rights in Education, reported an increase in lackluster grades compared to previous years.
In fact, the number of colleges receiving "D" or "F" grades increased from 47 in 2018 to 49 in 2019, according to FIRE.
"Disappointingly, we did not see a significant change overall in the safeguards the rated universities guarantee students from 2017 through this year," the group said.
Seven in 10 reviewed colleges "do not explicitly guarantee students that they will be presumed innocent until proven guilty," two in five "do not explicitly require that fact-finders […] be impartial," and fewer than a third "guarantee a meaningful hearing."
MORE: 9 in 10 elite colleges don't allow 'meaningful' cross-examination
The study reviewed policies for both sexual misconduct and non-sexual misconduct. None received an "A" grade, while four schools – the University of North Carolina-Chapel Hill, Georgia Institute of Technology, Cornell and Stanford – earned one "B" and one "C" grade.
Some of the most elite schools in the country earned "F" for both policies, including Harvard, MIT, Caltech and the University of Notre Dame. Washington University in St. Louis is the only school that offers none of the 10 "fundamental elements of due process" in at least one policy.
Since FIRE did not conduct annual analyses on due process before 2017, it's difficult to discern "how much and in what ways university policies have changed over time," report author Susan Kruth told The College Fix in an email.
But Samantha Harris, vice president for procedural advocacy, told The Fix it was "striking" how many of the F-rated schools "have been sued more than once," showing the danger of schools not reforming their policies.
California colleges are at particular risk because students can seek "writs of mandate" to reverse disciplinary decisions under state law, she said. These actions by students have a "more immediate impact," with eight such actions against the University of California-Berkeley and 10 against UC-Santa Barbara.
There's an easy way for colleges to improve their grades, according to FIRE: adopt the proposed Title IX regulations from the Department of Education, which are set for release early next year. If they did so, colleges would rise to a "C or better" on FIRE's scale, the group said.
MORE: Jury awards six figures to student for Title IX kangaroo court
ZERO surveyed institutions guarantee all basic due process protections, or even those required under the Department of Education's proposed Title IX regulations.

— FIRE (@TheFIREorg) December 11, 2019
Protections for students 'have come out of lawsuits against F-rated schools'
The current landscape for college disciplinary proceedings has been heavily shaped by the Obama administration's "Dear Colleague" letter from 2011.
As recounted by Brooklyn College Prof. KC Johnson and journalist Stuart Taylor, co-authors of The Campus Rape Frenzy, the letter ordered colleges to use "the lowest possible standard of proof," instituted double jeopardy for exonerated students, sped up adjudications and "discouraged cross-examination of accusers."
Kruth noted that FIRE tried to invalidate the letter by sponsoring a lawsuit against the Department of Education's "unlawful mandate."
The lawsuit was withdrawn after President Trump's Department of Education rescinded the letter and issued new interim Title IX guidelines. Because Education Secretary Betsy DeVos* undertook a federal rulemaking, unlike her predecessor, her proposed sexual misconduct procedures will be binding law when released.
FIRE's new report grades colleges on whether their disciplinary policies explicitly protect 10 criteria: "meaningful" presumption of innocence, hearing process, right to appeal and cross-examination; "timely and adequate" written notice; "time to prepare with evidence": "impartial" fact-finders and the "right to present" to them; "active participation" of an advisor; and "unanimity or clear and convincing evidence."
MORE: Anti-rape activists avoid court because defendants presumed innocent
Report author Kruth emphasized how the Dear Colleague letter forced "several top universities" to abandon the clear-and-convincing evidence standard they had been using. They included Princeton, Stanford ("in the middle of a case") and the University of Virginia, which was a "central element" in FIRE's litigation against the Dear Colleague letter.
In a blog post last week explaining the report, FIRE said 17 of the 22 schools rated "F" have been sued by accused students "over the lack of fair procedure." Harris said 13 of the 17 have faced at least two lawsuits.
While those cases "have gone in both directions (and some have settled before any disposition)," Harris told The Fix that "some very significant opinions in favor of student rights have come out of lawsuits against F-rated schools." Three are under the jurisdiction of the 1st U.S. Circuit Court of Appeals: Boston College, Brown and Brandeis. The other is UCSB.
Asked whether litigation seems to affected sexual misconduct policies at a campus level, Harris said "definitely yes."
The 6th Circuit's ruling against the University of Michigan in Doe v. Baum, for example, found that "when credibility is at stake, due process requires schools to provide students with a live hearing at which their representative may question the accuser and witnesses." Colleges within the 6th Circuit's jurisdiction "had to change their policies" as a result.
And because of the recent 1st Circuit ruling in Haidak, which found that "due process requires at least the opportunity to cross-examine through a hearing panel," Harris believes colleges in this jurisdiction may change their policies as they did following the Baum decision.
CORRECTION: FIRE's lawsuit against the Department of Education for its Dear Colleague letter did not name any university as a party. The original article also misattributed one quote. Both have been fixed.
MORE: DeVos Title IX regulation would mandate cross-examination
IMAGE: Thomas Pajot / Shutterstock.com
Like The College Fix on Facebook / Follow us on Twitter