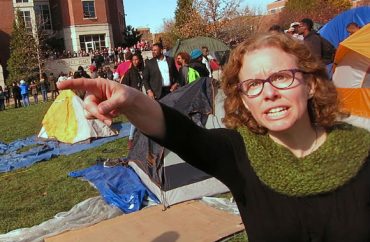 Likely to hit five-year fundraising target
It only took a few years of plummeting enrollment, shuttering dorms and massive layoffs for the University of Missouri to move beyond its failed-state phase.
The public institution's leaders said this week it had a record academic year for fundraising, beating its 2016 record by $30 million, The Kansas City Star reports:
The new money will go toward such things as strengthening MU's endowment, the creation of signature centers and institutes; supporting research with new and renovated facilities; and developing student success initiatives, including scholarships and study abroad programs.
The flagship university's "Our Time to Lead" campaign, which aims to raise $1.3 billion total by 2020, started at the worst possible time: a month before the racial protests that took over campus, threatened student journalists and made far-fetched demands of administrators.
Even three years after the events that started Mizzou's rapid implosion, a law professor argued that minority students "must maintain the ability to credibly threaten costly unrest" – at a time when state lawmakers are skeptical of the value proposition of higher education. (Oddly, the law school received one of the biggest gifts this year.)
MORE: Mizzou lost a third of its freshmen in two years
The fundraising campaign has perked up in the past two years, however, according to the Star, and Mizzou is less than $100 million away from its 2020 goal:
This represents the second consecutive year that the Columbia campus has announced that its fundraising has broken a record. Last July donors put the campaign over $1 billion for the first time.

"It shows the confidence and love people have for this institution," said Chancellor Alexander N. Cartwright. "We have a lot of real positive momentum going on. We are going to keep it moving forward."
Four years later, Mizzou still hasn't recovered from its enrollment plunge, though. While the 5,460 students who have paid enrollment deposits for this fall represent a 15 percent increase over last year, it had nearly 6,200 students going into fall 2015, when everything fell apart.
MORE: Black student's evidence-free claims, rumormongering led to Mizzou chaos
IMAGE: Mark Schierbecker/Wikimedia Commons
Like The College Fix on Facebook / Follow us on Twitter