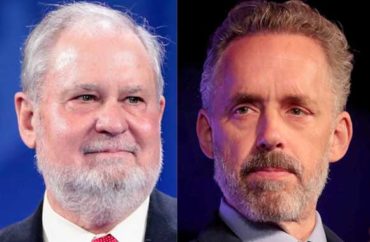 'Today, we think of teaching as doing something to somebody. It's not. It's doing something with somebody,' according to Hillsdale College president Larry Arnn
University leaders often misunderstand the meaning of education, according to Hillsdale College President Larry Arnn and Jordan Peterson, who discussed the subject broadly in a recent episode of "The Jordan B. Peterson Podcast."
Peterson (right), a professor emeritus of psychology at the University of Toronto, delivered Hillsdale's 2022 commencement speech in May.
"Today, we think of teaching as doing something to somebody. It's not. It's doing something with somebody," Arnn stated in the interview.
"We're gonna set up a system to work on you, and then what you know and what you are will be a product of our work," Arnn said, describing dominant modes of education at all levels.
"And that is the most uncharitable approach to education, and it's dominating these day," Arnn said.
"Yeah, well, it's not education; it's ideological inculcation. It's propaganda," Peterson responded.
Arnn noted in contrast that students of ancient Greek teachers such as Socrates would learn not by indoctrination but through free dialogue and discussion.
"Talking and thinking are the same thing," Arnn said.
Arnn and Peterson questioned the notion of a conflict between religion and education
"A lot of modern people are taught that there's a real antithesis between the religious, say the Catholic in particular, and education in general and science in particular," Peterson said.
"But, as I've looked into that more deeply, I've become convinced exactly the opposite is the case and that the university tradition, which certainly grew out of the monastic tradition just as clearly as can be but also [the] scientific tradition, are deeply embedded inside the religious substrate rather than operating in a manner that's antithetical," Peterson said.
Peterson argued that even early religious leaders recognized the utility of teaching reason, and more importantly, they did not see it as a threat to faith.
Arnn and Peterson together also emphasized the importance of becoming broadly and deeply educated, rather than knowing about a few narrow areas but not much else.
"Do you want to be just another policy wonk, or do you want to be a learned person?" Arnn asked rhetorically.
In his commencement address, Peterson also challenged a paradigm of higher education focused on success and power over pursuit of the truth.
"[If] the fundamental motivation is power, there is no place for people of goodwill to meet and engage in constructive dialogue," he said.
In response, Arnn noted Hillsdale's focus on understanding the concept of the logos, the Greek word for reason and speech and the divine word in Judaism and Christianity. 
"Whatever you can say you can think, and whatever you think you can say" Arnn explained, characterizing the interview with Peterson itself as an example of the logos in action, facilitating the free exchange of ideas. 
True education, Arnn argued, embraces the creative and collaborative power of the logos to produce truly "learned persons."
MORE: Jordan Peterson to Hillsdale grads: You will suffer in life; rise above it
IMAGE: Wiki Commons composite
Like The College Fix on Facebook / Follow us on Twitter