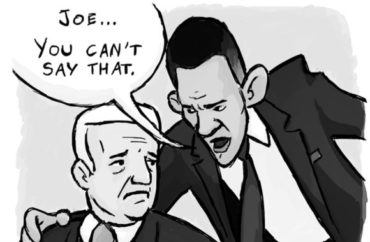 Platform at odds with court rulings on due process for accused students
It would be a lot easier to stamp out campus sexual assault if we just got rid of pesky impediments like the presumption of innocence and right to see evidence against you.
Democratic presidential candidate Joe Biden, the architect of the Obama administration's campus sexual misconduct policy, is once again lamenting that accused college students aren't automatically found guilty.
He told a New Hampshire town hall that "English jurisprudential culture" is to blame for the supposed epidemic of campus rape, the Associated Press reports. He previously compared defenders of due process to "Nazis" in a conference call with anti-rape activists.
Biden's remarks are getting attention because about 20 seconds of the Dec. 30 town hall were deceptively edited to suggest he looks down on cultures from Africa and Asia:
A review of the full video shows that Biden was commenting on changing the culture around violence against women. In discussing the difficulty victims face reporting sexual assault on college campuses, he said, "Folks, this is about changing the culture, our culture, our culture, it's not imported from some African nation or some Asian nation. It is our English jurisprudential culture, our European culture that says it is all right."
The legal protections for people accused of the worst crimes are apparently just an outgrowth of medieval wife-beating:
Earlier in the discussion, Biden, when asked about his work with women and sexual assault victims, talked about the need to change an entrenched "cultural problem," that dates back centuries, noting that in the 1300s many wives were being beaten to death by their husbands without repercussions.
Remarkable that Biden town hall clip–misleadingly edited to falsely suggest he was a racist–was actually Biden attacking DeVos & blaming "our English jurisprudential culture" for "culture" of campus sexual assault. (Below is closing 3.30 of segment.)https://t.co/byOQsYsxGB

— KC Johnson (@kcjohnson9) January 3, 2020
MORE: Biden compares defenders of due process to Charlottesville 'Nazis'
The former vice president's plan to "end violence against women" includes removing the Trump administration's proposed protections for accused students.
It does not note that many of them, such as the right to cross-examination, have been ordered by courts and cheered by criminal justice reform advocates, or explain how his proposed policies would survive legal challenges:
The Trump Administration has rolled back important protections for student survivors by rescinding the Obama-Biden Administration's 2011 Title IX guidance. Any backstepping on Title IX is unacceptable. The Biden Administration will restore the Title IX guidance for colleges, including the 2011 Dear Colleague letter, which outlined for schools how to fairly conduct Title IX proceedings.
He would also mandate "victim-centered, trauma-informed" training for college officials who participate in Title IX proceedings, despite criticism from memory and neuroscience experts that such techniques are not scientifically valid. They have also been questioned by Iowa State researchers and even a trade group for Title IX administrators.
Read the article and Biden's platform.
MORE: Title IX professionals sour on 'trauma-informed' training
MORE: Memory, neuroscience experts call Title IX training junk science
IMAGE: Karen B. Jones/Shutterstock
Like The College Fix on Facebook / Follow us on Twitter