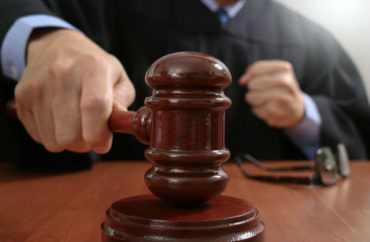 'Record is clear' that the fraternity 'did nothing wrong'
Syracuse got lucky with New York courts when fraternity pledges sued the university for violating its free-speech promises by harshly punishing them for crass yet privately performed sketches.
A trial court said Syracuse's wholly undefined "mental harm" policy superseded its very exacting pledge to protect freedom of expression for students. (Never mind that the student newspaper caused the "mental harm" to the community by publishing leaked videos of the sketches.)
An appeals court then upheld that ruling, concluding against all evidence that Syracuse "substantially complied with its procedures" in the disciplinary proceeding against Theta Tau pledges.
The private university, recently given a "Lifetime Censorship Award" by the Foundation for Individual Rights in Education, didn't get so lucky with Justice Scott DelConte of Onondaga County Supreme Court.
Last week the trial judge sided with another fraternity, Alpha Chi Rho, which accused the university of creating evidence out of thin air to find them collectively guilty of shouting a racial slur at a black female student.
A lone Syracuse official, Senior Vice President for Enrollment Dolan Evanovich, unilaterally overruled the university's appeals board, which had exonerated the fraternity for the likely fictitious action of a student visiting from a different university.
DelConte annulled the official's determination and reinstated the exoneration, which also reinstated the fraternity's campus recognition.
AXP, as the fraternity is known, speculated that Syracuse wanted to act tough in response to ongoing protests against alleged racial graffiti in a dorm, so it made an example of AXP.
Conjured up an 'expectation' not found in any policy
Justice DelConte's ruling notes that President Kent Syverud made "seemingly predisposed public announcements" to immediately portray the fraternity as guilty, with no evidence other than the accuser's uncorroborated accusation (later contradicted by video evidence and her own witnesses). As with the Theta Tau proceeding, Syverud accused AXP members of committing a crime.
Even after AXP's successful appeal – which determined Syracuse had no authority to punish a fraternity for allegations against a non-Syracuse visitor, much less off campus – "this was not the end of the matter," the ruling says.
Evanovich (left) rejected the "clear and well-reasoned decision" of the University Appeal Board, perhaps because "the administrative process did not deliver the 'swift and successful' resolution desired by University leadership."
DelConte was not impressed with the official's reading comprehension.
MORE: Syracuse invented evidence after investigation cleared fraternity, suit says
Evanovich found an unwritten "expectation" in the university's Greek life policies that holds fraternities liable for their guests' actions, yet the policies he cites only apply to "Chapter social events" and guests who pose "an unacceptable risk of harm to persons or property." In this case, fraternity brothers were simply walking back to the house together with the visitor, so neither policy applies, the justice noted.
Like the evidence against AXP, one university official simply invented a policy to justify punishing a fraternity:
Fraternities cannot police the statements of their former guests who leave campus, and it would be unreasonable to have, or apply, a policy that punishes fraternities, or other student social organizations, for conduct they cannot control. While the Courts will generally defer to a university's interpretation of its own policies, such deference does not extend to "unreasonable or irrational" interpretations, such as Evanovich advances here.
'Serious question of undue prejudice'
Not only did Syracuse have no authority to hold AXP accountable for whatever its visitor might have said, but the "record is clear" that the fraternity "did nothing wrong," DelConte continued. As the University Conduct Board found, AXP members didn't say anything "derogatory or racially offensive" and no one heard the visitor say anything like that.
The justice didn't stop there. He condemned the university for introducing purported evidence of the visitor's sexual harassment of the accuser, even though AXP wasn't charged with sexual harassment, during the hearing.
In doing so, and barring the fraternity from letting its lawyer participate in the hearing, Syracuse violated its own Code of Student Conduct, which expressly authorizes "attorney advisors" in cases that involve sexual harassment.
MORE: Judge lets Syracuse break its contract with student
Bringing up the sexual harassment allegations at the hearing, and leaving them out of the charging letter, also "raises a serious question of undue prejudice," DelConte wrote:
As with the Appeals Board, the Court finds these actions troubling, particularly in light of the fraternity's claim that the charges against it were motivated by factors other than their merits. Accordingly, if the Appeals Board decision had not been reinstated, this Court would remit the matter for a new hearing.
"SU's actions in this case, and the context surrounding them, suggest SU was facing intense pressure to address issues of racism and sexual assault on campus — and used Alpha Chi Rho as a scapegoat," FIRE wrote in a blog post on the ruling, rattling off its repeated denunciations of similar Syracuse actions.
"Yesterday's judicial ruling is perhaps the highest-profile rebuke to date of Syracuse's repeated unlawful violations of the promises it makes to students and faculty," the civil liberties group wrote.
Syracuse keeps lying
Syracuse remains unwilling to be bound by its own written policies, scoffing at Justice DelConte's review and misrepresenting the factual record.
"To be clear: students and student organizations are responsible for the conduct of the guests they bring to campus," it told Syracuse.com, offering no policy basis for this claim. The fraternity didn't even bring the "guest" to campus, and he didn't stay overnight.
"In this particular case, the panel found that the guest engaged in a verbal assault on a member of our community," the university said, referring to the second hearing  – the one where the university broke its own rules by barring AXP's attorney. The first hearing, which was against four AXP members and not the fraternity as a whole, exonerated them. Both had the same factual record.
The statement makes no mention of the University Appeal Board, which overturned the second, procedurally deficient hearing.
"We will not tolerate hate on our campus – not from our community members and not from their guests," Syracuse concluded, continuing to defame a fraternity for alleged behavior that a judge has now determined didn't happen. "We will continue to hold the hosts of guests accountable, especially when their actions jeopardize the safety and well-being of our student."
What it won't do, evidently, is appeal a court ruling that found an official had no "rational basis" to unilaterally overturn an appeals body's determination.
MORE: District attorney contradicts Syracuse that skit videos were criminal
IMAGES: IMAGE: everything possible / Shutterstock.com, Syracuse University
Like The College Fix on Facebook / Follow us on Twitter