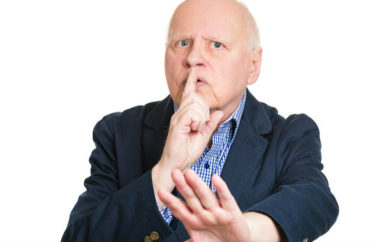 Members of the Los Angeles teachers union were warned against sharing vacation pictures on social media due to the "bad optics" — especially given the union refuses to return to in-person instruction.
In the private United Teachers of Los Angeles Facebook group "UTLA FB GROUP-Members Only," Fox News reports its 5,700 members were treated to the message "Friendly reminder: If you are planning any trips for Spring Break, please keep that off of Social Media. It is hard to argue that it is unsafe for in-person instruction, if parents and the public see vacation photos and international travel."
The UTLA maintains it remains unsafe to return to classrooms. Last Friday, its membership voted overwhelmingly — 91 percent — against returning to school. In order to open schools, the union is demanding all teachers be vaccinated against COVID-19 or be "provided access to full vaccination," along with "PPE [personal protective equipment], social distancing, ventilation and daily cleaning."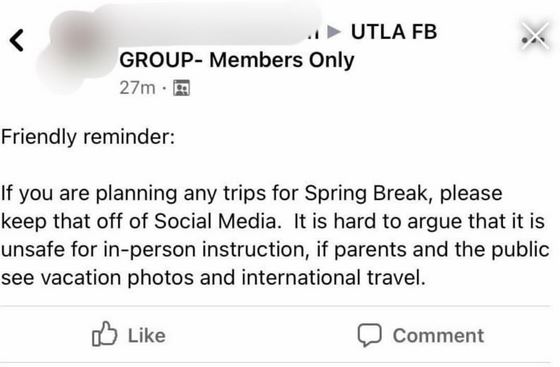 MORE: Philadelphia teachers union tells members not to report to work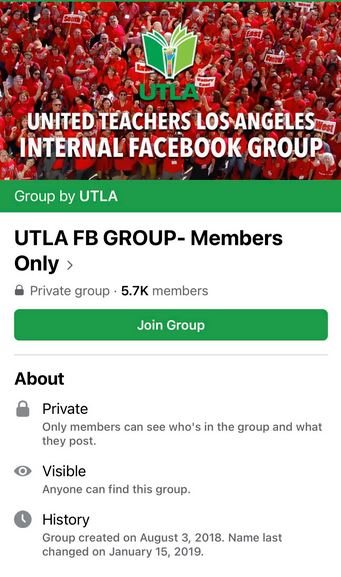 The Facebook group message comes as districts' spring breaks are approaching. Two responses to the post read "Amen" and "Or better yet, don't travel on spring break and set an example."
In response to a query from FOX-11, UTLA said "We have a diverse membership and they are able to post their views on personal Facebook pages and in this Facebook group – however UTLA does not monitor nor is responsible for the content. We do not want to discourage a robust dialogue for members in the public square of opinion."
Examples of "bad optics" elsewhere likely concerned the union. At the end of last year, a Chicago Teachers Union executive posted photos of herself on vacation in Puerto Rico … and from that vacation she advocated on social media against opening the city's schools.
A Sun-Sentinel report in January found teachers in Florida engaged in similar antics, including one who attended a wedding in Jamaica and another in Disney World.
Further, two teachers union heads who are against opening schools were discovered taking their own children to in-person private schools. The most recent example, Matt Meyer of the Berkeley teachers union, claimed his kid has no "public options" for preschool, and that "there are major differences in running a small preschool and a 10,000 student public school district."
Read the Fox News and FOX-11 articles.
MORE: Teachers union upset school board member told them time to return
IMAGES: pathdoc / Shutterstock.com; Bill Melugin / Twitter screencaps
Like The College Fix on Facebook / Follow us on Twitter