'Vindictive attempt at total cancelation of a prominent, liberal legal scholar'
The Black Law Student Association at Wake Forest University School of Law had lodged a complaint over a renowned professor emeritus taking part in a recent campus law symposium because when he actively taught at the school he cited a Supreme Court case with the n-word.
The complaint comes as Wake Forest Law is roiled by racial tensions, with the Black Law Student Association calling for "culturally sensitive and inclusive" classrooms.
Today the association is scheduled to host a "Law School Deconstructed" event in which testimonials of students who say they have experienced prejudice, racism and sexism will be featured.
As for the law symposium controversy, it centers on Michael Curtis, a highly respected constitutional historian who taught at the school since 1994. He retired in December 2020, but took part late last month in the "Preserving American Democracy" symposium.
Prior to his retirement, in March 2020, Curtis was rebuked by Wake Forest University Law Dean Jane Aiken for reading aloud some footnotes, which include the n-word, from the seminal free speech Supreme Court case of Brandenburg v. Ohio during his constitutional law class.
"Confronting America's discriminatory past through case law can be challenging enough without hearing your professor read that word aloud in a class," Aiken said at the time. "… I want to reaffirm my commitment to your learning in a diverse, inclusive, and equitable learning environment."
The fact that Curtis was given a spot at the January 2022 symposium in the wake of Aiken's two-year-old reprimand upset the Black Law Student Association, which argued his invitation ran afoul of the dean's pledge.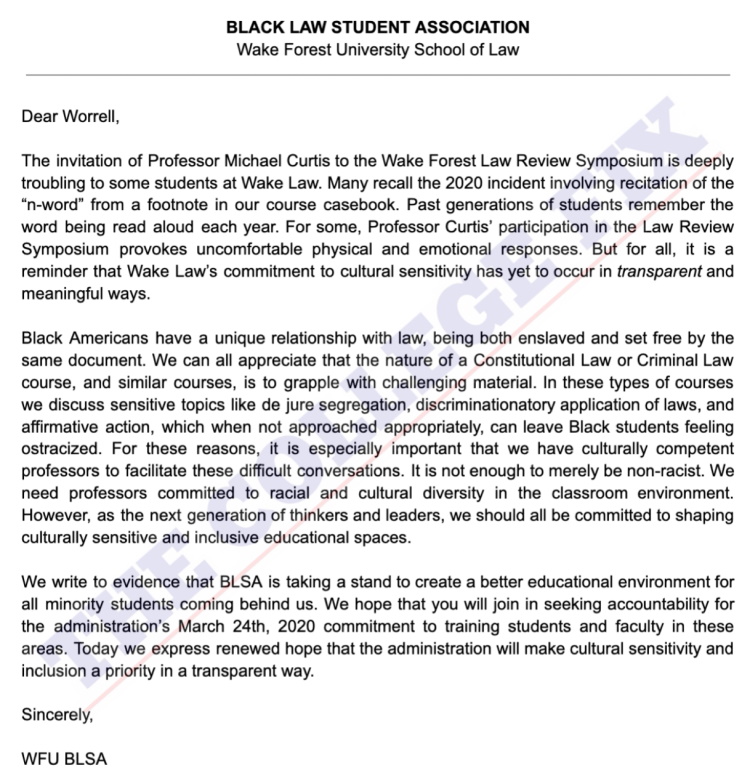 "The invitation of Professor Michael Curtis to the Wake Forest Law Review Symposium is deeply troubling to some students at Wake Law," stated a Jan. 28 memo from the BLSA.
"Many recall the 2020 incident involving recitation of the 'n-word' from a footnote in our course casebook. Past generations of students remember the word being read aloud each year."
"For some," the memo continued, "Professor Curtis' participation in the Law Review Symposium provokes uncomfortable physical and emotional responses. But for all, it is a reminder that Wake Law's commitment to cultural sensitivity has yet to occur in transparent and meaningful ways."
Curtis did not respond to an emailed request seeking comment. Neither did Cedric James, president of the Black Law Student Association.
Curtis is author of the highly decorated 2000 book "Free Speech: The People's Darling Privilege: Struggles for Freedom of Expression in American History."
A Wake Forest University source who provided The College Fix with the BLSA memo and asked to remain anonymous said the incident is troubling: "Trying to prevent him from taking part in the law review symposium was a vindictive attempt at total cancelation of a prominent, liberal legal scholar."
MORE: Free speech scholar scolds WFU law dean for banning 'n-word' in any context
'Help us become a better and antiracist law school'
Meanwhile, according to the Black Law Student Association, Wake Forest Law is rife with racial bias.
James, the association's president, stated in a Feb. 8 memo to the law school community that "[m]any minority students experience events that impact their ability to learn or perform in the law school setting."
"Some incidents include the misgendering of students, a Black student being mistaken for another Black student, a lack of minority professors, the constant mispronunciation of a student's name, or a minority student always being the only minority in their class," he wrote.
James, in his memo, solicited additional testimonials for the Law School Deconstructed event.
"Change can only take place when we listen and understand one another, and it is our goal that this event will provide just that," he wrote.
Law students were asked:
Have you ever experienced prejudice/bias in the classroom or law school (or ever witnessed someone else experience it)? For example: misgendering, racist comments, micro-aggressions, stereotyping, religious/cultural insensitivities, etc.

Do you feel like the incident impacted your grade, performance, well-being, or participation in school? If you are submitting an event you witnessed, how do you think the incident might have impacted the others' grade, performance, well-being, or participation?

Was the situation handled well? If not, how do you believe the event would have been best handled?
Dean Aiken, in an emailed statement to The College Fix, said she looks forward to hearing the testimonials.
"It is designed to create a space in which to hear the voices of those affected by expressions of explicit and implicit bias and by classrooms that are not inclusive," Aiken said.
"The event is aimed at highlighting how the instances we discuss have an impact on student's overall academic performance. As Dean, I am grateful to the students for being willing to tell their stories and have asked the faculty to be present to hear them. Our hope is that this event will help us become a better and antiracist law school that makes all students feel included, valued, and heard."
MORE: WFU cancels new building name 19 days after canceling old building name
MORE: WFU student said offended peers 'need to grow up.' She got death threats.
MORE: WFU refuses to act after white conservative harassed by peers of color
Like The College Fix on Facebook / Follow us on Twitter