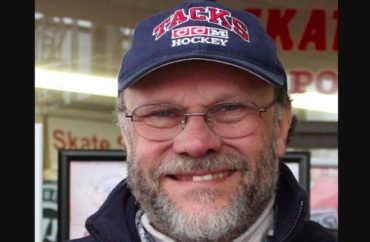 'Their parents were incompetent teachers'
You might think liberal politicians would have learned a big lesson after longtime Democratic stalwart Terry McAuliffe got beat in the Virginia governor's race two years ago by Republican Glenn Youngkin.
The turning point which propelled Youngkin to victory was McAuliffe telling voters at a debate "I don't think parents should be telling schools what they should teach."
Oops.
Enter New Hampshire State Representative Tommy Hoyt (pictured). In response to a recent constituent email urging him to vote for a state parental rights bill, Hoyt replied "Do you know why children's results tanked during covid. Their parents were incompetent teachers. Do your children a favor, let the teachers teach, and shut up. You're clearly no professional."
Hoyt later conceded to the NH Journal that he "probably could have used better words."
"The way I feel is that children's test scores in school performance dropped off drastically was because they didn't have teachers. And the parents that thought, 'We can replace them and can tell them what to do,' was not effective."
No, Tommy, kids' academic performance dropped off drastically because they weren't in classrooms — thanks in large measure to the pressure of education "experts" like the American Federation of Teachers' Randi Weingarten. It recently has been "officially" conceded what many had clamored at the time: that closing schools down due to COVID was a big mistake.
And parents didn't want to shoulder teaching duties during the pandemic. What happened was, thanks to virtual learning, many for the first time got a glimpse of some of the nonsense in which teachers (and other education personnel) engage on a daily basis.  This motivated them to do something about it via — wait for it! — the democratic process. They started showing up at school board meetings and running for school board seats.
This is what really cheeses folks like Hoyt. How dare people like those who supposedly "threatened democracy" on January 6, 2021 take advantage of the democratic process to further their goals?
MORE: School board president allegedly kept files on 'lunatic, psycho' parents
Remember the school board guru who wrote a whole piece whining about this? "Now [parents] felt compelled to scrutinize curriculum choices, library books, teacher quality, and health-care decisions […] school closures, mask mandates, and lies about vaccines and critical race theory resulted in mass school board meetings …" complained School Board Partners founder Carrie Douglass.
The New Hampshire parents rights bill eventually was narrowly defeated. Its Declaration of Purpose stated:
I. The general court finds and reaffirms that parents have a fundamental right and responsibility to direct the upbringing, education, and care of their minor children and that in order to meaningfully and effectively exercise this right, no educational institution may withhold information about a child, the child's health, the child's school environment, or the child's in-school behavior from the child's parent or parents absent a compelling government interest.

II.  The general court further finds that it is a child's parents who have the responsibility, means, and resources to ensure that a child receives appropriate health care, social support, religious guidance, and moral inculcation to develop into happy and productive members of society.

III.  Accordingly, the general court further finds that it is necessary to establish a consistent mechanism for parents to be notified of information relating to the health, well-being, and educational progress of their minor children while those children are in the custody and control of the public schools.
How objectionable!
According to NH Journal report, a couple of Democratic lawmakers claimed the bill would "open children up to violence from their parents" and lead to kids being "beaten to death." In Hoyt's case, he said "some parents would be" a greater threat to their kids than teachers.
As such, he said he supports allowing schools to withhold information from parents pertaining to questions of sex and gender.
Hoyt won his election last November by a whopping 18 votes. All his opponent in 2024 has to do is pound the "let the teachers teach and shut up" line and he is well-burnt toast.
MORE: 19-year-old who saw senior year disrupted by COVID shutdowns unseats incumbent in school board race
IMAGE: Corey DeAngelis / Twitter screencap
Like The College Fix on Facebook / Follow us on Twitter