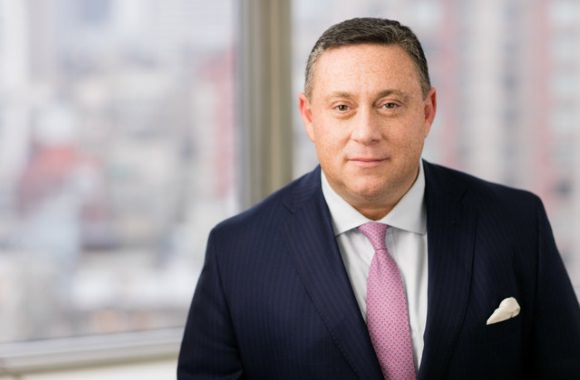 'There wasn't a law on the books we could hold a class action on. Now there is'
Many class-action lawsuits seek financial windfalls for lead plaintiffs and their attorneys, and not so much for average class members.
Andrew Miltenberg's pioneering class-action lawsuit against Michigan State University seeks something more valuable: reputational vindication for all victims of the disgraced institution's Title IX kangaroo courts.
The powerhouse Title IX lawyer (above) is taking advantage of a 6th U.S. Circuit Court of Appeals ruling against the University of Michigan last year, known as Baum, that laid out requirements for Title IX proceedings that come down to he-said, she-said credibility determinations. Among them: live adjudication hearings where the "agent" of each party can cross-examine the other.
The Detroit Free Press reports that Miltenberg amended a December lawsuit he filed on behalf of a punished MSU student. It seeks class-action status for current, former, "prospective and future students" subject to punishment for alleged sexual violence "without first being afforded a live hearing and opportunity for cross examination."
MORE: MSU apparently ignored 2018 ruling until student sued
Rather than financial damages, the suit would seek to have their records and sanctions reversed, vacated and expunged:
"For a long time, people would ask why there wasn't a class action," Miltenberg told the Free Press. "There wasn't a law on the books we could hold a class action on. Now there is."

That law is the ruling in the U-M case. An exact number of students who could be impacted isn't known — however, Miltenberg said lawyers intend to look back to 2011, when the then-Obama administration sent a "Dear Colleague" letter to universities upping the pressure to run sex assault investigations and spelling out what needed to be done.
The initial December lawsuit said a female student falsely accused "John Doe" of forcing himself on her sexually. He had in fact stopped their consensual sex after noticing she looked "uncomfortable and was shivering," at which point she left his room, Doe claimed.
Though the disputed incident took place several months before the Baum ruling, the 6th Circuit had issued a similar ruling months earlier against the University of Cincinnati. The punishment in the two situations was also the same: two-year suspensions for accused students.
Lawsuit: Michigan State pun… by on Scribd
MORE: MSU atones for Nassar by punishing male victim of alleged female assault
If successful, Miltenberg's lawsuit could spur similar class-action suits against other colleges within the 6th Circuit's jurisdiction of Michigan, Ohio, Kentucky and Tennessee.
Both Miltenberg and criminal-defense attorney Scott Greenfield put MSU's procedures in the context of its Larry Nassar sexual-abuse scandal.
In a blog post on the amended lawsuit, Greenfield also notes the broader context of federal pressure on all universities:
From an inquisition by investigators, who are supposed to be neutral but instead dedicate themselves to "trauma informed" ideology, building the case of the accused's guilt, demanding a defense before disclosing the accusations, to the denial of a live hearing and deprivation of the right to cross-examine, the process at Michigan State was carefully calculated to bring a smile to then-[Department of Education] Office [for] Civil Rights bureaucrat Catherine Lhamon's face, prevent her from eliminating its federal funding and appeasing her vicious appetite to ruin a school that gave the accused a tenth of a chance.
MORE: MSU was on notice in 2017 about cross-examination requirement
By focusing on the same deprivation of live hearings and cross-examination for all accused students in MSU Title IX proceedings, Greenfield writes, the new lawsuit can circumvent the "highly fact specific" nature of individual students' claims, which make litigation too expensive and time-consuming for most victims:
The years lost to these students, expelled or suspended, tainted so they can't gain admission elsewhere, and the psychological damage each wrongly punished student suffered may go unremedied in a class action, but at least their record will be expunged and they will no longer have their futures permanently darkened by having been expelled from college as a sex offender. …

Miltenberg is going out on a limb here for the sake of students who can't afford to hire him, to challenge their college, to fight back against this outrageously unfair ruination of their lives in the name of gender politics. If successful, this could be huge.
Read the article and blog post.
h/t KC Johnson
MORE: 6th Circuit tells universities to watch 'My Cousin Vinny' to learn due process
MORE: MSU settles Keith Mumphery's suit after ruining his NFL career
Like The College Fix on Facebook / Follow us on Twitter