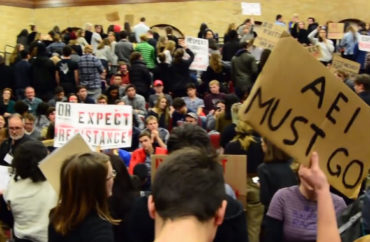 College must also publish list of faculty who avoid bias training
Middlebury College's Student Government Association has thrown down the gauntlet: Give us our demands or we go away.
Huh?
In a campuswide letter Tuesday, student leaders promised that most of them will resign, "effectively dissolving" the Senate, if the administration doesn't make "tangible plans to implement" the SGA's 13 demands. They demanded President Laurie Patton address their demands at a Tuesday town hall.
The demand list follows the private liberal arts college's decision to abruptly cancel a speech by a conservative Polish politician, Ryszard Legutko, after students and faculty demanded his disinivitation.
In a move reminiscent of Legutko's own experience trying to evade communist speech controls, a political science professor arranged for the politician to "semi-secretly" speak to his class. Administrators later promised aggrieved students to make it harder for right-wing speakers to visit the ideologically homogenous campus.
Some of the SGA's demands are deeply illiberal and would violate the academic freedom of faculty.
It wants to subject invited speakers to the scrutiny of the administration's and its own diversity organizations. Academic departments and other organizations would have to fill out a "due diligence form" that would let the diversity organizations "determine whether a speaker's beliefs align with Middlebury's community standards, removing the burden of researching speakers from the student body."
Yes, students leaders are complaining that they have to look up the backgrounds of invited speakers if they want to know whether to be offended by them.
All academic departments would also be required to have "Student Advisory Boards" to act as an additional check on invited speakers. They would have to give these boards "a list of speakers invited by the department at least a month in advance," and the board would in turn "ask the student body for potential community input when necessary."
The SGA wants more student representation on the "Community Bias Response Team."
Students leaders are also demanding a blacklist of "faculty, staff, or administration members who do not participate in bias training," so that students can "make informed decisions on courses and interactions."
The entire college community, from staff to students, would be required to take "recurrent bias training" starting next academic year. It would emphasize "the importance of preferred gender pronouns," and apparently subject faculty to investigation if they fail to grasp this importance:
All faculty must ask students' names and pronouns on the first day of each new semester, and preferred names and pronouns must be respected.
Also in the hard pass column: the demand for a public listing of all Middlebury faculty and staff who are not up-to-date on their bias and diversity training so students are aware of the potential threats in their midst. pic.twitter.com/4qSQylLkeT

— Peter Bonilla (@pebonilla) April 25, 2019
The SGA also wants the college to "reconsider" the protest policy it devised in the wake of a violent attack on Prof. Allison Stanger as she tried to shield libertarian social scientist Charles Murray from riots at an event two years ago.
The college issued sanctions on 67 students, ranging from probation to "official" discipline, for their participation in the riots against Murray. The protest policy, finalized late last year, bans "disruptive behavior at community events or on campus." (An interim policy encouraged the heckler's veto.)
The SGA contends the college has banned "civil disobedience" by threatening to sanction students for "purposeful blocking the view of others at the event" using their bodies or physical items such as banners, or "shouting out or use of a bull horn" to drown out a speaker.
The protest policy should be "improved" in line with the SGA's previously approved legislation to "accurately reflect the will of the student body." The demand specifically cited "protections for all staff members to protest as they see fit," possibly referring to the graduate students who often lead protests.
The SGA demands that the administration replace the orientation video for "Green Dot" training against sexual violence with a "serious informational session" that defines terms including consent and lays out "repercussions of committing sexual misconduct."
It claims that the administration "must prioritize the implementation of gender-inclusive bathrooms" in new building construction and make "existing buildings gender-inclusive," in order to comply with the Americans with Disabilities Act.
Other demands include a "clearly outlined plan for the implementation of an LGBTQ+ Center," a "strategic plan to hire more counselors who are femme, of color, and/or queer," and "more robust health service" for people who want drugs and surgery to help them resemble the opposite sex. Those new counselors must be hired before the LGBTQ+ center is created.
Finally, SGA wants a Black Studies Department ready in time for the 2020-2021 academic year, which will be devised in consultation with a "faculty-student group":
There must be appropriate funding allocated to the department, and sufficient tenure track positions must be made available for the immediate development of the department.
The Middlebury Campus reports that nine resignations from SGA would render the body unable to reach a quorum the rest of the academic year. All members of the body "approved sending the letter to administration," according to Senior Senator Travis Sanderson.
Patton has already agreed to cave to the demands, though she isn't being specific:
"We just received the SGA communication and are reviewing it. Many of the concerns are already being addressed," Patton told The Campus Tuesday afternoon. "For others, we believe we can find a way forward to work together. We welcome an opportunity for engagement with SGA and have already reached out to its leaders. We will be providing a response, which we hope we can work on collaboratively, next week."
The College Fix has asked the administration whether Patton will address students in a town hall Tuesday as demanded, and for the college's point-by-point response to each demand.
Read the demand list and Campus report.
IMAGE: VTDigger/YouTube
Like The College Fix on Facebook / Follow us on Twitter