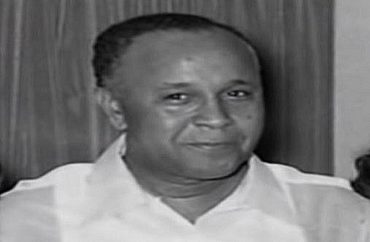 Last week, I caught the PBS NOVA documentary on black chemist Percy Julian, part of its "Forgotten Genius" series. It's a remarkable story, not the least of which is because given the era in which Julian grew up, bigotry was overt and racial discrimination legal.
Julian's discoveries and achievements led to treatments for maladies such as glaucoma and rheumatoid arthritis, life-saving fire suppression systems, and hormone therapies … and more.
However, you're left pondering just what else this genius could have delivered if not for the unenlightened social mores of the day.
Julian did manage to acquire most of the accolades and recognition he so rightly deserved, but much later in life (he died in 1975). He had actively sought out black and other minority scientists when he started his own business, for he knew they had faced many of the same barriers in education and private enterprise.
One segment that really struck me was Julian (sporadically portrayed by actor Ruben Santiago-Hudson throughout the story) speaking to a audience about obstacles he had faced:
Branded, first, unfit to spend their money for food or drink in public places along with other Americans; denied the ballot and confined to ghettoes that stifled hope and ambition, victims of murder of the mind, heart and spirit: this is the story of the American Negro …

I feel that my own good country robbed me of the chance for some of the great experiences that I would have liked to live through. Instead, I took a job where I could get one and tried to make the best of it. I have been, perhaps, a good chemist, but not the chemist that I dreamed of being.
The statement "victims of murder of the mind, heart and spirit" reminded me of Avery Brooks' incredible performance in the Deep Space Nine episode "Far Beyond the Stars." In it, Brooks' character Captain Ben Sisko is whisked back to the 1950s where he becomes science fiction writer Benny Russell. After delivering his magnum opus (which, coincidentally, is a story about a black man in charge of a 24th century space station), he at first is ordered to change the story's premise so that it's a black man dreaming of being in charge of the station … but later the story is dropped from publication altogether, and Benny gets fired.
"I am a human being, dammit!" he exclaims. "You can deny me all you want, but you cannot take my Ben Sisko [the main character of his story]." He points to his head and says "He exists … in here! In my mind! I created it!"
White Americans may understand how the racial dynamics played out in the first half of the 20th century, but it's nigh impossible for them to fully grasp the consequences. Again, consider the utter nonsense: All Julian wanted to do was help people, but solely due to his skin color he faced roadblock after roadblock. Brooks' character couldn't even get a fictional story published (and was subsequently fired) because his protagonist was a black man.
Despite his hard-fought efforts for the same rights and privileges as any other (re: white) American, I highly doubt Dr. Julian would be keen on many contemporary "remedies" for so-called "systemic" racism. Would he demand not only equal opportunities but equal outcomes for every person and every group? Would he have you believe virtually anything can be "racist"? Would he agree with academics and students who believe offering more racial/ethnic food options is a way to fight bigotry and bias?
MORE: Black prof warns about 'destructive' demands from anti-racism activists
Indeed, when Dr. Julian started his own business, he pushed his (black) employees to the limit, challenging not only their intellects but their inner drives. Many worked for entire days with only small breaks in between to satisfy their boss. If he had engaged in such practices today, Julian actually could be accused of perpetuating white supremacy (yes, despite his skin color), and even be charged with the "spirit murder" of his underlings.
Ten years ago, such a notion would be laughed at. But now it's virtually gospel, especially among educationists. Fortunately, there remain many black Americans, educators included, who decry this nonsense. For example, William Jenkins, says modern anti-racism trainings are "futile exercises of stupidity in the name of improving the educational plight of black people."
The programs of folks like Ibram Kendi, Robin DiAngelo and Glenn Singleton, Jenkins says, start with the premise that blacks are inferior, and they "play into the notion of the inferiority" to their largely white audiences. Those in the audience, "labeled uncaring and racist, go along with the stupidity of these efforts without ever confronting the fact that they would never propose such programs for any other group of Americans, especially white Americans."
"We must be careful, as educators, and even educated people, [about] buying into the notion of black people being different because of their culture or color," Jenkins says. "People are shaped by their ideas and experiences, not the color of their skin. In our efforts to work with black children, we must not let them, their parents, or [anti-racism] presenters, have us go against that which we know to be true about all life outside of black people."
MORE: Anti-racism movements make it harder to root out real racism
IMAGE: PBS NOVA / YouTube screencap
Like The College Fix on Facebook / Follow us on Twitter