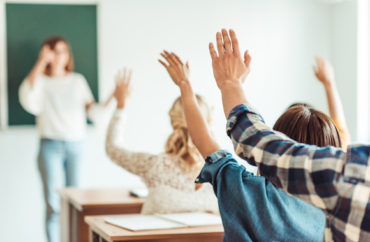 'It's great when state governments join us rather than oppose us,' said Institute for Justice lawyer
New Hampshire's state legislature passed a bill that brings education savings accounts to New Hampshire students. That provision, folded into the state budget, was signed into law by Governor Chris Sununu on June 25.
Education savings accounts give money directly to families to spend on education items as they see fit, according to a primer by the Heritage Foundation. By funding individual students and giving their guardians wide discretion to use the funds, these accounts allow a student's education to be tailored to her individual needs.
An education savings account program was first passed in 2011 by Arizona. Six other states have followed Arizona's lead.
The New Hampshire version of this program that the legislature recently passed is known as Education Freedom Accounts. According to the Josiah Bartlett Center for Public Policy, the program is available to families whose income is at or below 300 percent of the federal poverty level, and it would allow funds to be spent on approved educational expenses such as textbooks, private school tuition, and tutoring services.
The Josiah Bartlett Center did not respond to The College Fix's requests for comment.
Religious schools may apply
Education Freedom Accounts are not the first school choice program in the state. New Hampshire has a tax-credit scholarship program similar to those recently enacted in Ohio and Kentucky. According to the national school choice group EdChoice, this program is run by two organizations and is available to students whose families make under 300 percent of the federal poverty guidelines.
The other school choice program accessible to New Hampshire students is the Town Tuitioning Program. Town tuitioning is available in communities that are too small to have a public school. It allows residents of those areas to send their students to neighboring public or private schools.
Because most New Hampshire towns have a public school, town tuitioning is not available to many students, EdChoice reports. It served only 17 students at six schools in the 2018-19 school year, which was less than one percent of students eligible statewide.
Until recently, students could not use state funds at religious schools because of New Hampshire's Blaine amendment. These amendments were passed by many states in the late 1800s in response to the rise of Catholic parochial schools. The amendments to state constitutions prohibit state government funds from being used at religious schools. Legislators intended to use these amendments to prevent Catholic schools from obtaining state funding in the future.
Today, many public-school advocates use these laws as means of preventing funding from going to private schools, since many private schools are religious. The legal landscape has changed, however, with the 2020 Supreme Court case of Espinoza v. Montana, which held that religious schools could not be discriminated against in the distribution of state funds.
Lawsuit averted
The Institute for Justice sued on the behalf of the Griffin family, who are New Hampshire residents, to allow state funding to be used at religious schools.
The Griffins hope to use New Hampshire's town tuitioning program to send their grandson Clayton to Mount Royal Academy, a Catholic school. "Cathy and I feel Mount Royal Academy is the best choice for our grandson's education and the government should not be restricting the use of our tax dollars from funding our choice," father Dennis Griffin said in a news release.
New Hampshire's state legislature changed the law before the case could make its way through the courts. House Bill 282 put the state into compliance with Espinoza by allowing state school choice programs to be used at any private religious school.
While happy with the New Hampshire outcome, the Institute for Justice remains committed to advocating for school choice nationwide. Attorney Kirby Thomas West says that "IJ will continue to litigate to ensure that state governments are following the rule set out in Espinoza. It's great when state governments join us—rather than oppose us—in that goal."
Editor's note: This article has been amended to note the New Hampshire governor is Chris Sununu, not John.
MORE: Ohio school districts ready for lawsuit against newly expanded school choice law
IMAGE: LightField Studio / Shutterstock.com
Like The College Fix on Facebook / Follow us on Twitter