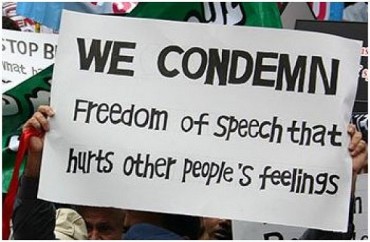 A professor at New Mexico State University is under fire after some students discovered, then dissected, his Twitter account … and concluded it was chock full of "bigoted" material.
According to The Round Up, a viral tweet about "unpopular opinions" at the university circulated on the social media outlet early last month, whereupon student Devin Narveson pointed out the tweets from government professor Gregory Butler, a nearly 20-year veteran of the school.
In one comment, Narveson wrote "Butler is a raging racist, misogynist and overall bigot in every way possible. He equates LGBTQ+ to bestiality and pedophilia and compares refugees to roaches 'infecting the next country over.'"
One alleged tweet from Butler featured a "Muslim" man with the caption "ever notice how they always have that 'I kill you' look in their eyes?" Another mockingly praised the NMSU chancellor's decision to not make the school a sanctuary campus: A circulated pro-sanctuary petition was "stupid," and "common sense" ultimately had prevailed on campus, the tweet read.
In an email to The College Fix, Butler says that he had never identified himself as a professor on his Twitter account. The account "was strictly my private endeavor and was in no way associated with my employment at NMSU," he wrote. But this distinction did not matter to officials at the campus Office of Institutional Equity, Butler says. In fact, the official NMSU Twitter feed responded to complaints about Butler's Twitter comments by "urging students to report incidences of discrimination" to the OIE.
Butler told The Round Up that the controversial Twitter account in question "is no longer active" but that he uses the handle "@greg3671."
Numerous screenshots of tweets and retweets from Butler's alleged account have lingered on Twitter and exhibit a plethora of racist, homophobic, sexist and xenophobic comments, according to students.

Narveson said that though his views didn't often bleed into his teaching, it did come through when discussing certain topics.

"We really didn't discuss or debate about politics. It rarely became partisan. It wasn't until one day later in the semester when we talked about identity politics that it came out," Narveson said.

According to Narveson, Butler had the class read an article about white privilege that argued that the concept was not real. When she spoke up about her differing opinion, he "laughed in [her] face" and was largely dismissive, she said.

Narveson said the exchange was extremely disappointing, as she had had a lot of respect for Butler prior to that incident.

According to former NMSU student Rebecca Payne, who had a class with Butler a few years ago, free speech is often used as an excuse to spread hatred.

"It begs the question of how far the first amendment will go to protect someone's opinions when those opinions are solely to deny a group of people their equality," Payne said. …

"There is no room at a university for someone like him," [she] said.
Payne's solution? "Simply fire" Butler.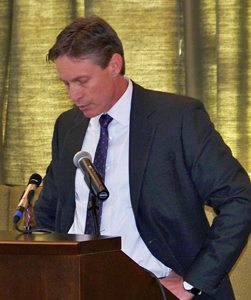 The Round Up points to Butler's university webpage as additional evidence of his questionable views: He holds professional membership in the Abbeville Institute which, according to the (discredited) Southern Poverty Law Center, is a "group of ideologues ushering in a new wave of neo-Confederates." For what it's worth, the prof's page also notes he's currently working on a project about that well-known alt-right figure, Bruce Springsteen. (That description was sarcasm … just in case.)
Professor Butler (at left) told The Fix he is "immensely grateful" for the support of "many of [his] students, past and present, liberal and conservative." The Round Up notes that at least one of Butler's peers, Christa Slaton, said that while she was "surprised" at her colleague's alleged misogyny, she's "never had a negative encounter" with Butler, and asked "If you're going to criticize professors for expressing their political views, are you going to go after liberals as much as you are conservatives?"
To that point, Butler says
My case is nothing unusual. Right now there are scores of cases around the country of professors and others on campus who are harassed, fired, or vilified for daring to express opinions that run counter to the prevailing progressive orthodoxy and their Thought Police enforcers. Here at NMSU, students are actively encouraged by the ominously-named Office of Institutional Equity to report instances of so-called biased, prejudicial, or discriminatory speech, so that action might be taken to silence the offenders. I was hauled before this Kangaroo Kamissariat to give an account of myself, and action against me is now pending. It is nothing short of educational malpractice for a university to encourage students to run ideological litmus tests on their professors and fellow students. Why in the world would a professor ever take any risks, or suggest any unconventional ways of looking at things, if their careers and reputations can be ruined upon the word of a handful of ideological malcontents?  I would suggest to every parent to think long and hard about parting with your hard-earned money to subject your children to a program of indoctrination under the guise of a liberal education.
Look at it this way: It's not as if Dr. Butler had tweeted something like calling for "white genocide," or for a police officer to be "done like Old Yeller." If he had, he'd have supportive students protesting any sanctions against him and engaging in sit-ins. Ditto if he had verbally harassed a (Muslim) colleague due to political differences. Or harassing President Trump's daughter. Or ranted on Facebook about how despicable white people are. Or questioned racial graduation statistics.
Nevertheless, as a veteran educator myself, I asked Butler if someone in his position should maintain a good degree of professionalism on social media. He said the question "is a good one," and understands "why many in [his] position would be loath to use such language."
However, he said he has his "reasons for adopting that tone," and concluded with a quote from Flannery O'Connor, one of his favorite authors: "To the hard of hearing you shout, and for the almost-blind you draw large and startling figures."
MORE: Professor sues Trump because POTUS blocked him on Twitter
MORE: Twitter removes anti-PC prof's 'SJW ideology' post with no explanation
IMAGES: Sam Graham / Flickr.com, Gregory Butler
Like The College Fix on Facebook / Follow us on Twitter