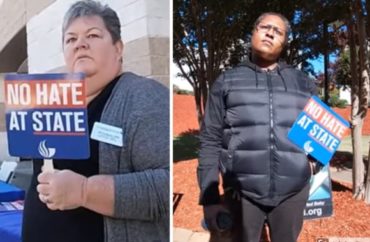 Administration denies it was targeting the group
A pro-life group known for showing gruesome images of aborted fetuses ran into a series of roadblocks when attempting activism at Georgia State University, as it documented in a video.
After arriving on campus earlier this month, Created Equal ran into uncooperative administrators who seemed intent on obscuring and protesting the organization's display, it said.
One stood in front of the group's graphic display while denying she was representing the administration, while another had trouble explaining why administrators needed to station themselves next to the display holding "No Hate at State" signs.
Created Equal also accused the administration of taking sides in its messaging before the pro-life group arrived on campus.
In a campuswide email a week before the event, GSU seemed to indicate the pro-life group's speech was "hateful or mean-spirited" without using its name.
"In the next week, the university expects there to be speakers on campus who may express controversial views," the email read. Public colleges and universities are "often places where people exercise free speech rights guaranteed by the First Amendment."
While students may wonder why GSU "would allow speech that is hateful or mean-spirited," and possibly in contradiction to the community's "values," the public university has "an important constitutional duty to uphold the free speech rights of all people, without regard to the content of their speech," it said.
The administration's bias was made clear when interim Dean of Students Lanette Brown allegedly handed out "No Hate" signs, Created Equal claimed. Though this action is not seen in the video, two high-level officials in the Counseling and Testing Center are seen holding the signs.
An administration spokesperson told The College Fix that its messaging – both the email and signs – was not targeted at Created Equal. Rather, it's sent out every fall as a preemptive warning to students about what they are likely to encounter on a campus governed by the First Amendment.
But The Fix could not find a similar message on the university website for this or previous years, and the spokesperson didn't explain the timing of the message – more than two months into the semester.
The administration's explanation "is patently false," Created Equal Vice President Seth Drayer told The Fix in an email. "This email was sent to reflect on Created Equal—clearly providing an image of our young team to GSU students which is incorrect and poisoned the well before our arrival by prejudicing students against us."
Created Equal was on campus Nov. 6, according to a Facebook post the day before that objected to the administration's email that seems to allude to the group's visit. It posted photos of the administrators at its campus demonstration while it was still going Nov. 6, but the video wasn't posted until Nov. 15.
MORE: GSU likely violated 1A by blocking distribution of student magazine
Display is unnecessary: 'There's no abortion going on around campus'
Created Equal's display was set up in one of the "designated public forums" on campus. Those who are not members of the university community must limit their speech to these areas under the campus speech policy.
(While so-called speech zones, once prevalent even at public colleges, have faded in recent years as a result of litigation and state laws, GSU's protest and demonstration policy is deemed lawful by the Foundation for Individual Rights in Education.)
GSU administrators were stationed at tables next to Created Equal's display. One was labeled "Student Judicial Board" and associated with the dean of students; the other, associated with the Counseling and Testing Center. By the pro-life group's count, 7-8 police officers were stationed in the immediate vicinity.
Mikyta Daugherty, associate director of clinical services, is holding a "No Hate at State" sign as she stands directly in front of the display, the video shows. She makes two appearances. (Created Equal activists routinely wear body cameras to document their interactions on campus.)
In the first, an unidentified male activist asks her what the sign means. She responds that it means what it says. Asked if Created Equal is "hating," Daugherty responds: "I don't think it really matters what I think about what you guys are doing, but I'm here to support people."
She denies that she is protesting the group when asked: "I'm just standing here, just like you are." When the activist says Created Equal is on campus to protest abortion, Daugherty interjects: "There's no abortion going on around campus. This wouldn't be the right place."
The activist asks Daugherty how the group could protest sex trafficking under that logic, and she responds: "You might want do it in front of some sex traffickers."
When the activist probes her on how that's feasible, Daugherty responds: "I'm not sure what you're trying to do by engaging me." She denies representing the university: "I represent myself."
In the second appearance, an unidentified female activist asks Daugherty to move away from the sign so passing students can see it. "I think they know. I think they can see," she responds. Daugherty declines to share her opinion about abortion when asked.
"Am I being hateful towards you?" the activist asks. "I'm not sure why you're trying to engage with me," Daugherty responds. When the activist asks how the administrator would feel if she tried to cover up Daugherty's message, the administrator responds: "You are right now."
MORE: Pro-life activists trigger students at the University of Georgia
The activist says she would appreciate if Daugherty stepped aside, and she responds: "I'm sure you would appreciate that." She remains still and silent when asked again to move.
Across the walk from the display was an information table staffed by the senior director of psychological and health services, Jill Lee-Barber. The male activist asks her why she's holding the "No Hate" sign.
Lee-Barber reviews the back of the sign but doesn't say anything, then looks at Brown, the dean of students, who is not visibly holding a sign. Asked again, Lee-Barber responds: "We have these for a variety of things. We have these so that students can if they choose to…" She trails off, reading the back of the sign again. "Well, it's to inform them about free speech."
Asked why the sign says "No Hate," she responds that "we sometimes have hate speech at the university," but admits that she doesn't see any hate right now. Pressed why she's holding the sign next to Created Equal's display, she says "I'm not giving an interview to you." She tells the activist to follow the "process for requesting interviews."
Boyd Beckwith, senior director of the Student Center, approaches the male Created Equal activist at another point. The activist complains that not only are benches and statues obscuring the display, but so are police officers.
Beckwith suggests the activists move their display "to the hill." That area would make it even harder to have conversations with passing students, the activist responds: "Just looking from here, your vision is obstructed on almost every single sign going down the line."
The administration tables, by contrast, are not obstructed, he says. Beckwith says the university can't guarantee security if it lets Created Equal put its displays where students can see them and interact with the activists.
Created Equal President Mark Harrington said in a press release that Georgia State's taxpayer funding requires administrators "to remain content-neutral and unbiased when it comes to protected First Amendment free speech activities on campus":
Today, administrators protested Created Equal and blocked our signs demonstrating that GSU not only doesn't support free expression, they oppose it. This illustrates how universities are no longer a marketplace of ideas, but ideological indoctrination centers.
MORE: Public university refused to hire professor because she opposes abortion
'No Hate at State' means 'keep the conversation civil'
In an email to The Fix, university spokeswoman Andrea Jones denied that either the "next week" email or the signs were targeting Created Equal.
It's a standard email sent out every fall and "there is no reference to any particular organization," Jones said, adding that the "same language" could be found on the school's website. The Fix could not find the phrase "hateful or mean-spirited" from the email on either the linked web page provided by Jones, or in the university's full policy on freedom of speech.
The language of the signs "means to keep the conversation civil (not that speakers or the content of their speech is hateful)," Jones continued:
The university's planning for speech events includes arranging to have security, facility personnel, and representatives from the Dean of Students and the Counseling Center to hand out free speech information and to respond to student concerns.
The university allowed Created Equal's speech "without regard to content," she said: "Created Equal was allowed to fully exercise their right to conduct speech activities, subject only to Georgia State's reasonable time, place, and manner restrictions."
Created Equal's Drayer called the administration's claims "specious," noting how the email begins. "This is not a general statement about the semester's events. It was clearly aimed at Created Equal."
The university is also arguing against indisputable video evidence, Drayer said, namely that Daugherty continually blocked the graphic display and refused to move when asked.
"Whether the 'No Hate at State' signs are used for multiple events is irrelevant," he continued: "Daugherty was using it during our event to make a statement about our message and block students from seeing it."
GSU's written policies on the First Amendment are irrelevant when administrators "refuse to admit their interference with our free expression prior to and during the specific event," Drayer said: "They seem to be digging in their heels and sending a clear message: those with unpopular opinions can expect to have their speech frustrated at GSU."
MORE: Georgia State censors student magazine to save the environment?
IMAGE: Created Equal/YouTube
Like The College Fix on Facebook / Follow us on Twitter