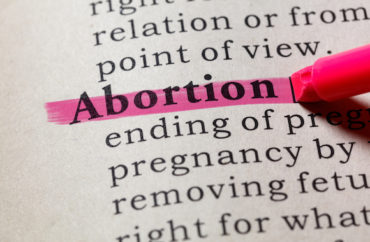 Groups fight to convince students one way or the other
46 years after the Supreme Court legalized abortion through Roe v. Wade, Americans continue to fiercely debate the topic, and college campuses are no exception. Two groups, Students for Life and Feminist Campus, highlight the respective sides of that debate on college campuses.
Feminist Campus, a project of the nonprofit Feminist Majority Foundation, is self-styled as the world's largest pro-choice student network. The foundation created Feminist Campus "to inform young feminists about the very real threats to abortion access," according to the group's website.
Feminist Campus also works "to organize on-the-ground during state elections where anti-choice legislation is on the ballot," expanding their mission beyond the scope of college campuses. The group states that they are "dedicated to equality" and that they advocate peaceful, non-violent activism.
The group did not respond to inquiries seeking more information about their campus outreach activities, including if their numbers have grown in recent years, what kind of pushback they've received on campuses, and what their future plans for outreach are.
Sometimes debate turns violent
Though groups like Feminist Campus preach non-violent activism, pro-life demonstrators are sometimes harassed and even assaulted on campus by overzealous pro-choice activists.
At Washington's Whatcom Community College earlier this year, a Students for Life chapter set up a display featuring small pink crosses in the ground to represent human lives lost to abortion. Eventually a student stopped and removed a large number of the crosses, justifying his actions by saying: "I disagree with the message."
Similarly, another pro-choice activist was arrested at the University of Wisconsin-Madison recently for vandalizing a pro-life display and assaulting a pro-life student. When asked by organizers to stop, the activist claimed that she vandalized the display because it was "triggering."
The incidents are numerous enough that Students for Life now displays an interactive map on its website, which tracks all the group's displays that have been vandalized since 2012.
Conversely, Feminist Campus promotes a project dubbed "Adopt-a-Clinic" in which students are encouraged to sponsor a local abortion clinic off-campus.
The group began the program to help support and protect clinics, citing threats of violence directed toward abortion clinics and abortionists. The organization states that it wants students to participate in "grassroots mobilization," reaching past campus boundaries and into their local communities to promote their cause.
A '100 percent pro-life society'
Students for Life, meanwhile, operates largely on-campus. Matthew Lamb, director of communications for Students for Life, explained the group's mission and activism.
"We try to balance supportive services with educational services, going on campus with displays, banners, things like that," Lamb told The College Fix in a phone interview.
He said that Students for Life's supportive mission is just as important as its educational one. The group has worked to provide accommodations and assistance for pregnant mothers at several colleges.
Lamb stated that the displays used by its activists are not meant to be shocking or "triggering," as the vandal at the University of Wisconsin claimed. Rather, the signs are meant to provoke a conversation.
"We don't use graphic images but rather medically accurate ones, like you'd see in a textbook," he said.
Asked if he felt the group was growing, Lamb said that it "definitely" had grown over the past thirteen years, and that Students for Life now has groups on 1200 high school and college campuses.
Although some polls indicate that support for abortion is increasing in America, Lamb believes they do not tell the entire story, citing his organization's work as proof.
"What Planned Parenthood will do, is they'll ask the question 'Are you okay with taxpayers funding STD testing and birth control? Yes? Okay, great, 75 percent of Americans support taxpayer funding for Planned Parenthood'," Lamb said.
"But then we ask them, 'Are you okay, knowing that your taxpayer dollars subsidize the abortion industry, and knowing their healthcare services have been generally falling, while their abortion services are increasing, are you ok with your taxpayer dollars funding that?' And then you see support drop," he added.
Overall, Lamb remains optimistic that the pro-life movement will succeed, saying: "We have a plan and we know what it will take to have a 100 percent pro-life society."
MORE: Pro-choice group hopes to make abortion 'positive' on campus
MORE: Group at Catholic university begins offering morning-after pill
IMAGE: Feng Yu / Shutterstock.com
Like The College Fix on Facebook / Follow us on Twitter