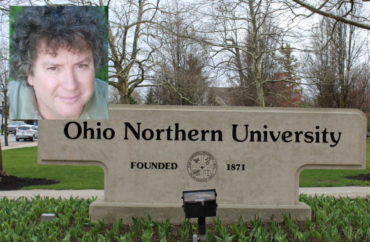 An Ohio Northern University law professor who is a prominent vocal critic of diversity, equity and inclusion practices in higher education faces a termination hearing and accusations of creating a "hostile work environment" in violation of the faculty handbook.
The administrative hearing is scheduled for the first week of August to review the claims against law Professor Scott Gerber, who was suspended in mid-April after teaching at ONU's Pettit College of Law since 2001.
Gerber is a highly decorated constitutional law scholar, according to his faculty bio, but the allegations against him center on a handful of interactions he has had with a few colleagues over the last several years. His attorney, Robert Shibley, disputes those claims.
"We look forward to demonstrating that the allegations against Dr. Gerber are pretextual and that ONU is retaliating against him for his protected activity in raising concerns about unlawful DEI and other practices at ONU," Shibley told The College Fix via email Friday.
After ONU abruptly sought to schedule a dismissal hearing against Gerber on July 10 with little notice, Shibley was granted a temporary restraining order on July 6 to delay the move.
This week, the precise details of the allegations against Gerber were handed over to the law professor by the school after Darke County Judge Jonathan Hein ruled on July 24 that Ohio Northern University must provide him with a "bill of particulars" on all the specific grounds for dismissal.
The university complied, and included the details in an exhibit attached to its motion to dismiss the temporary restraining order.
Campus leaders seek to fire Gerber because he allegedly "engaged in an aggressive written and verbal communication style that has created an unhealthy and unprofessional climate within the law school," they stated in court documents.
Gerber specifically stands accused of chiding a peer who disagreed with him on tenure-review votes, wrongfully accusing a fellow faculty member of not properly following up on a student who claimed she was sexually harassed, and being too critical of a law professor in his class evaluation as a senior faculty member.
"His colleagues have expended time and resources defending themselves internally against his claims after they'd been proven false, including in their tenure and review processes," according to the university.
These alleged examples amount to "flagrant and persistent non-cooperation with other faculty members or administration … which constitutes grounds for dismissal under the Faculty Handbook," according to the university, which argues they are a pervasive pattern and even prompted one law professor to leave the school.
David Kielmeyer, a spokesman for Ohio Northern University, told The College Fix via email on Friday that ONU "continues to follow its process for the dismissal of a tenured faculty member for cause. The University will have no further comment at this time."
Shibley told The College Fix that "Judge Hein cautioned ONU that, at the dismissal proceeding beginning August 1, its proof should be limited to the bill of particulars the judge had to order ONU to provide to Dr. Gerber on July 24, which is more than six months after Dr. Gerber had asked ONU to tell him what he was accused of doing wrong."
MORE: Law school abruptly yanks conservative professor from classroom, refuses to say why
MORE: Law dean who suspended conservative professor has contract renewed
Like The College Fix on Facebook / Follow us on Twitter