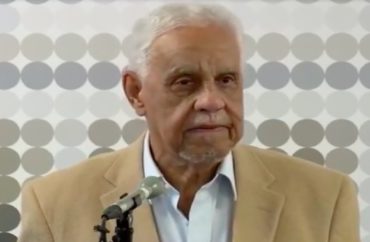 University says he hasn't been cleared yet; he says results 'speak for themselves'
L. Douglas Wilder, the former governor of Virginia and currently a professor at Virginia Commonwealth University, this week criticized his university's handling of sexual misconduct claims again him, stating that he has been cleared of a prior finding of responsibility and suggesting the school has "no consistent process" by which it investigates these matters.
The school, meanwhile, says that the governor has not officially been cleared of the finding, stating that the final judgment on the matter rests with a senior university official. But yesterday, at a press conference, Wilder said a three-member panel had cleared him.
In July, Wilder was found responsible for one instance of nonconsensual sexual contact involving a student. A review of several claims against him from that student had found him not responsible for three other alleged infractions, but the investigator determined that Wilder had touched the leg of, and kissed, a young woman without her consent.
Wilder sharply and publicly contested the finding at the time. In a response to VCU's Title IX coordinator Laura Rugless, he presented numerous pieces of evidence in an attempt to show that the responsible finding was incorrect, including phone records and work records that appeared to show numerous flaws in his accuser's story.
Yesterday on VCU's campus, Wilder announced that a university review panel had reversed the finding of responsibility and cleared his name on the matter. "I am pleased that panel members confirmed what I have stated since the beginning of this investigation," he said.
The university contested Wilder's announcement. Reached via email, school spokesman Michael Porter told The College Fix that Wilder's comments at yesterday's press conference "are his own and do not represent an official statement of the university."
"The matter addressed by Governor Wilder this morning is not complete; thus, his comments were premature. Under VCU policy a Review Panel makes findings and recommendations that are forwarded to the appropriate senior management executive for further review. The senior management executive may affirm or reject the Review Panel's recommendation on responsibility," Porter said.
He told The Fix that the "senior management executive" in this case is "the Provost or the Provost's designee."
'So much of this process has been in the dark'
In an email to The College Fix, Wilder criticized how the university has handled the claim against him over the past seven months.
"To date, I have not been properly notified of this matter going to the senior-level official. So much of this process has been in the dark and has revealed policy violations," Wilder said.
"There remains no consistent process by which the university investigates and makes findings with respect to grievances," Wilder said. As an example he cited a recent news report in the school's student newspaper The Commonwealth Times that detailed a finding of non-responsibility against a male student, determining that he had used "no controlling behaviors" against a female student who had accused him of sexual assault.
Wilder said he was eager to broadcast the news of the panel's findings.
"I felt it best to communicate the hearing panel's determination as quickly as possible. As I stated yesterday, the results of the hearing panel's decision speak for themselves," he said.
The lawyer of Wilder's accuser told media on Friday that the panel "didn't exactly clear him altogether." He said that the panel had found some of Wilder's behavior "deeply concerning," such as giving an underage woman alcohol and being alone with her in his house. Wilder had not contested those claims.
Phone records, investigation process were part of governor's criticism
In July, Wilder cited what he said were numerous exculpatory factors regarding the finding of non-consensual contact.
Wilder's accuser, for instance, claimed that Wilder had called her numerous times, including that he had called her "every single day" at one point. Wilder said he submitted phone records that showed this to be false.
He also criticized the investigator's handling of the case. Wilder's accuser had said that she "felt scared" around him after the alleged nonconsensual contact, but that she later "drove over an hour to Wilder's secluded Charles City residence – anticipating that it would be just the two of them there."
"[N]o reasonable unbiased External Investigator, without a pre-existing agenda, armed with this information, would conclude that it was more likely than not that Wilder kissed Complainant and touched her leg," Wilder wrote in his complaint.
On Friday, Wilder told The Fix that a rejection of the panel's recent reversal of the finding would need to clear a high bar to be defensible.
"If it is the decision of the 'senior-level official' to reject the determination of the three-member hearing panel, such a reversal would need to be thoroughly justified and proven by the current evidence," he said.
Meanwhile, The Richmond Times-Dispatch reports, "the university renewed Wilder's contract earlier this year. He makes $150,000 as a part-time professor in the L. Douglas Wilder School of Government and Public Affairs, according to a copy of his 2017-18 contract. His new contract expires June 30, 2020."
MORE: Former governor slams probe that found him responsible for nonconsensual kissing of student
IMAGE: NBC12
Like The College Fix on Facebook / Follow us on Twitter