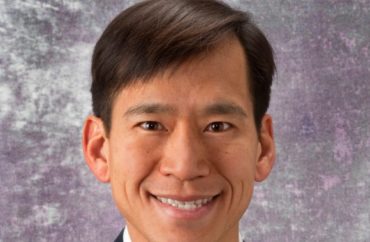 Department chair said his views 'threaten to undermine recruitment and retention'
University of Pittsburgh medical officials retaliated against a professor for his expressed concern that the School of Medicine and its affiliated hospital were violating federal civil rights laws, he claims.
Norman Wang filed a First Amendment lawsuit against the state-related university, its affiliated University of Pittsburgh Medical Center and UPMC's physician practice, which requires him to provide academic and physician services to the first two.
The allegations stem from UPMC's removal of Wang (above) as director of its fellowship program in clinical cardiac electrophysiology last summer. It also barred him from interacting with medical students.
The hospital objected to a white paper Wang published in the Journal of the American Heart Association that argued affirmative action had hurt both "the medical academy" and the black and Hispanic students admitted under such programs.
UPMC convinced JAHA to retract the article, claiming it was full of "misconceptions and misquotes" that together "strip the paper of its scientific validity." As a result, the American Heart Association and Wiley Periodicals are also named defendants.
At a July 31 meeting with Samir Saba, chief of the cardiology division, and Prof. Kathryn Berlacher, who both criticized the article, Wang claims he warned them the racial and ethnic admissions preferences at the School of Medicine and UPMC's graduate program were illegal.
He was removed as fellowship director "[s]hortly after" this. Saba, Berlarcher, Department of Medicine Chair Mark Gladwin and unknown others "resolved and agreed to impose adverse employment consequences" against him at UPP, the physicians practice, according to the suit.
Pitt has yet to file a response to the suit, which was filed Dec. 15, according to the docket.
It has repeatedly argued it took no action against Wang, who remains a professor in the School of Medicine, but the public interest law firm representing him insists the university bears responsibility.
MORE: First Amendment scholars troubled by Pitt's demotion of Wang
Some of the university officials who acted against him, such as Saba (left), were "under the color of state authority and thereby subject to the First Amendment," Center for Individual Rights President Terry Pell told The College Fix.
"Wang's contract with UPMC delegates supervision of all of his activities (both academic and clinical) to a department head at UPSOM," Pell wrote in an email.
He cited "[o]ther communications [that] reinforce UPSOM's interest and involvement" in Wang's firing by UPMC, sharing an Aug. 7 email from Gladwin (below).
It said Wang's article was harmful to many "URM [underrepresented minority] faculty," and "[w]e have taken immediate action and removed the person from their leadership position."
Gladwin, who is white, claimed that Wang's views "threaten to undermine recruitment and retention of our most qualified trainees, and undermine the confidence and morale of our faculty." These underrepresented minorities are more likely to care for "the underserved," and URM patients are "more likely to agree to life-saving interventions" when their physician looks like them, he claimed. (Asian Americans such as Wang are not underrepresented in medicine.)
The Department of Education opened an investigation of Pitt in response to Wang's removal, warning the university that it was tacitly admitting to practicing "systemic discrimination based on race" in violation of the Civil Rights Act.
The Office for Civil Rights told The Fix Friday that it might need a couple weeks to answer questions about the status of its Pitt investigation, which was opened in October, to let the Biden administration settle in.
The Foundation for Individual Rights in Education told The Fix it would not weigh in on the question of whether Pitt was liable for UPMC's actions, but it told the university earlier this month that its actions against Wang violated the First Amendment.
Pitt Department of Medicine chair denounces professor for saying affirmative action hurts minorities by The College Fix on Scribd
Hospital 'delegates supervision' to Pitt official, a 'state actor'
Wang is seeking "injunctive and/or declarative relief" for violations of his First Amendment rights, breach of contract and defamation against his academic reputation.
He also claims violation of Title VI of the Civil Rights Act and Pennsylvania whistleblower law, plus "tortious interference" in his contract with the American Heart Association and publisher Wiley.
The lawsuit spells out allegations that were not previously public, and links UPMC's "wholly-owned" physicians practice and the university itself to UPMC's removal of Wang.
His UPP contract "delegates supervision" of all his required activities to a "department head" in the School of Medicine, currently Saba, who is a "state actor." The hospital also "delegates much of the supervision" of physicians to UPP – "accordingly," to Saba.
MORE: Department of Ed threatens Pitt's funding for removing Wang
UPP incentivized Wang to seek publication of his article on affirmative action through a salary plan that pays him more for "academic productivity." The article went through "normal review and vetting" at JAHA, and Wang paid $1,600 to have it published with "open access" in March 2020.
When the article came to the attention of his colleagues four months later – the lawsuit doesn't explain the delay – Saba, Berlacher and Gladwin (right) "act[ed] on behalf of" the university, hospital and physicians practice to retaliate against Wang, the suit claims.
The consequences of his removal as fellowship director went beyond UPMC, as Wang's faculty position required "contact with medical students."
Gladwin "used his authority" as department chair to deprive Wang of the additional money he earned as fellowship director and as a consultant to groups at UPMC who seek his expertise, since he was banned from contact with students, residents and fellows. (Dean Anantha Shekhar lifted the ban on student contact only in October.)
'False statements of fact … with malice and reckless disregard of their truth'
Wang claims that several more unidentified employees of the Pitt entities started a "systematic attack campaign" against his JAHA article around the time of his UPMC removal.
AHA and Wiley accepted their claims about the article's errors without giving Wang "any evidence of wrongdoing or errors" or giving him a chance to rebut the claims. It also never paid him back his $1,600. (Dean Shekhar formally made the retraction request, according to Saba.)
The unknown employees, publisher and AHA publicly made "false statements of fact … with malice and reckless disregard of their truth," harming Wang's medical and academic reputation.
Berlacher, who is white, called the article both "scientifically invalid and racist," while another cardiology professor, Marc Simon, co-wrote a JAHA article that alleged Wang "misrepresented the facts" in his argument against affirmative action.
MORE: Researchers ask for their paper's retraction after conservative cites it
He was removed as EP PD as soon as this was known. FTR. I am PD of gen cardiology fellowship at @PittCardiology – will say again: We stand united for diversity equity and inclusion. And denounce this individual's racist beliefs and paper.

— katie berlacher (@KBerlacher) August 3, 2020
Until the court reinstates Wang to his fellowship position and lifts the continuing contact ban, "a cloud" will continue to hang over his reputation and "his ability to obtain other employment is constrained," the suit claims.
The university gave The Fix the same response as last fall when asked to explain why it's not liable for UPMC's action.
"The University of Pittsburgh and UPMC are separate entities. UPMC took action in this case," spokesperson Kevin Zwick wrote in an email. The university didn't provide legal precedents backing its position, as requested.
Neither Pitt nor UPMC answered a query on asking whether or when it plans to file a response to the suit.
Expressing view on his profession does not create 'inherently unsafe' environment
FIRE's Jan. 12 warning letter to Pitt highlighted Saba's admission that Wang was removed because his article was "incompatible with our core beliefs about who we train and how we train them."
Berlacher went even further in removing Wang "from all teaching duties," accusing him of creating an "inherently unsafe" educational environment that threatens students with "undue bias and harm."
The ban on "any medical education role" for Wang extended to "any and all supervisory and evaluative capacities for trainees," including "mentoring research projects," she said.
FIRE also faulted the journal for not specifying the "misconceptions" or "misquotes" that UPMC alleged when it sought retraction of Wang's article.
His expressed views are "well within the scope of the academic freedom to which Pitt commits itself" and within the First Amendment, and cannot be "the subject of university punishment," FIRE said.
Pitt has explicitly promised faculty it will observe their right to "produce scholarly articles," for example, and multiple appeals courts have affirmed that universities can't punish faculty for using language that "may shock or offend others."
Berlacher's claim that Wang's article "threatened the safety" of students, without providing "credible complaints of such unlawful conduct," is simply not "evidence of discriminatory conduct" under the law, according to FIRE:
Wang's paper expressed his opinion on policies affecting the demographics of the cardiology profession—a public issue that is undoubtedly relevant to his academic expertise. Although JAHA and Pitt couch their actions in allegations about the paper's academic integrity, their statements and actions indicate that Pitt's punishment of Wang rests entirely on the university's opposition to the viewpoints he expressed.
FIRE claims the university has yet to give Wang "an account of the alleged inaccuracies of his paper, nor has it initiated the proper process for resolving such accusations." This shows that Wang's punishment is solely based on the university's "deep disagreement" with his views, as Saba put it.
MORE: Pitt approves creation of 'humanized rodents' with late-term aborted humans
IMAGES: University of Pittsburgh Medical Center, University of Pittsburgh
Like The College Fix on Facebook / Follow us on Twitter