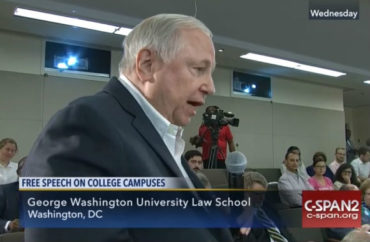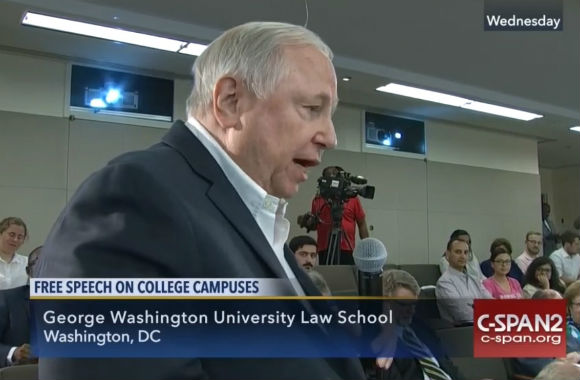 Tried to convince public safety chief more than a year ago
Student governments at George Washington University recently called on the administration to install door locks that can be controlled from inside classrooms in potential active-shooter situations.
What they aren't eager to talk about: what role a politically incorrect law professor may have played in their resolutions.
John Banzhaf, whose specialty is public-interest law, told The College Fix the door-lock proposal was his idea and that he lobbied for it more than a year ago without success. He even discussed it with the former head of public safety, who offered only "arguments against doing it," Banzhaf said in a phone call.
The law school's Student Bar Association, the first to pass a resolution, did not respond to Fix emails asking to confirm Banzhaf's role in the resolution. The professor claims that he edited the final language of the SBA resolution.
MORE: Banzhaf criticizes GWU admins for kneecapping student defense
A spokesperson for the undergraduate Student Association referred The Fix to its executive vice president, who oversees the Senate, saying that official would reach out to discuss Banzhaf's alleged role.
He then reversed course in a followup email. "We as the Student Association of The George Washington University have decided not to comment on this story," the spokesperson wrote without elaborating. According to Banzhaf, the measure is "non-controversial."
The SA resolution has yet to be posted on its website, but The GW Hatchet reported earlier this month that it passed the SA Senate unanimously. The SBA resolution was approved Aug. 29.
The Faculty Association may have voted on a similar resolution at its Thursday meeting. Banzhaf showed The Fix an email from a steering committee member that said it was "interested" in the proposal.
The resolution "urgently requests" the administration install Americans with Disabilities Act-compliant "locks or latches, capable of locking doors from the inside," on all classrooms "to supplement any other measures designed to reduce gun violence" in the future. The association did not immediately respond to a Fix email Thursday night.
'Massive legal liability' for not implementing 'simple and very inexpensive' measure
Banzhaf made his name in legal crusades against tobacco and in favor of more public restrooms for women. But the professor, who turns 80 next year, makes clear he is not woke through his regular email blasts on legal issues in the news.
In particular, he refers to transgender people as "transvestites" in discussing so-called bathroom bills. He has even given tips on how to sue students whose protests shut down campus buildings, and described American University's "anti-racist pedagogy" training as "PC Madness."
These regular pronouncements may make student leaders reluctant to credit any role he played in their resolutions.
Banzhaf took credit for the resolutions in an email blast the day the SA Senate passed its resolution, saying he "sponsored both" the SA and SBA resolutions.
MORE: Banzhaf blasts GWU for playing down violent threat against conservatives
He cited analyses by other law professors that warned universities could face "massive legal liability" for failing to take such a "simple and very inexpensive" safety measure. Universities are "required to take reasonable steps to protect those at risk from threats which are reasonably foreseeable," Banzhaf wrote.
He told The Fix he continued to lobby for door locks that can be controlled from the inside in the run-up to the school year, asking the SBA to draft a resolution "to protect their own lives and safety."
After it passed, the law school's senior associate dean for academic affairs, Emily Hammond, told law students that administrators will discuss adding the locks within the law school, according to the Hatchet. (Banzhaf wrote in his email blast that the locks can be purchased "for less than $15 per door.")
Should everyone wear ID all the time to keep out 'wanderers'?
Banzhaf forwarded The Fix emails from law school officials in late August and early September responding to the SBA resolution. The first said the safety and operations divisions would conduct "an audit of our facilities and their various points of ingress and egress," and that an "ad hoc safety and security committee" would be convened if there's "sufficient interest."
The professor volunteered his services to Hammond following her email on law school security, citing "my background as an engineer and inventor" and security consultant. He told The Fix he will serve on that ad hoc committee.
Since the law school is a "semi-autonomous unit" with its own funding, "it's logical to start small" by evaluating campus security for the law school specifically, Banzhaf said. His committee will meet with the director of security and seek out methods to "better secure entrances for the law school."
The committee will consider requiring everyone that enters law school buildings to scan their student, staff or faculty identification cards upon entrance at all times, he said. Right now they only have to scan in after 6 p.m.
Alternatively, the committee will consider radio frequency identification tags, which use sensors to unlock doors based on an individual's vicinity to it.
MORE: Banzhaf explains how to sue students who shut down buildings
Banzhaf believes everyone should have to scan in each time to easily separate individuals associated with the law school, which is four blocks from the White House, to those who are not.
Sometimes "wanderers" enter the law school, including people seeking out professors for free legal advice, he said. The idea eliminates issues of "profiling suspicious characters" and instead imposes an objective measure.
The SA Senate followed SBA's lead two weeks later. In addition to its spokesperson declining to talk about Banzhaf's alleged role, the SA's executive vice president did not respond to Fix queries about faculty involvement in its resolution and how university administrators have responded.
Banzhaf said he expected the universitywide administration to respond to the SA resolution just as the law school administration responded to the SBA resolution. GWU media relations did not respond to Fix queries.
After the Parkland mass shooting in 2018, GWU's then-senior associate vice president for safety and security, Darrell Darnell, told The Hatchet that the university didn't plan to change any security policies or procedures. (Officials refused to explain Darnell's exit from the university this spring.
MORE: School shooter drills 'terrorize our kids pointlessly'
IMAGE: C-SPAN screenshot
Like The College Fix on Facebook / Follow us on Twitter