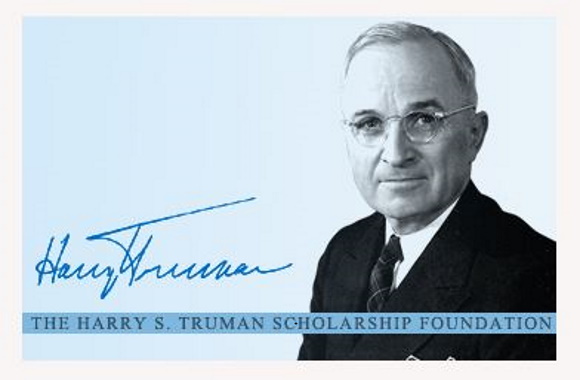 Continuing an annual trend, conservative students largely absent from awardee list
Almost half of the 2023 Truman scholars have evident ties to progressive or Democratic politics, according to analysis by The College Fix.
Twenty-nine out of the 62 recipients of the Truman Scholarship, a prestigious federal $30,000 award, went to students associated with progressive organizations, political figures or values.
These 29 awardees interned for Democratic office holders, actively engaged in groups on campus like the ACLU or College Democrats, or are involved in left-leaning extracurriculars, based on a review by The Fix of their online bios, LinkedIn profiles and social media posts.
In contrast, only four recipients of the 2023 scholarship were publicly identified as Republican or conservative.
The rest of the 2023 recipients' ideologies could not be clearly determined based on public information, including some involved in more neutral fields like agriculture or the military.
The results continue a trend of the $30,000 scholarship largely going to Democrats and progressives in recent years.
Left-leaning students received 72 percent of Truman scholarships from 2018 to 2022, according to yearly reviews by The College Fix.
Foundation Executive Secretary Terry Babcock-Lumish has told The College Fix in the past that the selection committee can only choose from the candidates individual schools nominate for the awards, pointing out that any single Truman class "includes both Republicans and Democrats, as well as those with other or no affiliation."
In a statement emailed to The Fix on Friday, she did not address the unbalance in awardees.
"Every year the Truman Foundation receives nominations from colleges and universities from across the nation and is consistently heartened to discover patriotic young Americans making commitments to careers in public service. We do not ask and might not know about a student's political ideology," Babcock-Lumish said.
"Candidates could be dedicated to issues or professions without any specific political persuasion or might be actively nonpartisan, such as those serving in uniform."
In the class of 2023, among the four obvious conservatives in the 2023 batch, two interned for members of the U.S. Senate—Sen. Marco Rubio (R-Fl.) and Sen. Mike Rounds (R-Sd.). Another managed a campaign for a Republican candidate for Congress in Utah. The remaining conservative served multiple elected positions in his county's Republican Party.
The 2023 results continue the trend of low numbers of conservative and Republican Truman scholars—they constituted just 3.6 percent of the recipients from 2018 to 2022.
The 2022 Truman scholars featured 35 progressive-leaning students out of 58, and the 2021 outcome saw 37 out of 62 in the same category.
In 2019, The College Fix found that only three of the Truman Scholarship recipients had worked for a Republican politician or conservative organization, while 19 had worked for Democratic politicians or progressive organizations. An additional 21 recipients, or 34 percent, had advocated for overtly liberal causes.
In 2020, only four students had worked for a Republican politician or a conservative organization, while 19 winners had worked for either a Democratic politician or a progressive organization and another 25 had a progressive issue as one of their primary causes.
The Truman scholarship is "the premier graduate scholarship for students interested in public service," awarding recipients with $30,000 for the graduate school of their choice.
The scholarship receives about 800 applications each year, selecting between 55 and 65 scholars among those nominated by colleges and universities across the country. Each school is allowed four nominations.
Truman scholar applicants pledge three of their first seven years following graduation to public service.
MORE: Federal $30,000 scholarships granted to zero self-described conservatives in 2018
Like The College Fix on Facebook / Follow us on Twitter