A professor at the University of British Columbia recently said that even in early 2023, with the COVID-19 pandemic largely behind us, it is still "racist, ableist and classist" to go around without a face mask.
According to True North, Amy Tan (pictured) made the comments on Twitter in response to a user who defended labeling non-maskers as "racist."
The user tweeted that BIPOC (black, indigenous, people of color) remain the "worst impacted" by COVID, and that those in Asian countries typically wore masks before COVID was even a thing. She added that white people have no say in what is dubbed "racist," and that they should "sit down, shut up" and "learn [their] place."
once again and always – white people, you do not get to say what is or isn't racist. stop speaking for and over BIPOC. learn your place, sit down, shut up, and listen to us.

your white saviorism is killing us. whiteness is a problem. oof.

(read & listen to James Baldwin! <3)

— Reese 😷 (@ReesiePeacie) February 19, 2023
Tan appears sympathetic to that philosophy; cached versions of her tweets show she believes "everything *is* about race, whether [people] want to admit it/not," and that COVID policy complaints are connected to racism, misogyny, and white supremacy.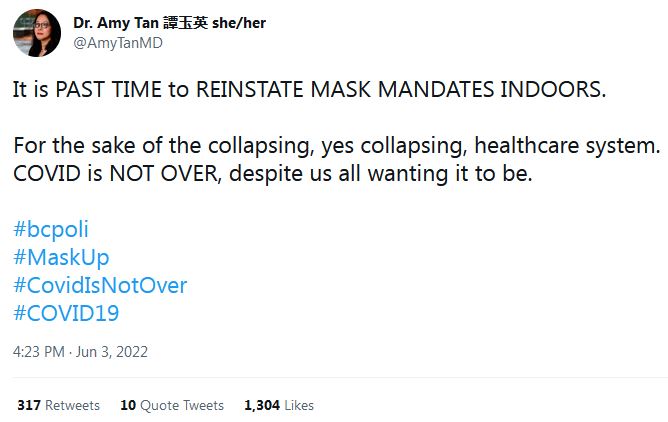 MORE: CSUN bigwigs go maskless at ceremony, students required to wear masks
Tan protected her Twitter account on February 22, but her still-visible bio (which includes a sort-of land acknowledgment) notes she left the platform due to being "tired of being harassed."

Aside from her professorial duties at UBC and the University of Calgary, Tan is "an advocate for health equity" and a consultant on anti-racism. Her research expertise lies in "communication skills, ethical decision-making, culturally-safe and anti-oppressive care with patients and families."
The True North report notes Tan also has personal blog where she pontificates on topics like the pandemic, anti-racism, health equity and grief. "As a Chinese, heterosexual, settler of colour, second-generation Canadian, cis-gender female with more than one disability," Tan wrote in one post, "I want to use my privilege and be part of the solution."
The professor is hardly unique in her views on face masks; as late as last September a SUNY New Paltz professor said that "refusing to mask indoors is a manifestation of ableism and racism … that tells the most vulnerable that their health does not matter." A Northern Illinois University professor of physics invoked virtually the same thing.
Interestingly, some black academics refused to wear face masks due to how they might be perceived by law enforcement. And one professor recently complained about a year-old incident in which campus police were "weaponized" against a maskless "Latine" student.
MORE: Professor with autism placed on leave for refusing to teach with a face mask
IMAGES: Linkedin screencap; Amy Tan/Twitter screencaps
Like The College Fix on Facebook / Follow us on Twitter