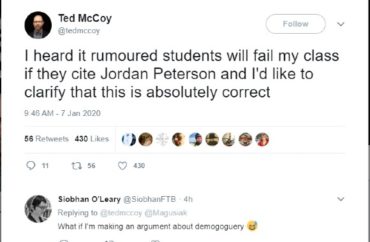 UPDATED
Not clear if deleted tweet was joking, serious or in between
Ted McCoy has some advice for his students: Don't cite Jordan Peterson if you want to pass my class.
The University of Calgary sociologist, whose specialty is the history of prisons and punishment, tweeted that it's "absolutely correct" that students will fail his class if they cite Peterson, a popular Canadian psychologist and self-help author who is vilified by some progressives.
The Tuesday tweet responding to alleged rumors about his grading practices, since deleted, was promoted by The Post Millennial. McCoy's Twitter profile is also now marked private, so it's not clear whether he has elaborated on whether the Peterson tweet was serious, joking or something in between.
The College Fix has asked McCoy to clarify the context of his tweet, such as whether he's complaining about the number of students who cite Peterson in their assignments, making an inside joke, or preemptively sharing his grading criteria.
Asked if McCoy's department or administrators had talked to him about the tweet, an administration spokesperson told The Fix Wednesday night he had "limited information at this time":
Critical thinking and analysis are encouraged at UCalgary. The academic work of our students is assessed on merit and subject to official grading criteria and standards.

UCalgary is fully committed to providing a rich teaching, learning and research environment and in ensuring our students have a rewarding student experience.
The Fix has asked the spokesperson to clarify that he can't say whether anyone at the university has talked to McCoy about his tweet, and whether the "official grading criteria and standards" supersede any mercurial criteria and standards that individual professors may have.
Peterson initially drew infamy by publicly refusing to use gender-neutral pronouns such as "ze," but the University of Toronto professor has since been more broadly slurred as a "white nationalist," "incel" (involuntarily celibate person), Nazi and charlatan.
Professors regularly draw negative attention for their tweets, perhaps no one more severely than former Drexel University professor George Ciccariello-Maher. He resigned after the university put him on administrative leave, apparently due to the blowback it faced over his inflammatory tweets. The most infamous: "All I want for Christmas is white genocide."
Read The Post Millennial article.
h/t Jakob Glogauer
UPDATE: An administration spokesperson responded to a query after this post was published. It has been added.
MORE: Young man sobs for help at Jordan Peterson's feet on stage
IMAGE: Ted McCoy/Twitter
Like The College Fix on Facebook / Follow us on Twitter