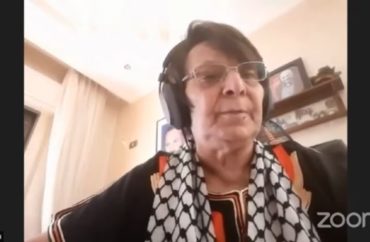 Their departments co-sponsored talks with member of U.S.-designated terrorist group
After Zoom shut down a university event with a Palestinian terrorist for at least the fourth time in a month, an academic group is pressuring U.S. college presidents to break their agreements with the online meeting provider.
The New York University chapter of the American Association of University Professors said Zoom "unilaterally" canceled its Friday event with Leila Khaled, who hijacked two planes for the Popular Front for the Liberation of Palestine in the 1970s.
Its event was cosponsored by "several NYU departments and institutes," the chapter said in a statement posted by Academe, which is published by the national AAUP.
Zoom "censored" another planned event with Khaled on Friday, Students and Faculty for Justice in Palestine at the University of Hawaii wrote in an update on the event's Facebook page.
The actions were not unexpected. A spokesperson for Zoom told The College Fix Wednesday that the UH event would not be allowed to take place on its platform for violating its terms.
Even though the Zoom link for the UH event had already been rendered inactive by Thursday night, when The Fix last checked it, the event's Facebook page made no mention of the deactivation before it was scheduled to start Friday.
Both events were in response to Zoom's cancellation of a Khaled event at San Francisco State University Sept. 23. The next video streaming providers the organizers tried – Facebook and YouTube – also removed the event.
YouTube did not respond to a query about organizations using its platform to host events for Khaled (above). Neither did the UH Students and Faculty for Justice in Palestine.
According to the US Campaign for the Academic and Cultural Boycott of Israel, Zoom also canceled a similar Friday event at the University of Leeds. The vast majority of the events it helped organize in response to the SFSU incident "went forward in full, despite multiple threats of censorship," the anti-Israel group said Saturday.
MORE: Zoom and YouTube shut down SFSU Khaled event
'Intense, coordinated outside pressure from Zionist and right-wing factions'
The scheduled university events were part of a "Day of Action Against the Criminalization and Censorship Of Campus Political Speech," promoted by the US Campaign for the Academic and Cultural Boycott of Israel.
It accused Zoom, Facebook, Instagram and YouTube of "act[ing] in lockstep" with the SFSU administration to shut down what it called an "open classroom webinar" with Khaled. That event was co-sponsored by SFSU's Arab and Muslim Ethnicities and Diasporas Studies Program and the Department of Women and Gender Studies.
"After intense, coordinated outside pressure from Zionist and right-wing factions, both the university and Zoom refused to allow the webinar to be aired," the campaign said. When it moved to YouTube, "the same Zionists and right-wing agitators mobbed the comments section and used the reporting function to flag the video," which was stopped just 20 minutes in.
YouTube told The Verge that the event broke the platform's policies on criminal organizations. It didn't respond to a Fix query before Zoom's cancellation of the UH event about whether YouTube would allow the event to go forward on its platform.
The anti-Israel campaign said SFSU refused to defend the academic freedom of Profs. Rabab Abdulhadi and Tomomi Kinukawa, who organized the event, "or provide them with an alternative platform."
Jewish and pro-Israel groups had warned Zoom that letting Khaled address the SFSU audience using its service would violate both state and federal law.
Because Khaled is still a member of PFLP, a U.S.-designated terrorist group that uses Marxist and Leninist ideology and tactics to spread its message, The Lawfare Project said it would constitute "[u]nlawful provision of material support to [a] designated foreign terrorist organization."
Zoom agreed that the event would violate its terms because of Khaled's "reported affiliation." The Foundation for Individual Rights in Education, a civil liberties group, strongly disagreed that the event violated any law that would withstand constitutional scrutiny.
MORE: SFSU to host Palestinian terrorist in virtual forum
'Sick comedy to censor an event about censorship'
Zoom moved quickly after Jewish News Syndicate reported Oct. 20 on the UH event, "We Will Not Be Silenced: The Case of Khaled and Solidarity from Hawai'i to Palestine," scheduled for three days later.
Its CEO Eric Yuan told JNS the day before that the company was "handling the matter." A spokesperson told the news service after the report went up that Zoom determined the UH event was "in violation of one or more of" its policies, and told the hosts "they may not use Zoom for this particular event."
The Fix received the same statement, which said that while Zoom supports "the open exchange of ideas and conversations," this practice is qualified by "certain limitations contained in our publicly available Terms of Service, Acceptable Use Policy, and Community Standards."
Like the SFSU event, the UH event was co-sponsored by academic departments: Ethnic Studies and Political Science. It said Khaled would make a "[s]pecial appearance" but apparently not speak on a panel discussion with a moderator.
"This is a hitherto unprecedented act of Big Tech compliance with public-private silencing of speech: academic speech, Palestinian speech, and political and social justice speech," the description reads, referring to the SFSU event's cancellation by each service:
It is emblematic of the corporate takeover of our universities and the influence of Zionist and right-wing organizations and individuals, along with the power of information capital, to set the agenda for what can and cannot be said or taught in a public university.
It's not clear why the Facebook page for the UH event did not acknowledge Zoom's public statement three days earlier that the scheduled event violated its terms. Students and Faculty for Justice in Palestine did not respond to a Fix query.
MORE: Congressman makes criminal referral to DOJ for Khaled event
Sometime on Friday, the UH event page was updated to read:
THIS EVENT HAS BEEN CENSORED BY ZOOM AND THE UNIVERSITY OF HAWAI'I WILL NOT PROVIDE AN ALTERNATIVE PLATFORM. STAY TUNED FOR OUR RESPONSE.
The NYU chapter of AAUP put out a statement Friday that echoed the same themes in response to its event's cancellation by Zoom.
"Of course, we recognize that it is an act of sick comedy to censor an event about censorship, but it raises serious questions about the capacity of a corporate, third-party vendor to decide what is acceptable academic speech and what is not," the chapter said.
Letting Zoom "override this bedrock principle" of academic freedom at NYU, "at the behest of organized, politically motivated groups, is a grave error for any university administration to make, and it should not escape censure from faculty and students."
While the administration told the professors it has "taken up the issue" with Zoom, it must "issue a strong statement denouncing this act" and "revisit the terms of its contract with Zoom," the chapter said:
If Zoom will not walk back its policy of canceling webinars featuring Palestinian speech and advocacy, college presidents should break their agreements with the company.
Most university events with hijacker not shut down
USACBI, the anti-Israel group that coordinated the Khaled events Friday, said events went forward without Zoom interference at the University of Massachusetts-Boston, University of Western Ontario, Loyola University School of Law, University of Alberta, Stanford, Southern California's Claremont Colleges, San Francisco State University and University of California Santa Cruz.
The University of Leeds event was recorded and successfully posted to Facebook despite Zoom's action and a "censorship" attempt by the Student Union. According to USACBI, Zoom also locked organizer Adam Saeed out of his personal account, "and he has been unable to recover access."
Despite the trouble with Zoom, the NYU event is also publicly available on YouTube as of Sunday night. USACBI said Zoom's legal department threatened to "shut down the meeting" at the Claremont Colleges, but that event "went forward as planned." It did not elaborate.
Facebook is now hosting the University of Western Ontario event with Khaled, but the organizer, Prof. David Heap, was briefly locked out of his personal account, according to USACBI.
MORE: Vassar students sell T-shirts praising terrorist
Palestine Legal, a public interest firm that represents anti-Israel groups, did not issue an explicit legal threat to Zoom in its own Thursday letter. But it warned the service that it was facilitating a "dangerous attack on free speech and academic freedom, and an abuse of your contract with our public university systems."
It claimed that Zoom "threatened to terminate" Zoom accounts for the "entire California State University system and University of Hawai'i system if the universities allowed the events to proceed." The service then falsely characterized its own action as if "faculty organizers had themselves cancelled the events."
Palestine Legal questioned the claims by the Lawfare Project and others that Khaled's virtual appearance would be illegal. She "was not compensated for the events, she did not plan to represent the PFLP at either event, and fundamentally the exchange of ideas in a university setting is constitutionally protected free speech."
With Zoom providing instructional services for hundreds of thousands of students who are not attending classes in person, it serves as "the guardian of a public classroom where First Amendment protections and academic freedom apply," the letter said: "[Y]ou are obligated to maintain an open marketplace of ideas."
The letter apparently worked, with Zoom leaving alone all but three events on Friday.
MORE: Professor vilified by university for criticizing Hamas
IMAGES: USACBI/YouTube, US Campaign for the Academic and Cultural Boycott of Israel screenshot
Like The College Fix on Facebook / Follow us on Twitter