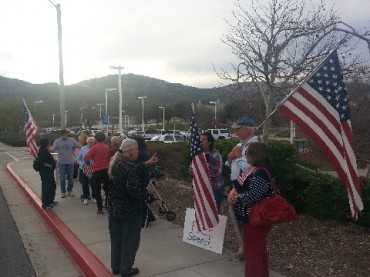 Updated: Jan. 30
TEMECULA – About 50 patriotic protestors rallied on Tuesday in front of the elementary school where a first-grade girl was recently told by her teacher to stop talking about Jesus and the Bible during a Christmas show-and-tell presentation in her classroom.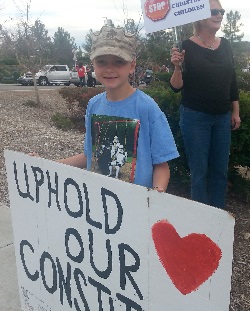 Holding Bibles, large American flags, and signs that read "Pray for America" and "Defend Religious Freedom," the activists lined the sidewalks in front of Helen Hunt Jackson Elementary School, a campus situated in a middle- to upper-income neighborhood about an hour north of San Diego.
According to Advocates For Faith & Freedom, first-grader Brynn Williams' teacher in mid-December had "given every child in the class a canvas bag with verbal instructions to find something at home that represents a family Christmas tradition, put it in the bag, bring it to school, and be prepared to share the family tradition."
Brynn took the Star of Bethlehem from the family Christmas tree, and for her classroom presentation said: "Our Christmas tradition is to put a star on top of our tree.  The star is named the Star of Bethlehem. The 3 kings followed the star to find baby Jesus, the Savior of the world. John…"
"At that moment, Brynn's teacher interrupted her and said, 'Stop right there! Go take your seat!' Brynn was not allowed to finish her presentation by reciting the Bible verse, John 3:16," according to Advocates For Faith & Freedom. "In fact, Brynn was the only student not allowed to finish her one-minute presentation. After Brynn took her seat, the teacher explained to Brynn in front of all the other students that she was not allowed to talk about the Bible or share its verses."
At the rally, protesters said Brynn's First Amendment rights were violated, and they wanted to send a message to the community that the U.S. Constitution trumps political correctness.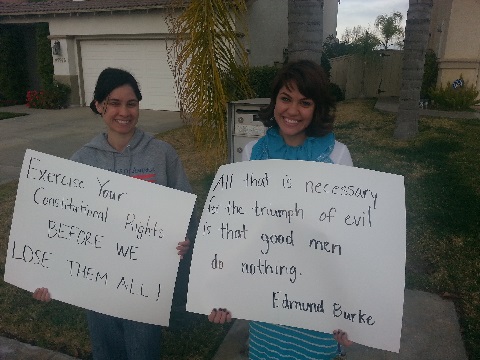 "When we don't defend the rights for others, it will someday be taken away from us as well," said Christina Thompson, who attended the rally with her four children, ages 10, 6, 5 and 3. "I just found it really sad that the girl was given a chance to speak about her family traditions and when she did, so thoughtfully, she was shut down."
Organizer Ernie White, a well-known conservative activist in the region and founder of Occupy TeaParty, said when he learned of the incident, he was very upset.
"The minute I found out a little girl wasn't allowed to read John 3:16 in my own backyard, I knew I had to get out here and make sure she knew she was supported by patriots," he said.
White said he finds it ridiculous that California law now allows girls to use boys restrooms, and vice-versa, but they can't cite the Bible.
"We need this," he said, nodding toward the activists picketing the school. "We have got to fight. This country is going to crap. There should be 1,000 people out here, but they're asleep."
The protest was timed with the school's afternoon dismissal. As parents picked their children up, one apparent father inside his car yelled out: "You know nothing about the situation. This is bringing undue attention to our children."
Mother Christina Thompson replied softly: "It's not for the children, it's for the Constitution."
At one point, a police officer rolled up and asked questions of protestors from inside his squad car. He asked activist Pam Bailey what everyone was doing, and she replied: "We're defending the constitutional rights of a little girl." When he pressed on, she replied: "We want to exercise our rights before we lose them."
He drove away shortly thereafter.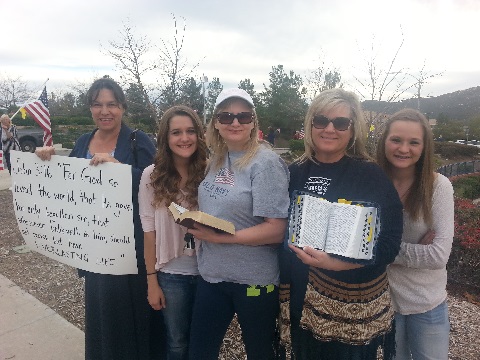 In a statement to The College Fix, a spokeswoman for the school district would only say: "The Temecula Valley Unified School District respects all students' rights under the Constitution and takes very seriously any allegation of discrimination. Due to the fact that district officials are currently investigating the allegations, it would be inappropriate to provide further comment at this time."
Protestors said the incident should never have occurred in the first place.
"They were asked about Christmas traditions," said Melody Martin, who attended the rally with her 15-year-old daughter. "If you are not going to be allowed to talk about the Bible or Christ, what's the point?"
UPDATE (Jan. 30) – The teacher in question has since flatly denied the allegations lodged by Advocates For Faith & Freedom.
In a statement, she said that:
At no time did I ever tell the student that she could not read the bottom section because it was a Bible verse nor did she ask if she could finish. I never told her to "Stop right there!" or "Go take your seat!" or reprimand her in front of the class for sharing from the Bible. It just did not happen. This subject matter was never discussed. I decided to stop her at that point so the other students would get their share in before the bell rang. My students have always been free to share their ideas.
Jennifer Kabbany is associate editor of The College Fix. She resides in Temecula.
IMAGES: Jennifer Kabbany
Like The College Fix on Facebook / Follow us on Twitter