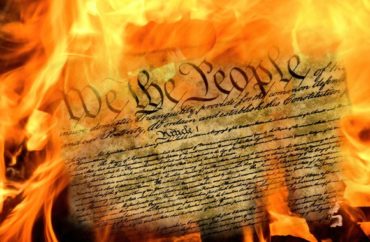 Recommendation by diversity task force with no listed legal experts
Back in June, the president of Miami University convened a task force of faculty, students and staff to spend their summer devising recommendations on "diversity, equity and inclusion."
Now concluded, the DEI task force says that looking past the First Amendment is a good place to start – and that students and professors should trade their civil liberties for a more secure safe space.
The public university, the second-oldest in Ohio, won't rule out even those recommendations that would put it in legal jeopardy, a spokesperson told The College Fix.
Interim Director of University Communications Carole Johnson said in a Friday email that "all" recommendations are "currently undergoing review," even those that may compromise academic freedom and faculty rights.
She didn't answer followup questions about why a task force with no identified attorneys is offering legal suggestions, and what the administration thinks of those suggestions.
The ninth recommendation in the task force's section on "Advocacy and Partnerships" is particularly bold. It explicitly tells the taxpayer-funded university to ignore legal considerations when disciplining students and employees for "discriminatory" speech.
MORE: Vast majority of public colleges violate First Amendment with social media
The task force wants Miami to adopt a "zero-tolerance anti-discrimination policy and strictly enforce its existing University policy on discrimination."
The university's Office of General Counsel has not responded to a Monday request from The Fix to analyze the legality of that recommendation. Neither has the University Senate, the legislative body, which is composed of students, faculty, staff and administrators.
Both the Foundation for Individual Rights in Education and a First Amendment law expert have frowned on the recommendation, noting that it ignores legal distinctions between student and employee speech.
Any policy that dismisses students for their speech would "violate the First Amendment," UCLA Law Prof. Eugene Volokh told The Fix in a Monday email.
"The Diversity, Equity, and Inclusion Task Force may not 'fear … First Amendment violations,'" he wrote, quoting the recommendation, "but the university, which will have to pay for those violations (and which presumably wants to comply with the law) should."
Fire employees, dismiss students to protect 'disruptive-free work environment'
The ninth recommendation in "Pillar 3" is one of 43 spread across five sections, which also tackle "Dialogue and Allyship," "Cultural Consciousness," "Structural and Resource Support" and "Inclusion and Accountability."
It calls on the university to "determine under what conditions employees can be terminated and students can be dismissed" for making discriminatory comments, such as those deemed "racist, sexist, homophobic, etc."
Contemplating legal objections, the recommendation continues: "Student dismissal or employee termination should not be shied away from because of fear of First Amendment violations." Overlooking constitutional considerations will "demonstrate moral courage."
In an incomplete sentence that does not appear to have been proofread, the recommendation refers to several court decisions that set forth "a balancing test regarding private citizen's 1st amendment right vs public institution interest in an efficient and disruptive-free work environment."
While it cites "key legal factors" in the university's case for such an environment, all refer to employees, not students. Such factors include "maintaining good working relationships among coworkers" and "avoiding obstructions in employees' abilities to perform their work."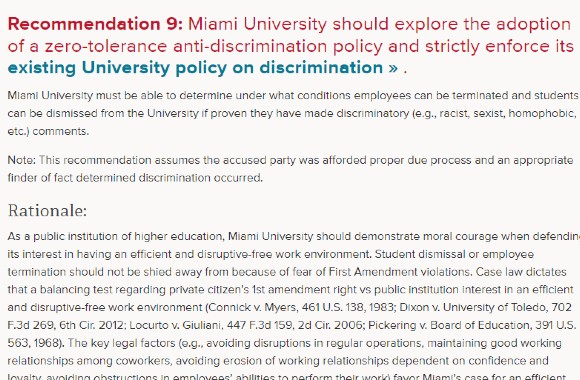 MORE: Public university seems unaware it's a public university
The task force roster boasts Miami's head football coach, the mayor of its hometown Oxford and other staff members and academics at the school. None is listed as having a legal background or a law degree, however.
University spokesperson Johnson did not address why a task force with no self-identified legal experts, much less anyone with a law degree, is making legal recommendations.
One of the co-chairs of the task force, Vicka Bell-Robinson, also declined to comment on the absence of legal expertise. She told The Fix that university media relations had responded to the request already.
When The Fix reiterated that it wanted her views in her capacity as task force co-chair, Bell-Robinson copied media relations again. "They are the ones responding to these questions," she wrote in a Tuesday email.
Not even constitutional 'within government-run programs'
While the task force cited several court decisions in its argument for "moral courage" and a more woke work space, Volokh gave The Fix more pertinent case law that favors the First Amendment rights of students.
A ruling against Central Michigan University known as Dambrot "expressly struck down a campus 'discriminatory harassment policy,' that banned allegedly bigoted speech," he said. Volokh compared that policy to the task force's call for punishment of "racist, sexist, homophobic, etc." comments.
The Supreme Court ruled in Matal v. Tam, decided in 2017, that "even within government-run programs, the government can't impose viewpoint-based restrictions on supposedly bigoted expression," he said. (That case was brought by a college instructor whose trademark application was denied for its subjective offensiveness.)
Even a 2010 ruling that upheld a public university's right to nullify the membership rules of student organizations, Christian Legal Society v. Martinez, is not helpful to the task force, according to Volokh.
It reaffirms the right of students to "express any viewpoint they wish—including a discriminatory one," he said, quoting from Justice Ruth Bader Ginsburg's majority opinion. She wrote that the decision follows the court's tradition of protecting expression of even "the thought that we hate."
Professors, on the other hand, have more to worry about as taxpayer-funded employees, and thus an extension of the state. Their rights are "more complicated," Volokh wrote, "because the government as employer usually has more power to restrict employee speech than the government as college educator has over students."
Still, the courts have been lenient toward faculty speech that relates to the actual content of the coursework.
Volokh (below) cited a 2001 ruling from the 6th U.S. Circuit Court of Appeals, whose jurisdiction includes Miami University. The Hardy ruling "protected a professor's right to discuss offensive words – such as 'nigger' and 'bitch' – in class" when they were "germane to the subject matter of his lecture," he said. (Volokh's own dean has apologized – against his wishes – for the law professor's pedagogical use of "nigger" in class discussions.)
MORE: UCLA Law apologizes for Volokh quoting Supreme Court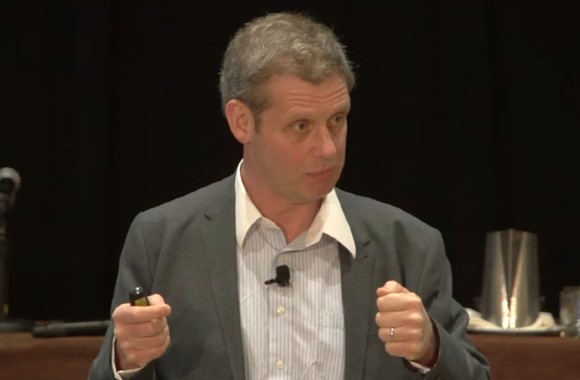 Task force oversimplifies 'legal balancing test'
The Foundation for Individual Rights in Education took issue with the task force's recommendation to sanction speech in a blog post that deconstructs its legal reasoning.
Similar to Volokh, FIRE said the task force wrongly assumes that student and faculty speech are held to the same legal standard.
It is false that "student speech is analyzed under the same legal standards that govern public employee speech," the civil liberties group wrote:
Students at public universities enjoy broad First Amendment rights on campus; they may not be punished for their protected speech simply because Miami believes censorship would help maintain "an efficient and disruptive-free work environment."
The Supreme Court struck down campus viewpoint discrimination in the name of "order" nearly 50 years ago, rejecting the view that "First Amendment protections should apply with less force on college campuses than in the community at large," FIRE said, quoting Healy v. James.
The recommendation also oversimplifies the "legal balancing test" on faculty speech rights, which is not always in favor of the university's "institutional interests," it said.
The group denounced the task force's claim that it takes "moral courage" to censor offensive speech. "Rather, it takes moral courage to respond to such speech without punishment, trusting instead in the power of dialogue, reason, and truth to change minds and win out."
FIRE has not responded to Fix queries Friday and Monday about whether it plans to further press the university on the task force's recommendation.
MORE: Professor demoted for saying affirmative action harms students
IMAGES: Maria Dryfhout/Shutterstock, ReasonTV/YouTube
Like The College Fix on Facebook / Follow us on Twitter