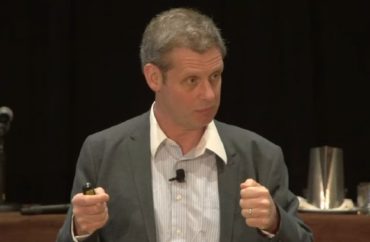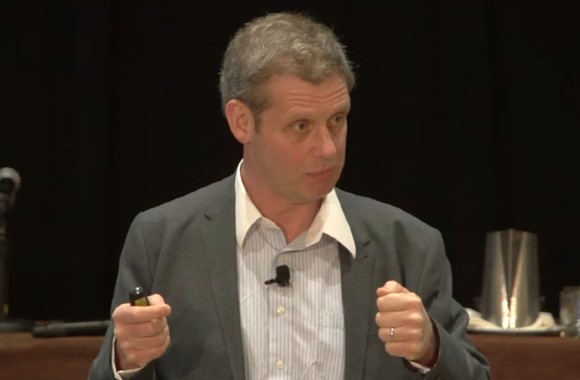 Why does the dean have such a low view of her black students?
Eugene Volokh publicly criticized a law school dean for banning faculty from quoting the word "nigger" when it appears in the case law they teach. Now the UCLA law professor's own dean is calling him out for using the word unedited in relevant class discussions.
The First Amendment scholar shared the email from Dean Jennifer Mnookin to the community, questioning whether he really needs to say "nigger" when teaching case law about, well, uses of the word "nigger."
Volokh (above) says Mnookin is referring to two incidents. He led a class discussion about an "actual hate speech prosecution" initiated by the University of Connecticut against two students for shouting the n-word in a parking lot, under a "ridicule" law Volokh claims is not only unconstitutional but misapplied to the situation.
At an event last month, someone urged Volokh not to use the "n-word" while he was talking to the speaker for the event. Asked what that referred to, Volokh shared the "nigger" discussion that had upset some students.
Dean Mnookin noted that Volokh was teaching a First Amendment case and recounting the incident when using the "n-word" twice, and explained to the community that he "has strong views about why he chooses to use incendiary language—even when vile—in his classroom, without euphemism or alteration":
While he has the right to make that choice as a matter of academic freedom and First Amendment rights, so long as he is not using this or other words with animus, many of us—myself included—strongly believe that he could achieve his learning goals more effectively and empathetically without repeating the word itself. That is equally true in casual settings outside the classroom.
The dean continued that professors should not refer to "slurs" even when they are used for "pedagogical purposes," since they "hurt people." Volokh can't say "nigger" without making students think about "anti-Black prejudice, racism and slavery," including "the reality of ongoing anti-Black racism," she said:
I am deeply sorry for the pain and offense the use of this word has caused, and I very much respect the important work our Black Law Students Association undertook, using speech to counter speech, in the flowchart they distributed around the building. [Volokh doesn't explain the BLSA "flowchart," and neither the BLSA nor the Daily Bruin appears to have mentioned it online.]
MORE: Volokh scolds Wake Forest Law for banning n-word in any context
Volokh reiterated why he "will continue to accurately quote things in class and outside it," even racial slurs, largely repeating his criticism of Wake Forest Law Dean Jane Aiken for scolding a professor in front of the entire community for quoting the n-word in class.
Whether in class or out of class, when discussing case law, "professors ought to mention what actually happens in a case or incident, without euphemism or expurgation; and students should feel free to do the same," he wrote. Volokh noted that black scholars have echoed his reasoning on the "use-mention distinction."
The law school is not doing its job if it neglects to discuss "the evil as well as the good … This strikes me as a fundamental feature of the modern university: The right (I think the duty, but at least the right) to accurately present and discuss the facts of the world around us."
It's especially important to not paper over evil when training lawyers, who "have to deal with facts as they are, regardless of how unpleasant those facts may be," Volokh continued. He noted that "nigger" has appeared in opinions by both liberal and conservative Supreme Court justices since the civil rights era, including Harry Blackmun, Ruth Bader Ginsburg, Thurgood Marshall, Sandra Day O'Connor, Sonia Sotomayor and Clarence Thomas.
Dean Mnookin should not send the message to her black students in particular that they will inevitably be worse lawyers because they will be "sharply disturbed by hearing the word ["nigger"] in the everyday reality of their practices," whether the facts of the case or a relevant precedent, he said.
Volokh doesn't have the same soft bigotry of low expectations that his dean does:
I believe that students and lawyers of all identities are perfectly capable of handling the often ugly reality of the world, as reflected in the precedents and in the cases before them. And I think it does them no service to tell them that they are somehow entitled to be so shielded from that reality that they don't even hear some aspects of that reality.
MORE: Law dean denounces professor for quoting Supreme Court
IMAGE: ReasonTV/YouTube
Like The College Fix on Facebook / Follow us on Twitter