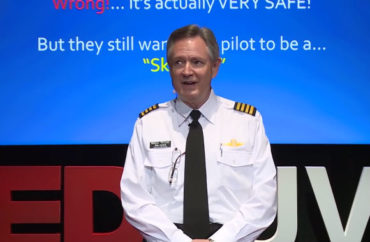 One student's complaint ends decade of teaching
James Green admits he can get emotional when he talks about witnessing the Sept. 11 terrorist attack in New York City.
He and his wife saw one of the Twin Towers fall. "I mean we could still smell the fires burning at Thanksgiving, 2 1/2 months later!" the retired airline and U.S. Navy pilot told The College Fix in a lengthy Facebook message. "And we had friends who had watched the people jumping to their deaths from the burning towers."
Green shared his Sept. 11 narrative with the students in his crew resource management class at Utah Valley State University on the 17th anniversary of the attack.
But according to The Salt Lake Tribune, the narrative posted by the adjunct aviation professor on the Canvas course web page closed with these controversial lines:
And it is also why I am "very" opposed to allowing any Muslims to immigrate into the USA! They hate us and always will.
Green emailed his narrative to students three minutes later without the lines about Muslim immigration, but it was too late. One of his students had seen the original Canvas post and complained to the administration.
Now Green is gone from the public university, but he's not out of the woods yet. The administration told the Tribune that its Equal Opportunity/Title IX Office was reviewing the situation and would take "appropriate action."
A university spokesperson ignored three requests from The Fix to explain what "appropriate action" could entail, but said Green resigned "without university officials having raised the idea."
"UVU unequivocally supports the constitutional right of individuals and groups to speak freely — and for professors to exercise academic freedom to the fullest protections of the First Amendment," Scott Trotter, senior director of communications, wrote in an email.
MORE: Professor's classes revoked after quoting n-word uncensored
'Unsafe learning environment' 
One of Green's students, Derrek Studebaker, provided Green's original post to the Tribune. He told the newspaper he reported his professor's post to the chair of the School of Aviation Sciences because "it's not acceptable language."
"He should be held responsible for promoting an unsafe learning environment," Studebaker said. "You really can't say that, especially as a professor for a public institution."
Green told The Fix that Studebaker did not bring his concerns to the professor first. "If he had contacted me I would have deleted [the post] immediately since that is what I intended to do all along. It wasn't needed once the emails had been sent."
The professor's practice is to email students after posting announcements, because "I've learned that students traditionally don't read course announcements." Green is skeptical that any other student than Studebaker saw the post before it was removed.
"After sending the email I graded some papers & simply forgot to go back & delete the original message in the announcements" online, Green said.
The professor said he hadn't even met Studebaker because it's "very early in the semester." (The class meets online and has 27 students.) "I was hurt that one student would take such rash action against me when he had no idea of who I am or what I have done."
Asked why he deleted the Muslim immigration lines from the email to students, Green told The Fix:
When I first wrote the narration of the 9/11 event, it brought back a lot of emotion. That was a very trying time for everyone, especially those us who lived there and experienced it first ha[n]d. … I had commented at the end about how we needed to protect against such events from those same enemies in the future. Then a few minutes later when I sent the individual emails (through the course email system), I calmed down a bit and realized that discretion was probably the better part of valor …
Green wasn't "obligated" to share his experience with his students, but he thought "they would find it interesting" that he witnessed the attack. His narrative mentioned that he and his wife went to a local church to help survivors of the attack.
"I try to be an outstanding educator, not someone who does just does the minimum to get by," said Green, who retired with the rank of captain.
He called himself one of the main advocates of letting pilots be armed during flights, leading Congress to create the Federal Flight Deck Officer program. He was one of the first to be trained, and "from that point forward I was armed on every flight every day (domestic flights that is)."
MORE: Conservative prof wins academic freedom suit against university
'He equates terrorists with all Muslims' (he didn't)
University officials quickly apologized to Studebaker, the student, after he complained about Green's post.
Studebaker told the UVU Review that Green's post "sets a precedent for students to behave in the same hateful way" and creates an unsafe learning environment for Muslim immigrants. (No one has reported that Green's online class included such students.)
The student "immediately" emailed Aviation Department Chairman Randy Johnson with a screenshot of the post, according to the Review. But Studebaker mischaracterized what Green wrote, claiming that "he equates terrorists with all Muslims in this statement." Green's post only mentioned Muslims who seek to immigrate to the U.S.
Johnson thanked Studebaker for notifying him and said the department takes his concerns seriously, while David McEntire, dean of the College of Health and Public Service, told the student he was "very concerned" about Green's post and had it removed from the Canvas system.
Under pressure from Studebaker, the university notified Green's class that they would get a new instructor and that "this matter" was under investigation by the equal opportunity office in accordance with two policies, the Review reported.
The first policy is 24 pages long and covers discrimination, harassment and affirmative action. It's not clear what might apply to Green's behavior. "Discrimination" is defined as "negative or adverse conduct" toward students "on the basis of inclusion" in a protected class. Again, it's not known whether Green's class included Muslim immigrants.
Green's two-line comment about Muslim immigrants, excluded from his email to students, may not qualify as "harassment." Such conduct must be "sufficiently severe, persistent, or pervasive … to limit, interfere with, or deny educational benefits or opportunities of a student, from both a subjective and objective viewpoint based on a totality of the circumstances, including but not limited to the frequency and severity of the conduct."
The other policy is 15 pages long and covers freedom of speech. Its academic freedom section covers all professors, including adjuncts such as Green, and says they have the "right to examine and communicate ideas relevant to their courses." But they must not use this freedom "as a pretext to discriminate or create a hostile environment" against students.
"Faculty shall also not use academic freedom or freedom of speech as a pretext to teach controversial matter that is not related to their subject," it continues.
'Controversial personal belief that had nothing to do with his core class curriculum'
Trotter, the university spokesperson, cited this section in an email to The Fix, but used the phrase "core curriculum" instead of "subject."
Green "chose to expound on a controversial personal belief that had nothing to do with his core class curriculum in a written message to his students communicated through a university system," the spokesperson said. "His written statement immediately caused serious concern among some of our students."
The professor "unexpectedly announced his resignation" when university officials brought up the matter with him, Trotter said.
The spokesperson did not answer a Fix query about his use of the plural "students," which suggests someone other than Studebaker also complained "immediately."
MORE: Conservative prof fired for blog post returns to classroom after victory
He also did not answer what message it's sending faculty by investigating their off-the-cuff remarks even when quickly retracted, and narrowly construing their right to incorporate relevant personal experiences into their curriculum.
The Fix twice asked Stephanie Albach, the listed contact for university relations, what "appropriate action" the university could take against a professor who has already resigned; what penalty he might have faced had he stayed; and what penalty it could still impose on him, such as a black mark in his personnel file.
Trotter responded to the messages sent to Albach without answering these questions, and he ignored a second request to answer the questions.
While the two policies mentioned by the taxpayer-funded university earn the speech-friendly "green light" rating from the Foundation for Individual Rights in Education, its overall ranking is a speech-hostile "red light."
Both FIRE and the American Association of University Professors declined to comment on the situation.
'I love UVU! It has been a great decade!'
Green confirmed to The Fix that officials "were very nice, even apologetic at having to bring [the complaint] to my attention," and didn't threaten his job.
"I told them I would spare them the controversy of an investigation of the university by just resigning myself," and expected that his discipline would have been "just a censure" had he stayed.
The former department chair, whose LinkedIn page says he had tenure through the 2015-2016 year, was down to teaching just a single online class, and "the pay for that is so tiny it's not really worth my time." Green did it "purely as a service to young people that may be interested in following my footsteps to a wonderfully rewarding career." (He has a perfect rating on RateMyProfessors.)
Green said he holds no "resentment" against the university, which is "only trying to comply with unreasonable US regulations," and has no plans to consider litigation. He still has his position as aviation director at the American International Aviation Academy of Utah.
"So of course I don't plan to take any action against them. I love UVU! It has been a great decade!" he wrote.
Green said he hoped his students "know who it was that messed things up enough that I would retire early," though. "I don't want them to think I bailed out on them for no good reason."
MORE: UArk System makes it easier to fire conservatives
IMAGES: TEDx Talks/YouTube, FIRE screenshot
Like The College Fix on Facebook / Follow us on Twitter