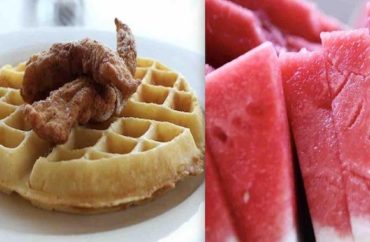 Officials at a New York State middle school are blaming its food service vendor for serving a "stereotypical" lunch on the first day of Black History Month.
According to the Rockland/Westchester Journal News, Nyack Middle School students were served chicken and waffles — along with watermelon for dessert — on February 1, an unauthorized menu change made by the vendor, Aramark.
Nyack Principal David Johnson apologized to parents the following day for the "unfortunate situation," saying he was "disappointed that Aramark would serve items that differed from the published monthly menu […] especially items that reinforce negative stereotypes concerning the African-American Community."
Nyack Public Schools Superintendent James Montesano added the district was "extremely disappointed," but "encouraged" that Aramark took responsibility and apologized.
In a statement, Aramark said "While our menu was not intended as a cultural meal, we acknowledge that the timing was inappropriate, and our team should have been more thoughtful in its service. [Our] mistake and does not represent the values of our company, and we are committed to doing better in the future."
MORE: University apologizes for saying black people like red Kool-Aid
Every February questions pop up about which sorts of foods are offensive to African Americans and which are not. For example, five years ago at New York University a black student complained about a dining hall menu — created by two black Aramark employees — which consisted of barbecue ribs, corn bread, collard greens, Kool-Aid, and watermelon-flavored water. The employees ended up being fired.
Three years before that Wright State University apologized for a Black History menu consisting of chicken, mashed potatoes, collard greens and cornbread alongside a photo of Dr. Martin Luther King Jr. The head of the campus Black Student Union had said he was "extremely" hurt by the menu.
In 2019, the University of Pennsylvania tried to nip any controversy in the bud by telling dining hall workers no southern food was to be served during February. Instead of cuisine, Penn held a confab at which students (including the Penn Association for Gender Equity and Students Organizing For Unity and Liberation), dining hall staff and Penn officials "shared their personal stories."
Nine years ago, when a San Francisco-area private all-girls school dealt with a similar menu controversy, a member of the local NAACP said "What is the big deal? Historically and even now, [African Americans] like our chicken and I'm not going to stop eating my fried chicken, nor my cornbread, nor my watermelon."
She added: "Let's move on. Let's be more progressive. Let's not be so insulted about something so minute."
MORE: Academics pan institutions' 'tone-deaf' commemorations of Juneteenth holiday
IMAGE: The Blaze / Twitter screencap
Like The College Fix on Facebook / Follow us on Twitter