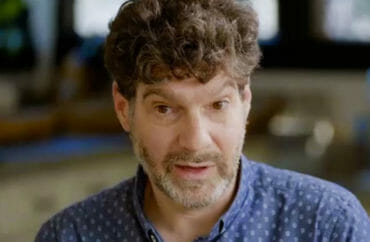 The supposedly one-day movement is anti-intellectual and "antiblack" in practice
Scientists, science journals and academic institutions are bowing before their woke would-be conquerors today in a movement known as #ShutDownSTEM, which is basically the science version of #BlackoutTuesday.
Nature is participating, and as it explains in a tweet, it will take a day off from work "to focus on what we can do better, and plan how we can play our part in eradicating anti-Black racism in academia and STEM."
Science and its publisher, the American Association for the Advancement of Science, are also participating. One prominent academic institution self-censoring today is Penn State Research.
Bret Weinstein (above), the evolutionary biologist chased out of Evergreen State College for criticizing the expected exile of whites from campus on the public institution's annual "Day of Absence," finds this foolish and dangerous.
You could say he's #ReopeningSTEM.
Weinstein is hosting a livestream version of his "DarkHorse" podcast, which "explore[s] questions that matter, with tools that work," at 3:30 p.m. Eastern Wednesday with his wife and fellow Evergreen State exile, evolutionary biologist Heather Heying.
MORE: Syracuse science profs not interested in campuswide diversity initiative
We will not #ShutDownSTEM. Instead we will celebrate science with a DarkHorse Podcast live-stream, Wednesday at 12:30pm Pacific time. Lots to talk about. Join us!
https://t.co/bmbhqlYGcG

— Bret Weinstein (@BretWeinstein) June 10, 2020
He's been on a tear against #ShutDownSTEM in the past 20 or so hours, calling the movement "a show of force against the process of enlightenment" that mirrors his experience at Evergreen State. "Capitulation by our premier scientific institutions is an absurd display of anti-intellectual cowardice," he continued, targeting Science for "broadcasting a false message" about science and "emboldening its enemies."
Weinstein is skeptical that the movement, which he says is "antiblack" in practice, will stick to its one-day plan.
#ShutDownSTEM is insidious.

The official plan is for one day. But the leaders are ideologically anti-STEM, because truth is not on their side.

This all happened at Evergreen in '17. The leaders targeted STEM faculty and students.

As with the police, they want STEM shut down.

— Bret Weinstein (@BretWeinstein) June 9, 2020
MORE: Evergreen hosts white-blaming symposium as enrollment keeps tanking
He retweeted news from Stanford University, where student Alejandrina Gonzalez Reyes (who helped surface this campus mob action) shared an announcement from her lab that it was "adhering to the call."
Lab participants are not allowed to take a "free day" – they must "reflect alone, or with others," on how they can "concretely act to eliminate racism towards black people in America," the announcement reads. (They apparently aren't allowed to reflect on how to stop the use of the supposedly racist term "Wuhan Virus.") It's not clear how the lab plans to enforce this re-education day.
"This is a simple replay of Evergreen '17," Weinstein said, referring to the year in which he became targeted by a campus mob that patrolled campus with bats and batons. "Same show of force, same anti-STEM rationalizations, same empty rhetoric."
It's bizarre as hell watching big science fail the #ShutDownSTEM test. This is a simple replay of Evergreen '17. Same show of force, same anti-STEM rationalizations, same empty rhetoric. I would have hoped the pattern was clear enough, but I guess academic cowardice runs too deep https://t.co/iYEQENzymb

— Bret Weinstein (@BretWeinstein) June 9, 2020
MORE: How social justice is destroying science – and much more
One of Weinstein's fellow travelers, mathematician and author James Lindsay of the "grievance studies" research project, said one purpose of #ShutDownSTEM was to "find out who doesn't do it … and to use them against them later," in the same manner that Weinstein was targeted at Evergreen State.
One point of #ShutDownSTEM is to find out who doesn't do it (maybe they're working on a Covid-19 vaccine?) and to use that against them later, just like happened at Evergreen State College with its Day of Absence.https://t.co/Sbp4ADUKL6

— James Lindsay, anti-revolutionary (@ConceptualJames) June 10, 2020
MORE: Evergreen asks student vigilantes to drop their armed patrols
Follow Weinstein on Twitter and watch his live podcast with Heying.
IMAGE: VICE News/YouTube
Like The College Fix on Facebook / Follow us on Twitter