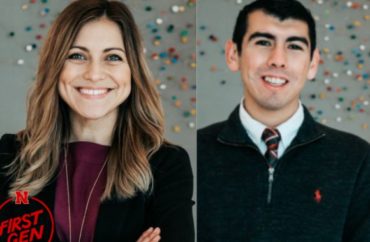 Essay responds to 'attacks' on segregated ceremonies
Ceremonies that are specifically set up just for black students or Latino students or LGBT students are not segregated, according to two scholars.
The ceremonies have drawn "the ire of conservatives," Professor Crystal Garcia wrote with Professor Antonio Duran.
Conservatives also "dismiss" the ceremonies as "segregated."
"As scholars who focus on issues of equity and student development, we have a different take," the pair wrote. Garcia (pictured) teaches education administration at the University of Nebraska-Lincoln and Duran (pictured) teaches education classes at Arizona State University.
"We see such celebrations as not only relevant but critical to fostering a sense of belonging for students of color," they wrote in The Conversation. "This sense of belonging is particularly important among students from what we refer to in our 2021 book as 'minoritized' groups – that is, groups that are not the dominant group and are seen as minorities even when numerically they are not."
"Special programs to support students of color – both academically and socially – can also bring about a better sense of self, persistence and ultimately success in college," they wrote.
This essay is the latest attempt to criticize conservatives for reporting on segregated ceremonies.
"Conservatives rail against 'segregated graduations,'" Inside Higher Ed reported.
"As graduation season rolls around, conservatives are taking aim at an annual tradition that aims to celebrate the accomplishments of minority students," the outlet reported.
The ceremonies are "the latest target in the conservative attack on diversity, equity and inclusion initiatives at U.S. universities," IHE reported, referencing Florida Governor Ron DeSantis' efforts to ensure schools teach actual material of value, not a woke agenda.
Newsweek also reported in March that a segregated ceremony at Grand Valley State University had "spark[ed] anger" and "come under fire from conservatives."
The Conservation essay used similar points. "As of late, affinity graduations have drawn attacks from conservative thinkers and news outlets," the professors wrote.
"Based on our research, we think the critics miss the fact that affinity graduations are not designed to segregate students, but rather to bring them together in community with others who share similar identities and potentially similar experiences," they wrote.
It may be true that the graduations are "not designed to segregate students" but that does not change the fact they do segregate students, by separating them by race or disordered sexual desires.
In case the point of this being an "attack" was lost, the scholars write again that they "also see the attacks on affinity graduations as part of a larger attack on diversity, equity and inclusion efforts on college campuses."
What else might be going on? As Florida and other states exercise actual power to roll back woke programming, scholars who make a living telling everyone how America is racist might be seeing the writing on the wall that they are losing the battle – and it is drawing their "ire."
MORE: MIT class uses board games to 'tackle social and cultural issues'
IMAGES: University of Nebraska-Lincoln; Arizona State University
Like The College Fix on Facebook / Follow us on Twitter