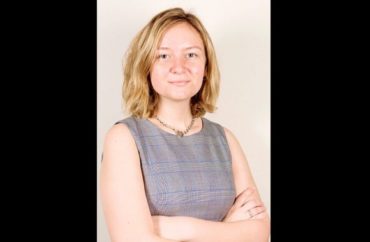 Critic predicts she'll 'get a bullet in the head for being racist'
Syracuse University is jeopardizing the safety of conservative students in order to avoid upsetting the woke crowd, according to a student who was fired by the student newspaper for rejecting the theory of "institutional racism."
Adrianna San Marco (above) told The College Fix the administration has ignored her plea to respond to physical threats made against her, by identifiable Syracuse students and alumni, in the wake of her recent column in LifeZette.
This is in stark contrast to the university's prolonged and far-reaching response to purportedly racist graffiti found in a residence hall last fall.
In January Syracuse pledged to suspend students accused of "bigoted vandalism" and remove them from campus while their conduct cases go forward.
The university's radio silence for three weeks represents "a refusal to work with me – to work with any conservative student," San Marco said in a phone interview last week.
MORE: Students demand Syracuse let them exclude roommates by race
"I'm not the only [student] who sent emails" notifying the administration of death threats and other promised violence for expressing conservative views: "They haven't responded to those students either."
The independent Daily Orange dumped the opinion columnist because of her published work elsewhere that dubbed institutional racism "a myth," using multiple research findings to question the popular narrative that blacks are disproportionately targeted for violence by police.
If this wasn't enough, San Marco began receiving threatening messages on social media shortly after publishing.
She shared some of the threats she received in a tweet Wednesday. "[S]ee you in the fall!!!" one says, and another wishes to spit in San Marco's face.
Yet another warns the "disgusting racist piece of shit" that "I'll fuck your shit up" if they cross paths on campus. Perhaps the most concerning response predicts San Marco will "get a bullet in the head for being racist."
The Fix contacted Syracuse media relations six times via phone and email on Thursday and Friday to respond to San Marco's claims. No one responded.
MORE: Student newspaper says it won't promote 'harmful' views like San Marco's
Every single one of these comments were made by Syracuse University students.

Of those identified none have faced consequences. pic.twitter.com/BsKk9FGb1Z

— Adrianna San Marco (@adriannasanmarc) July 16, 2020
More effort tracking bias incidents than protecting students from violence?
According to San Marco, conservatives face a lot of pushback at the university. She cited a student government resolution against the College Republicans for planning to bring conservative pundit Ben Shapiro to campus.
Student Justine Murray has also been "harassed by professors and mobbed by other students" for her outspoken conservative views, San Marco said. Murray recently wrote about attacks on her "Jewish identity, and even death threats," for her defense of Prof. Miriam Elman, who is also Jewish.
(Syracuse also rejected Murray's application for a Young Americans for Freedom club because it requires members to praise the Constitution.)
"Students who don't want any media attention deal with it too," San Marco wrote in a Twitter direct message:
 I've ha[d] people message me wanting to remain anonymous but saying they've been harassed and threatened for supporting President trump or having conservative views.
MORE: Syracuse admits it doesn't protect free speech to get out of lawsuit
But the physical threats against San Marco went beyond pushback. She has spoken about the threats with the Department of Public Safety on a weekly basis since the second week of June, to no avail.
"I've reported everything to DPS," San Marco told The Fix. "They haven't punished any of them."
As a result, she wrote a letter June 24 to top administrators. Among those she contacted – Chancellor Kent Syverud (below), Dean of Students Marianne Thomson and Chief Diversity and Inclusion Officer Keith Alford – none has responded.
In contrast, DPS Chief Bobby Maldonado published the bias incident report for June the same day San Marco tweeted screenshots of the physical threats against her.
MORE: Syracuse rejects YAF chapter for requiring members to be conservative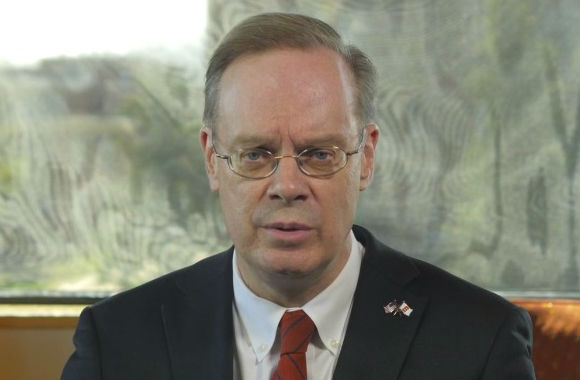 Students laughing about university's indifference to threats against her
According to San Marco, students have taken to social media to laugh about the fact that those threatening her have faced no consequences.
"People go post on Twitter about how DPS didn't do anything," she told The Fix. In phone interviews, DPS asked the students threatening her if they knew San Marco, but they faced no subsequent sanctions.
She provided tweet threads involving student Tonisha Hawk, who had tweeted "see you in the fall" to San Marco, whom Hawk described as "ole uglass [ugly ass]."
Hawk said DPS called her because "that girl who wrote THAT article felt threatened by my tweets," posting several heart-eyes emoji. She alternately claimed she was "laughing" on the phone with DPS (below) and was "not afraid of [San Marco]," and later, "i was literally on the phone w the officer CRYING from anger" at being called by DPS.
MORE: 'Defunding the police could cost thousands of black lives'
Syracuse has taken similar incidents "very seriously" – when they involved threats against minority or LGBT students, San Marco said. "We've had the FBI on campus to investigate" allegedly racist and homophobic incidents.
The university's promise to remove students from campus if they're accused of racist behavior, but not for chilling the intellectual diversity of their student body, illustrates its unwillingness to work with conservative students, San Marco said.
The university "bends to their every whim" when it comes to left-leaning groups and students on campus, she said. "They work with them constantly, they have meetings with them."
Yet working with conservative students would "make them look unpopular in the public eye," so administrators eschew them, San Marco claimed.
Syracuse media relations did not respond to Fix questions last week about why students who allegedly threatened San Marco had not faced consequences, and why her June 24 letter had not been acknowledged by the university.
MORE: Prosecutor foils Syracuse attempt to prosecute fraternity for satire
IMAGES: Adrianna San Marco, Syracuse University screenshot
Like The College Fix on Facebook / Follow us on Twitter