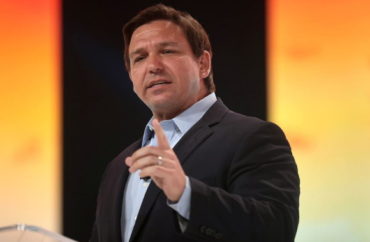 ANALYSIS: Some Florida universities still back 'transitioning' gender-dysphoric individuals
While Governor Ron DeSantis and his administration have taken a strong stance against taxpayers underwriting the "transitioning" of gender-dysphoric individuals, public universities in Florida have not all followed suit.
"Transitioning" can involve a variety of drugs and surgeries with lifelong consequences, such as irreversible puberty blockers or surgeries that make it impossible for women to breastfeed in the future or have children.
The University of Florida health clinic says "transgender students" can receive "hormone therapy," according to its website.
UF's medical school also has a youth gender program aimed at "transgender and gender-nonconforming, or TGNC, youth and their families."
The University of Florida, as previously reported by The College Fix, offers surgeries to minors who want to present themselves as the opposite sex.
"We educate our patients and their families about gender identity development and gender nonconformity and offer services for social and medical transitioning," according to the website.
Some of the services offered through this program include "consultation, psychotherapy, and assessment of medical readiness for cross-sex hormone therapy."
Florida Atlantic University offers similar resources. According to the university's website, some of its doctors "can prescribe gender affirming hormone therapy for transgender and nonbinary individuals."
The University of Central Florida also has a "Trans Care Services" team "to support staff clinical work with clients who identify as transgender or gender nonconforming…and to assist those students who are specifically seeking support services and/or referral for gender-related services."
While some publicly funded Florida universities offer such services directly, others push individuals toward resources that would validate their gender confusion and tell them they can change their sex.
The University of West Florida and Florida Gulf Coast University do not appear to offer surgery or drugs to students with gender dysphoria. However, these universities still advertise resources for individuals who want to transition or come out as homosexual.
MORE: Trans Stanford grad student wants hormones 'handed out like Skittles'
None of the Florida universities reached out for comment responded to media inquiries. The institutions were asked about the services they offer and whether or not the description of their services on their websites is accurate.
In early April, some University of Florida students injected themselves in public with hormones to protest the DeSantis administration's pushback against public universities that fund "transitioning" services.
This activity occurred while students chanted "f**k DeSantis."
The Fix reached out to DeSantis' media office twice for comment in the past two months but did not receive a response.
An analysis by The Fix in July 2022 identified dozens of pediatric gender clinics affiliated with red state public universities.
At the time, the governor's press secretary told The Fix that he opposes transgender drugs and surgeries for minors. "He does not support taxpayer dollars funding these experimental and potentially harmful interventions on children," Christina Pushaw said via email.
Spokesman Brock Juarez with Florida's health department also directed The Fix at the time to a report which criticized the alleged benefits of transgender drugs and surgeries.
He stated:
The Agency For Health Care Administration recently released a report that found several services for the treatment of gender dysphoria promoted by the Federal Government – i.e., sex reassignment surgery, cross-sex hormones, and puberty blockers – are not consistent with widely accepted professional medical standards and are experimental and investigational with the potential for harmful long term [effects]. This is an evidence based report that speaks for itself."
Since The Fix report, some red states mentioned have gone on to prohibit or limit transgender drugs and surgeries for minors including Indiana and West Virginia.
MORE: Treatment of trans youth not evidence-based, scholars say
IMAGE: Gage Skidmore/Wikimedia Commons
Like The College Fix on Facebook / Follow us on Twitter